For a long time I had dreamed of going to the colourful carnival of Venice. Actually Venice is not very far from Bologna, where we live. It only needs a train ride of two hours. But somehow, it had not been possible. So yesterday when I had the opportunity to visit the pre-carnival parade of Venice, I didn't want to miss it.
Actually, I had been to Venice for a carnival about 30 years ago, when I was new in Italy. With some friends from the hospital where I was studying, we had gone to Venice on the evening of Mardì Gras. But more than looking at the carnival, it had been an opportunity for getting drunk and creating a ruckus. So I had very hazy memories of what I had seen that evening.
The word "carnival" comes from the latin, "Carne levare" (removing meat), meaning the start of period of Lent among Catholics, the period of not eating meat and praying for the approaching Easter. Thus on Tuesday before the start of Lent, people have a feast, drinking and merry making. That day is known as "mardì gras" (fat tuesday).
Many cities around the world are famous for the special flavour they give to their carnivals. Thus, carnival of Rio de Janiero brings out images of scantily clad samba dancers and it is also a period of sexual liberties. The carnival of Goa is known for its merrymaking. Different Italian cities have their carneval celebrations but the Venice carnival is considered special because of its eighteenth century dresses accompanied by colourful masks.
Since now the floats are very elaborate and people spend fortunes in preparing their dances and dresses for carneval, the celebrations are usually spread over 2-3 weekends before the fat tuesday, so that more tourists can participate in these festivals. Thus, 26 February was the first day of pre-carnival celebrations in Venice and I decided to go.
Fearing crowds, I decided to start early in the morning. However, lot of other persons had the same thought so even the early morning train was full. Next to me in train was a young man with his baby girl, dressed as snow white, who was occasionally crying because "she wanted to be with her mother". The way the man was consoling her, it was clear that he had separated from the girl's mother. I felt sad for them.
Arriving in Venice, starting from just outside the railway station, all over the city there were people getting their faces painted or buying colourful masks.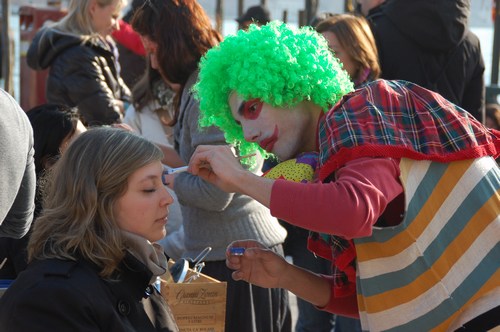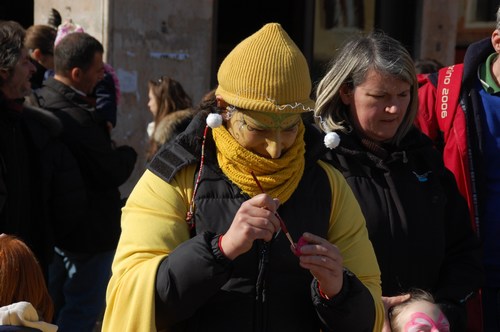 I also bought a long-nosed mask but it didn't fit me so well because my spects. So I decided to put it away and concentrate on looking at all the beautiful masks surrounding me.
My idea was to walk to San Marco square in the city centre and from there walk towards Castello, where they were going to have a special procession. I knew the way to San Marco square since I had been there many times, but there were so many persons on that route that walking was very slow. Crossing a small bridge needed 10-15 minutes and I decided to enter one of the narrow side-streets and take a round-about route.
Venice is full of small footpaths along narrow canals and soon I was lost. By the time I reached Castello, it had taken me three hours and my legs were hurting. It had been very pleasant, as I saw lot of beautiful carneval masks on the way.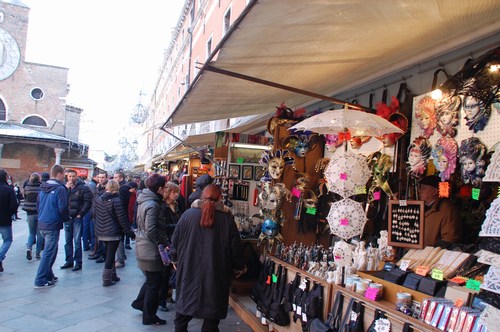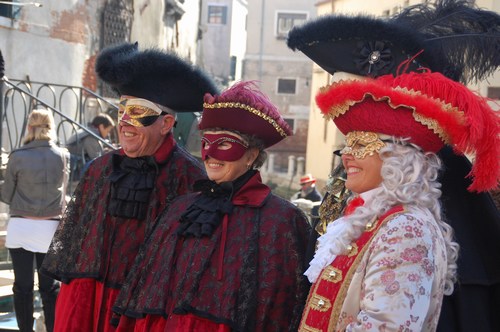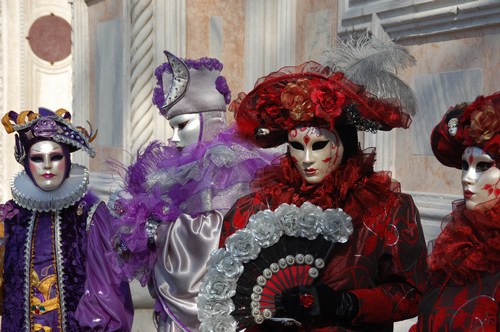 In Castello, shortly after I arrived, the procession of Seven Marias started. The "seven Marias" are seven beautiful girls of Venice, who are dressed like princesses and carried on the shoulders by young men during the procession.
The seven Marias are followed by drums, music and people dressed in medieval dresses.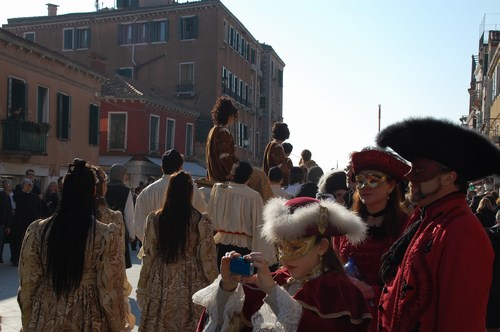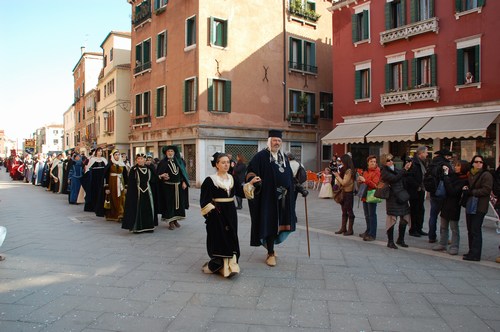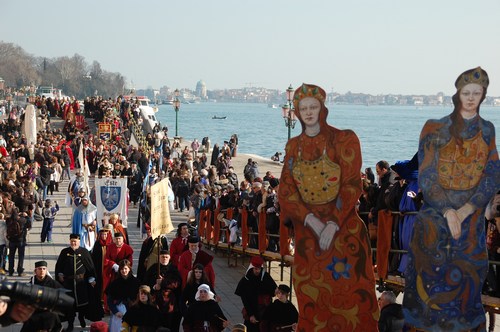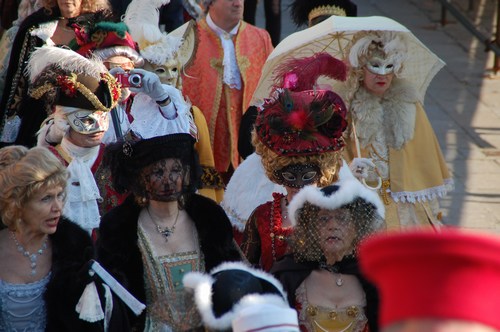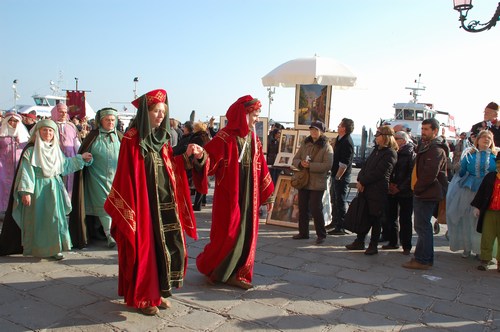 The procession starting from Castello took one hour to reach San Marco square. By this time, crowds had swelled further so that rather than chosing where to go, I found myself being pushed ahead by the other people.
In San Marco square there were many people who had taken additional pains to dress with death like white and black masks, and others with more common, red, green, gold, turkish blue and purple masks. Some persons had multi-coloured dresses, looking like rainbows. They were all willing to preen and pose to be photographed, but often crowds all around were pushing so much that it was difficult to take proper pictures.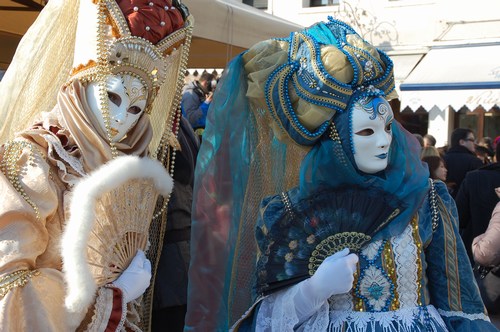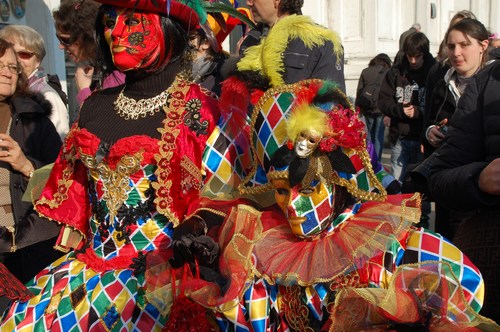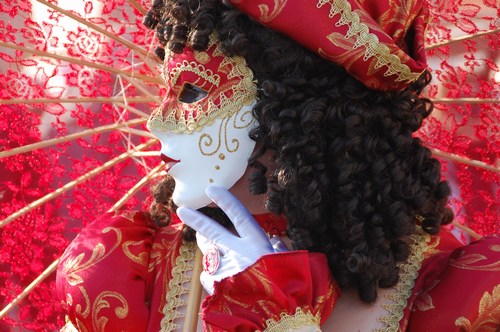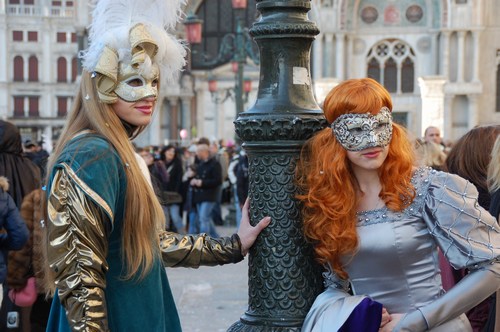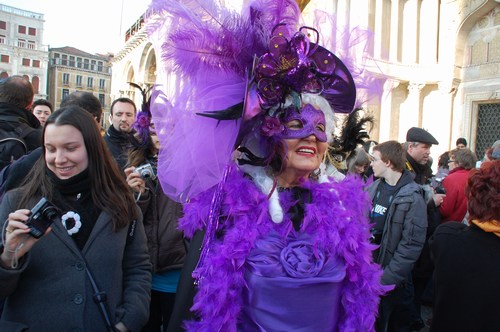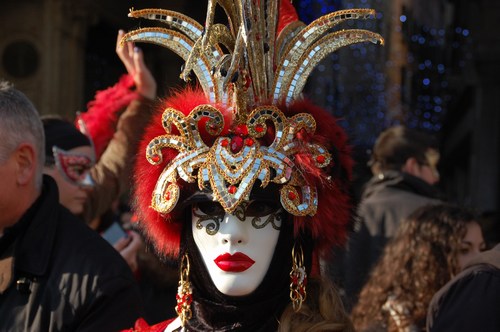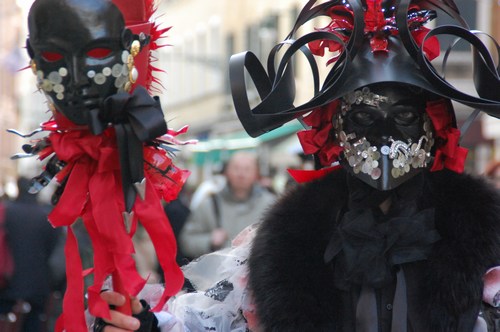 There were so many beautiful masks and dresses, that it would be difficult to choose one best mask, but I think my vote for the best mask and dress will go to the peacock lady. She was wearing peacock feathers, blue and green coloured dress and she even had a small cage with a small peacock in it.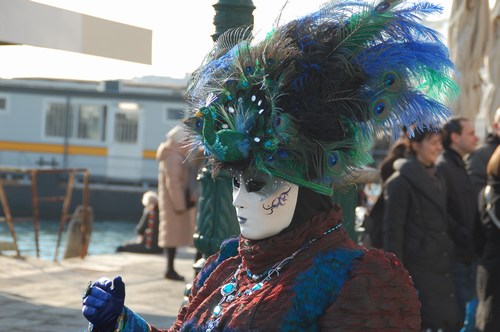 Six hours after walking around without any rest, my knees were hurting and I decided to come back to the railway station to catch a train. Huge crowds were pouring out of the railway station, as more and more persons reached Venice for their night of revelery and fun.
May be, another time, I will also go back to Venice to see the carneval fun in the glow of night lights, but for this time, I was too tired to stay!