Manali-Rohtang-Keylong (मनाली-रोहतांग-केलांग)
As we were travelling on a non-HP/JK vehicle, we needed a pass to travel beyond Kothi towards Rohtang and beyond to Leh and the passes are issued by SDM of Manali. By hook and crook, we managed to get the passes at abt 1 pm and left Manali at 3pm towards Keylong via famous Rohtang Pass. While leaving Manali we took at wrong turn and instead of taking the usual bus route to Rohtang, we went via backside hills of Hidimba temple and to our surprise the scenery on this side was very good very nice apple and fruit orchards which were otherwise missing in Manali and beautiful village people. Although the road was not very good, we did enjoy the long route. At the end, we had to cross a bridge to join the normal route (NH) towards Rohtang which was extremely narrow and fragile looking and which we crossed with our hearts literally pounding.
After joining the main road, we came across heavy traffic going towards Solang (सोलंग) Valley (popular sking place in winters) which lasted for more than an hour for hardly a 10 km journey on a good road. However after crossing Solang, the traffic very little and we had a good ride to Rohtang with lovely views of surroundings and mountains all around. Vegetation slowly starts disappearing you start reaching altitudes higher than 3000 m. On the way crossed couple of places such as Marhi and Kothi. There was no one at Kothi to check our pass. Kothi (कोठी) / Marhi (मढी) was not very pleasant as many tourists go only up to that point and they litter the place quire badly. So the place despite surrounded by lovely mountains and their snow cover looks quite dirty. Pathetic we Indians, we have made almost whole of India littered.

As we approached Rohtang at about 5.30 pm, the views were getting more and more beautiful with snow cover around us steadily increasing as road sides had heavy snow. Dipping sun also made the views look very beautiful. Rohtang La, situated at about 3900 m, was completely covered with snow. The road was carved out by cutting the snow by BRO. There were a few people there who had set up their tents, most of them being vendors who stay there despite the snow to make their living. These people stay inside their tent and sleep on thick polyurethane sheets. We felt quite cold at Rohtang and it was raining a bit as well, however, we could not resist getting out. Some of us had a stroll beyond the pass for some distance and could feel our hearts panting. It was quite slippery as well to walk. There we also had a hot cup of tea. After having some fun at Rohtang, the weather did not spare us and it started raining a bit strongly.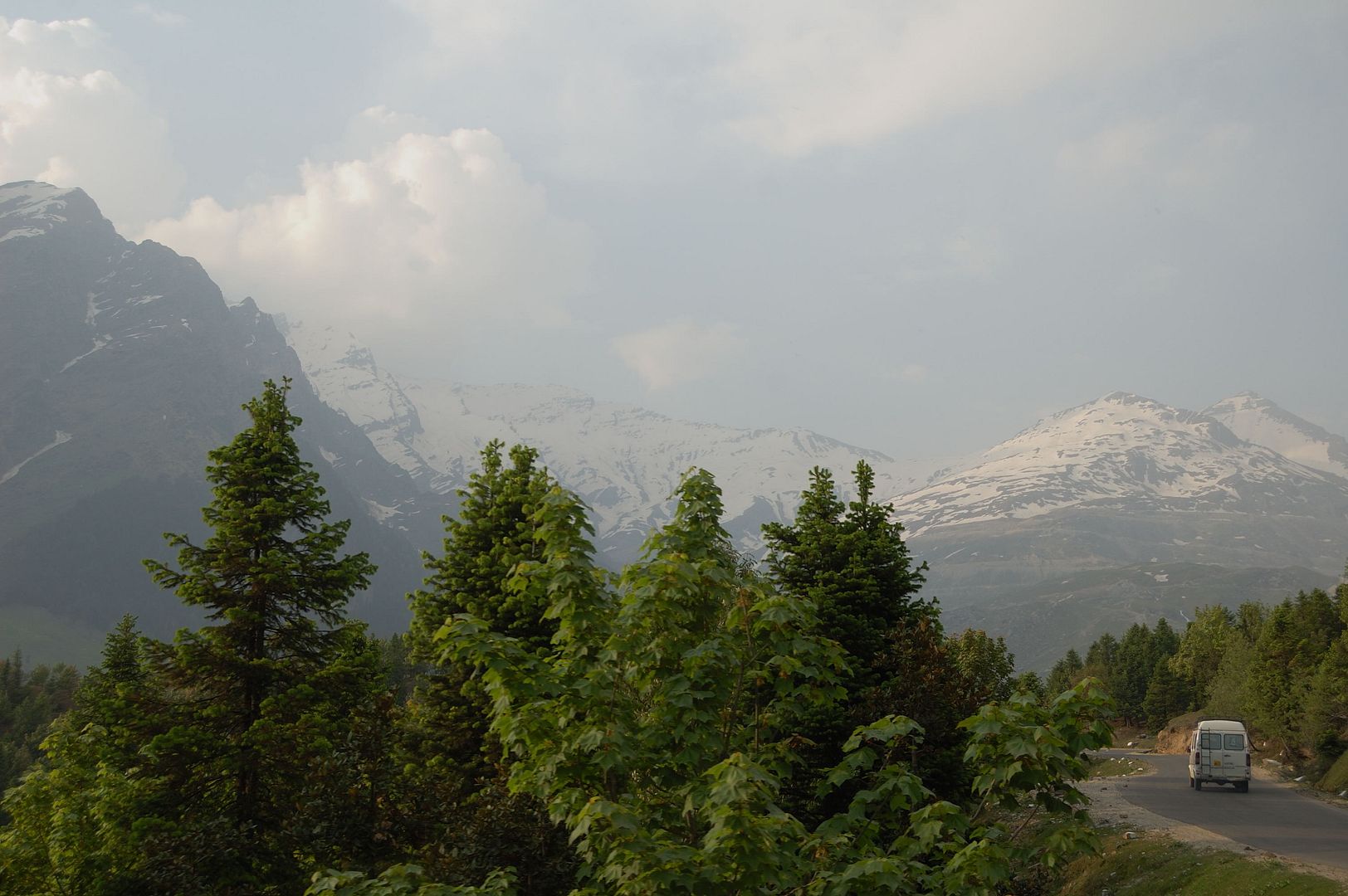 On the way to Rohtang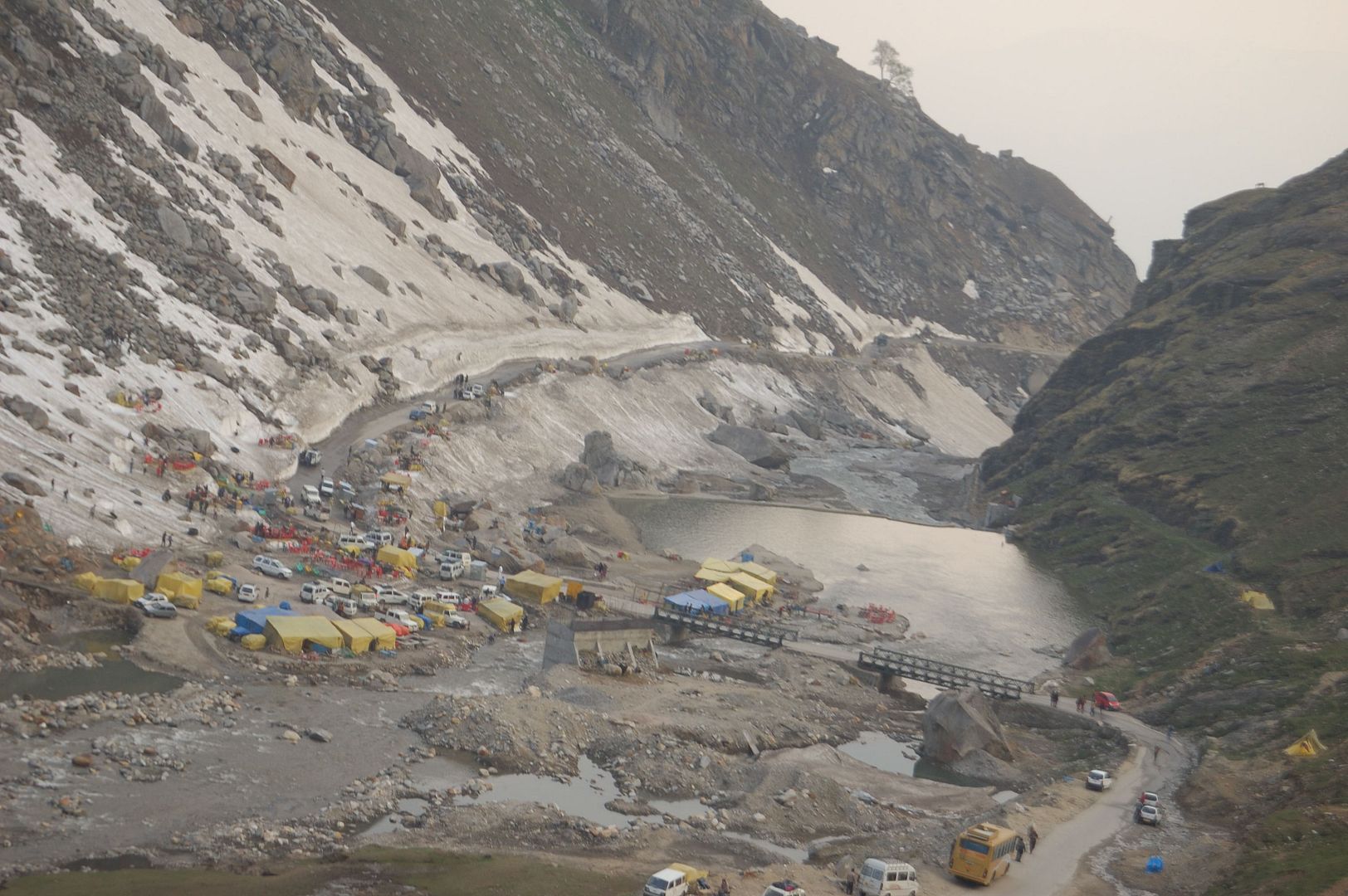 Enroute Rohtang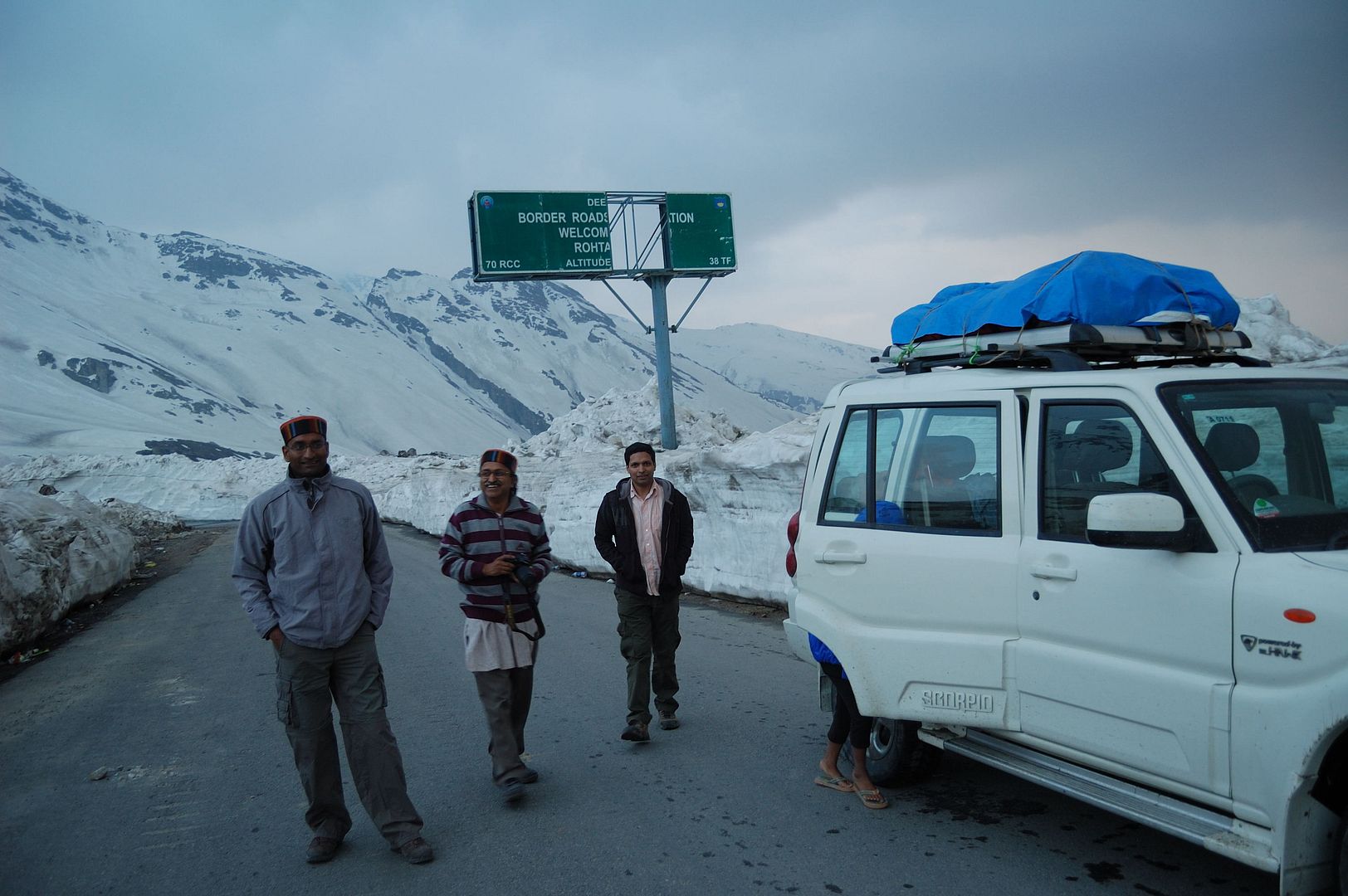 @ Rohtang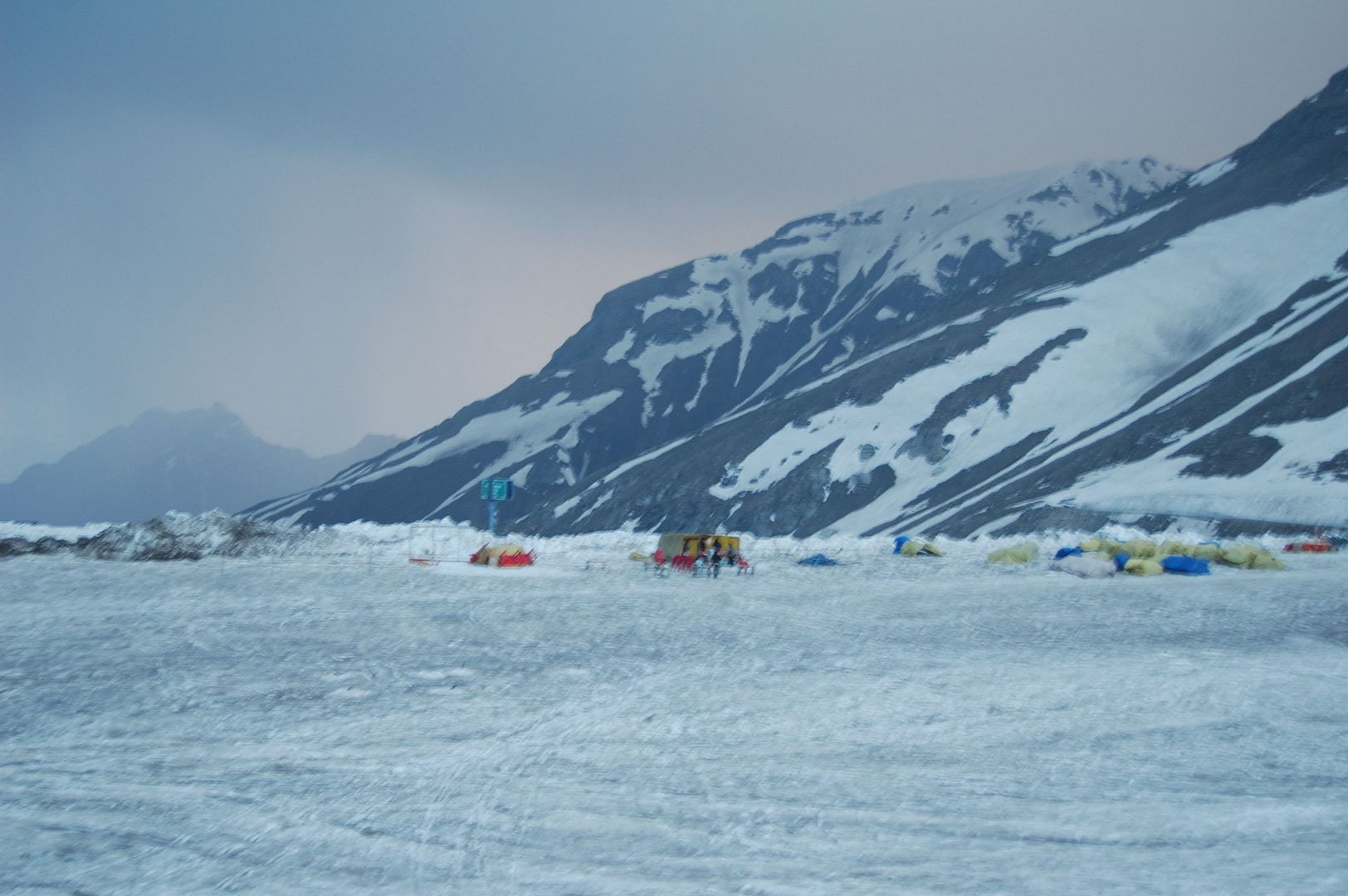 Rohtang La
Rohtang La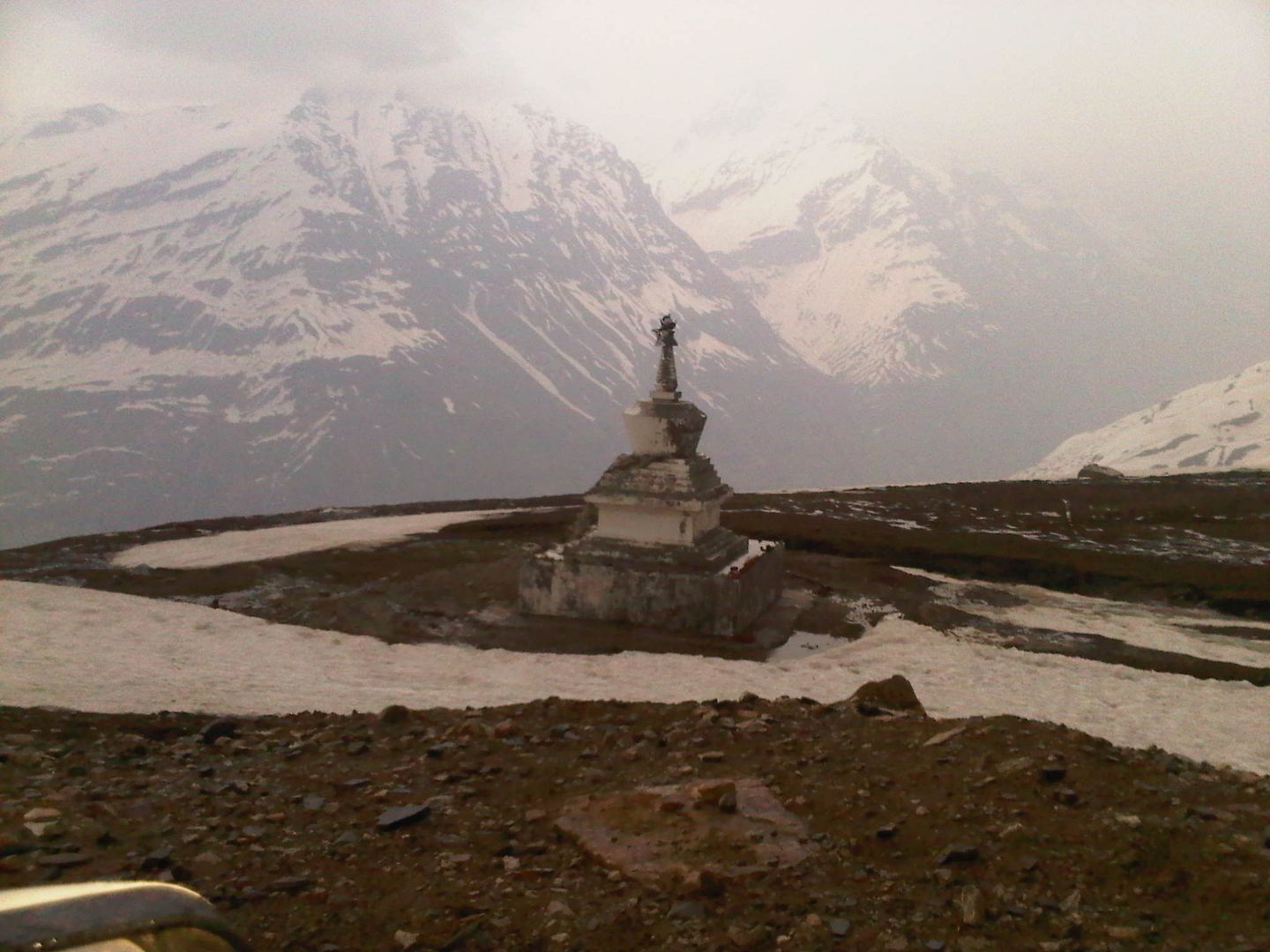 We started moving at about 7 pm and we had to go uphill a bit further before starting to come down for Keylong. At what appeared as the highest point of Rohtang, we found a little Buddhist kind of monument. From then on, it was downhill. However, the road was very with mud, snow, water making the driving condition very bad. Dark weather and presence of loose mud on the mountain was not helping as well. However, it was a thrilling drive until we reached Khoksar (खोकसर)  where we had to stop for a police check who just wanted to note down our vehicle number.
This point onwards towards Keylong, the road was quite good, although winding and times a bit risky as you would expect on mountains. We passed via last petrol pump on the way to Leh at Tandi Pul, 10 km before Keylong) which was closed in the evening and it meant that we would need to get back here to get our tank and jerkins filled. Although darkness does not help to drive on mountains, we did drive without any option and reached Keylong at about 10 pm. Our hotel here was "Hotel Nordaling" which was a simple but a clean and nice hotel. The rooms were spacious and toilets were clean and we also got hot water. The place had a little cooking place downstairs where a few Nepali boys cooked nice meal for us before we dozed off.  Owner was a nice fellow who in fact charged us 100 Rs less than what we initially talked about (800/- per night per room).
Keylong
We woke up next day early to enjoy Keylong. Keylong is a place situated at about 3000 m and is surrounded by beautiful peaks. Morning sun lit up the peaks surrounding the town. The place is very scenic with many small treks all around. So, one can stay put in Keylong and then enjoy nearby places. The population appeared to be a mix of Hindus and Buddhists and locals were quite friendly who spoke in good fluent Hindi. The vegetation near Keylong was visibly much lesser than what one sees in Manali, a sign of moving towards Tibetan plateu.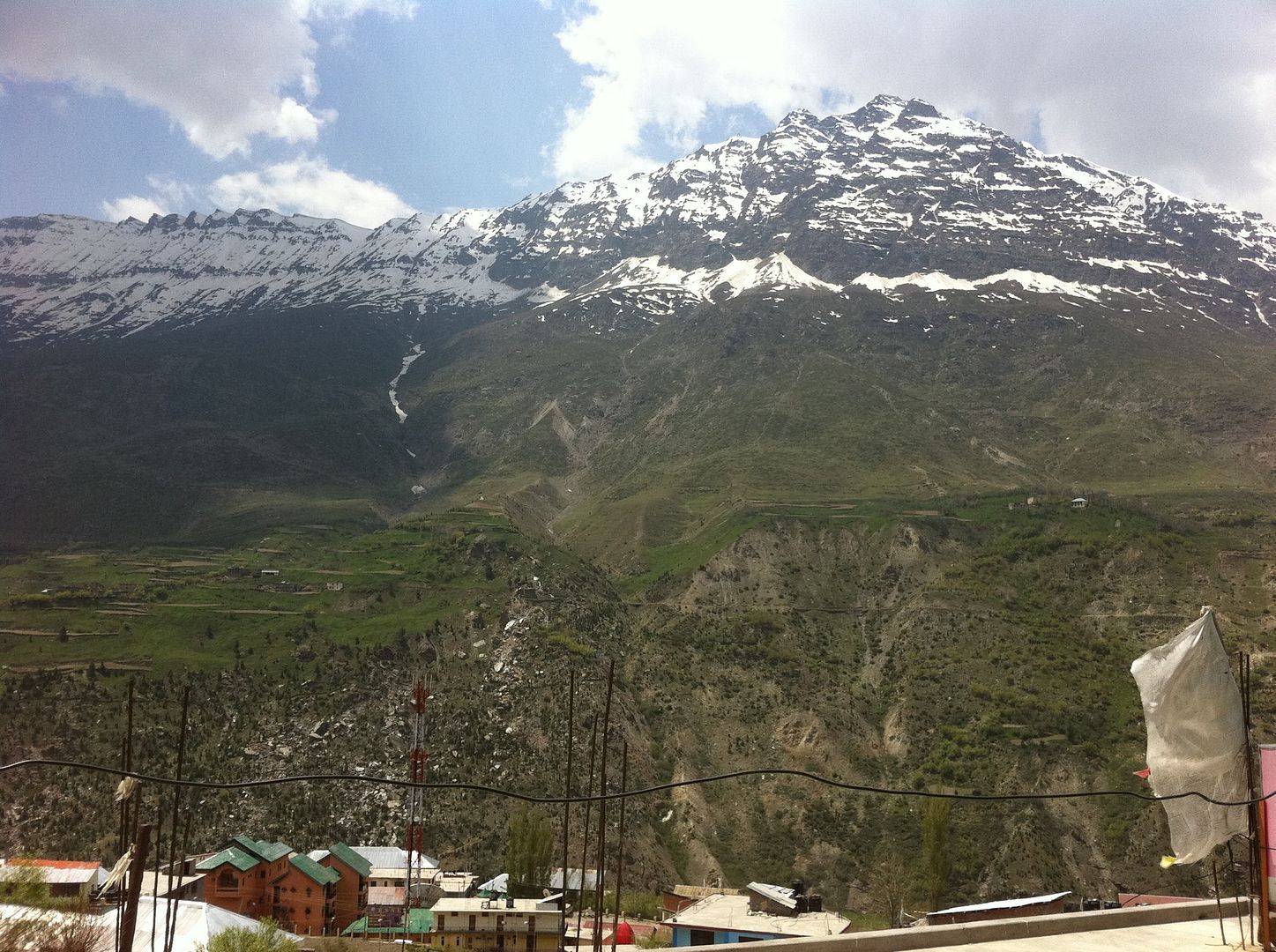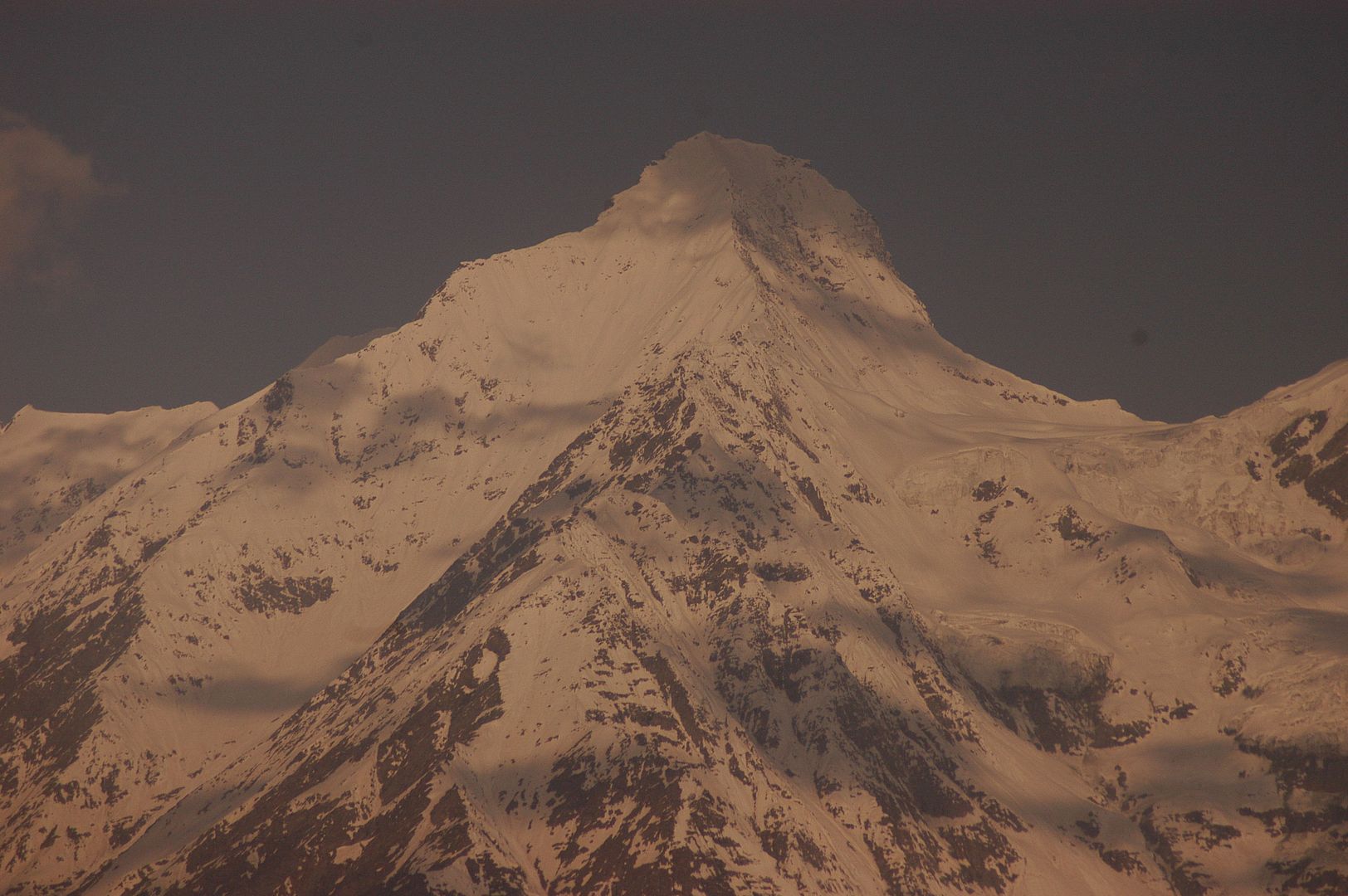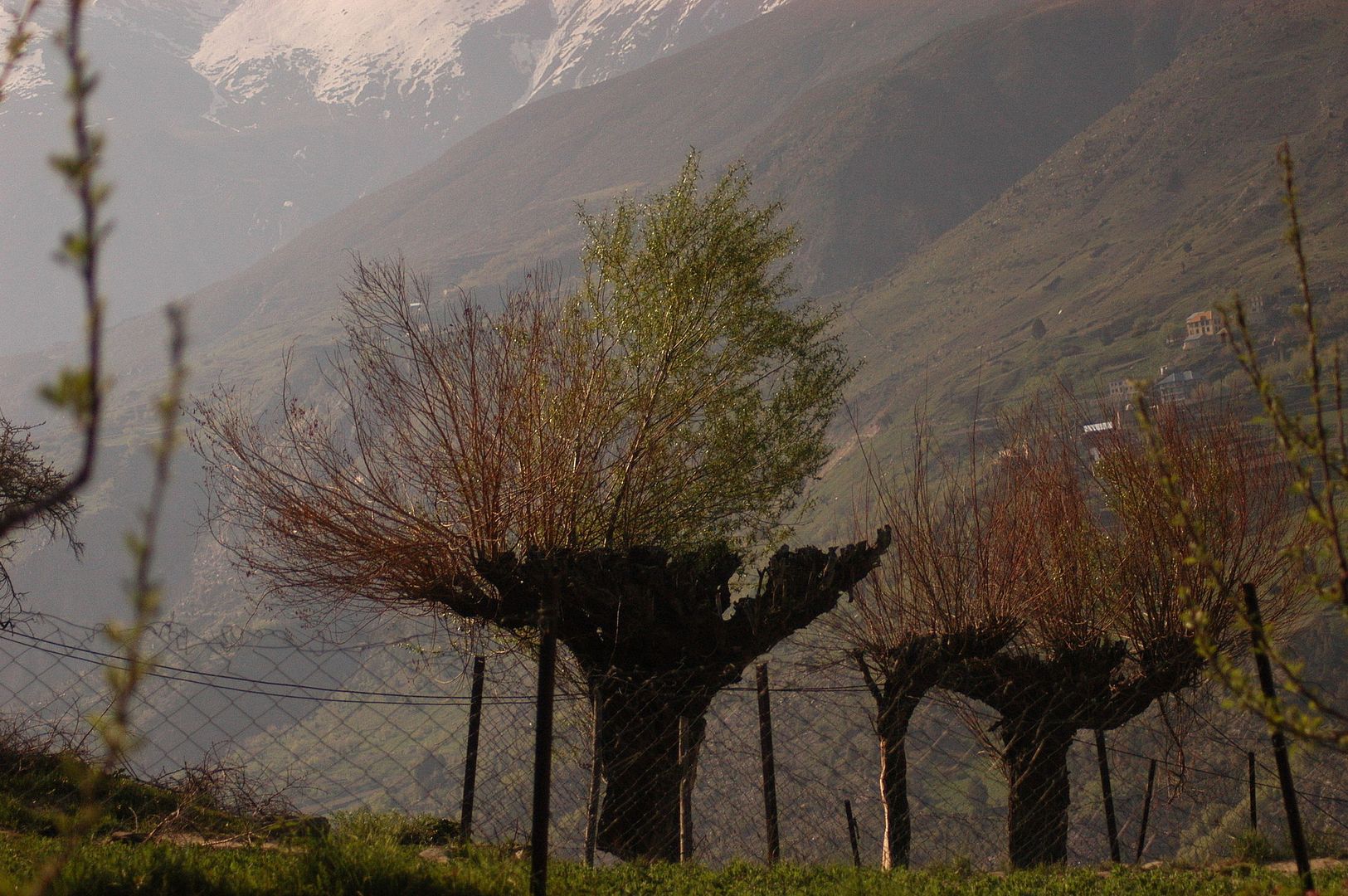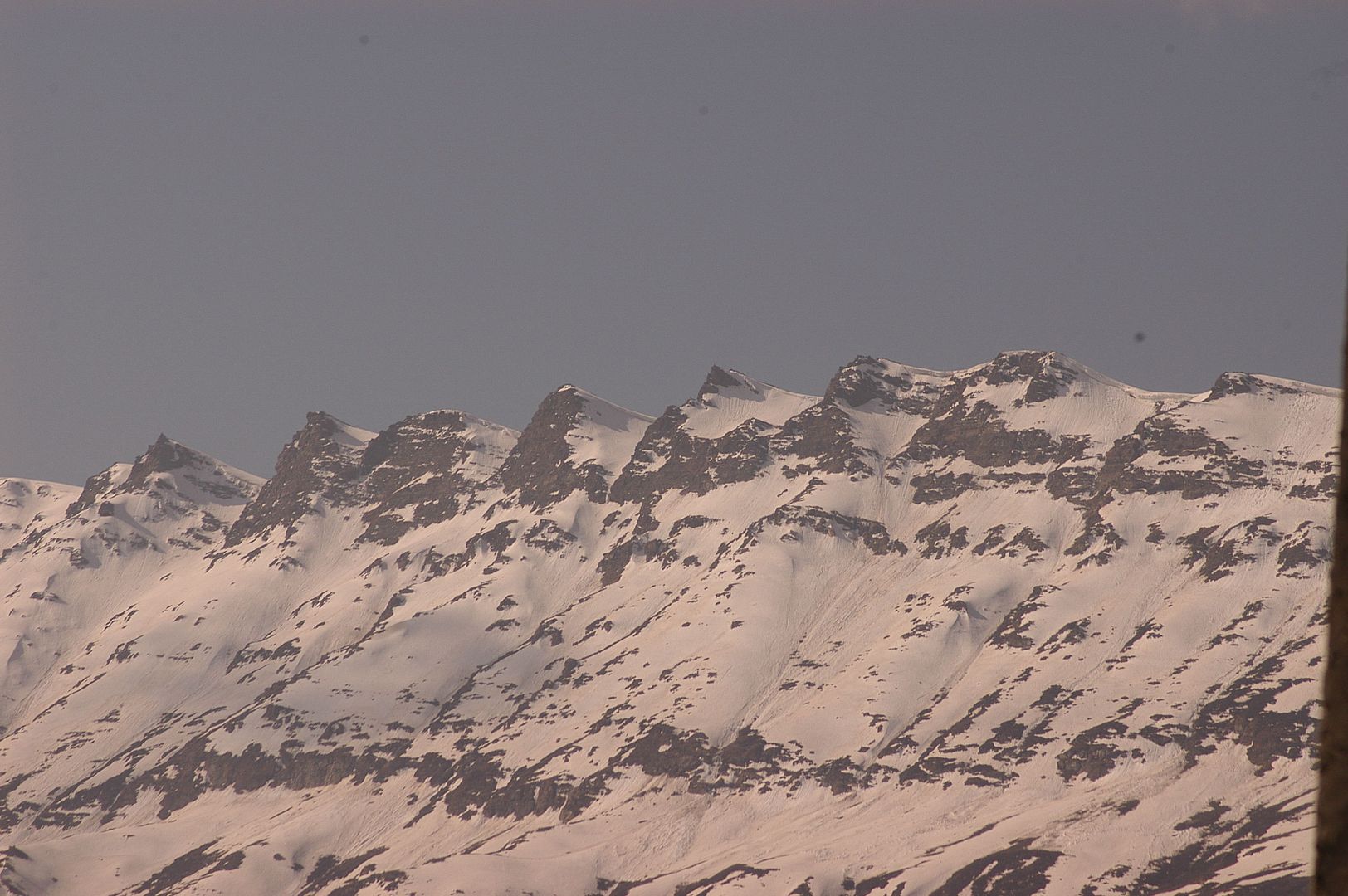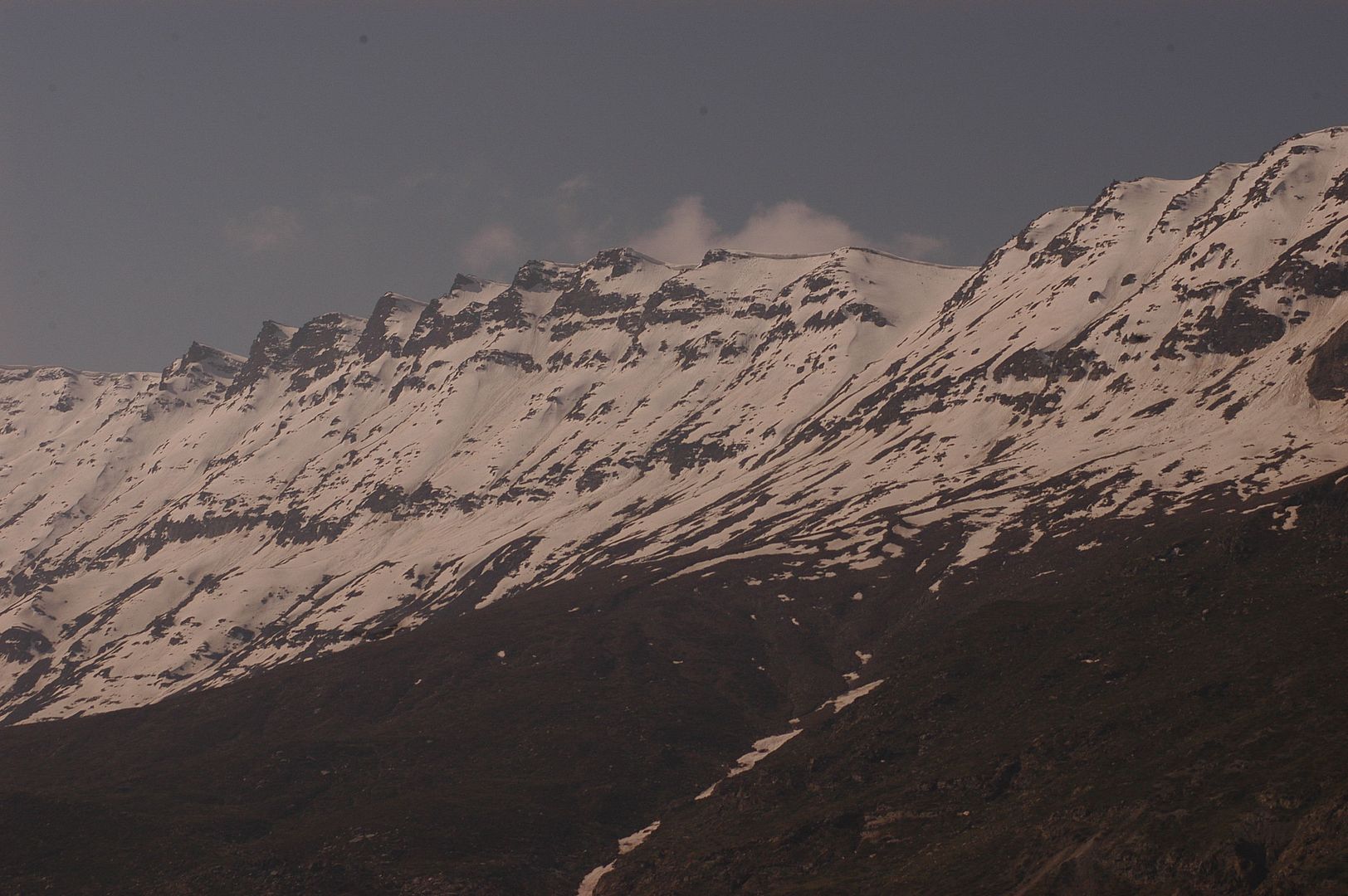 Keylong-Jispa-Darcha-Baralacha La-Sarchu (केलांगàजिस्पाàदारचाàबारालाचा लाàसरछू)
After a quick browse through lanes of Keylong, we headed to Sarchhu on NH-21 passing through Jispa, Darcha, Baralacha La (a pass at ~4900 m or 16100 ft) covering a distance of slightly over 100 km. The road was by and large quite good, well maintained by BRO. However, the best part of this route was the scenery and the way it changes as we moved towards Sarchhu. Jispa is a low lying (relatively speaking) place on the banks of clean and thin Bhaag River (भाग नदी) with green-blue water. Bhag river is apparently a tributary of Chenab River. There was not much vegetation on the way but the surroundings were getting more and more beautiful. At Jispa, one can stay in tourist resort which possibly belongs to HP tourism. Soon after is a place called Darcha which is the last town with possibly 10-20 people living there and a little shop. After crossing Darcha, there is a steady climb towards Baralacha La which is at about 4900 m above sea level. In between one can see Army presence who is ready to help in case of any problems.
The road was better than expected considering the terrain and presence of snow almost all across the year. There was not much of traffic except occasional trucks passing by. The scenery was getting fabulous as one approaches Baralacha La which is pass diving waters of Bhag River and Yunam River. Another river, Chandra river originates from the glaciers in this region. As one approached the Pass, one can see the snow capped peaks with better views which actually shine like molten white metal in bright day light. There are glaciers in this region along with Suraj Kund which was frozen. At Baralacha road was actually carved by BRO out of massive snow cover.
At Baralacha, at possible highest point, amidst snow and winds, we had our tyre punctured with sound which scared us to the bone. At an altitude of ~5000m and far away from civilization with no tyre and puncture ship in sight on either side for upto 200-300 km, we just thought for second that we are in for a rough time. Three of us started to get around it, getting the punctured type out and putting the spare tyre on which actually made us feel literally out of breadth. We too around 30-45 mins. We could not believe that this could happen at this place when there was nothing except snow, snow and snow. There was one person who was enjoying all this while and that was my friend's daughter, playing with ice crystals and enjoying the nature. Anyway, after about 45 mins, we were ready to go again with our hearts praying that there is no puncture again at least upto Leh. From this point onwards it was mostly downwards towards Sarchu with snow cover reducing and sandiness of the environment increasing.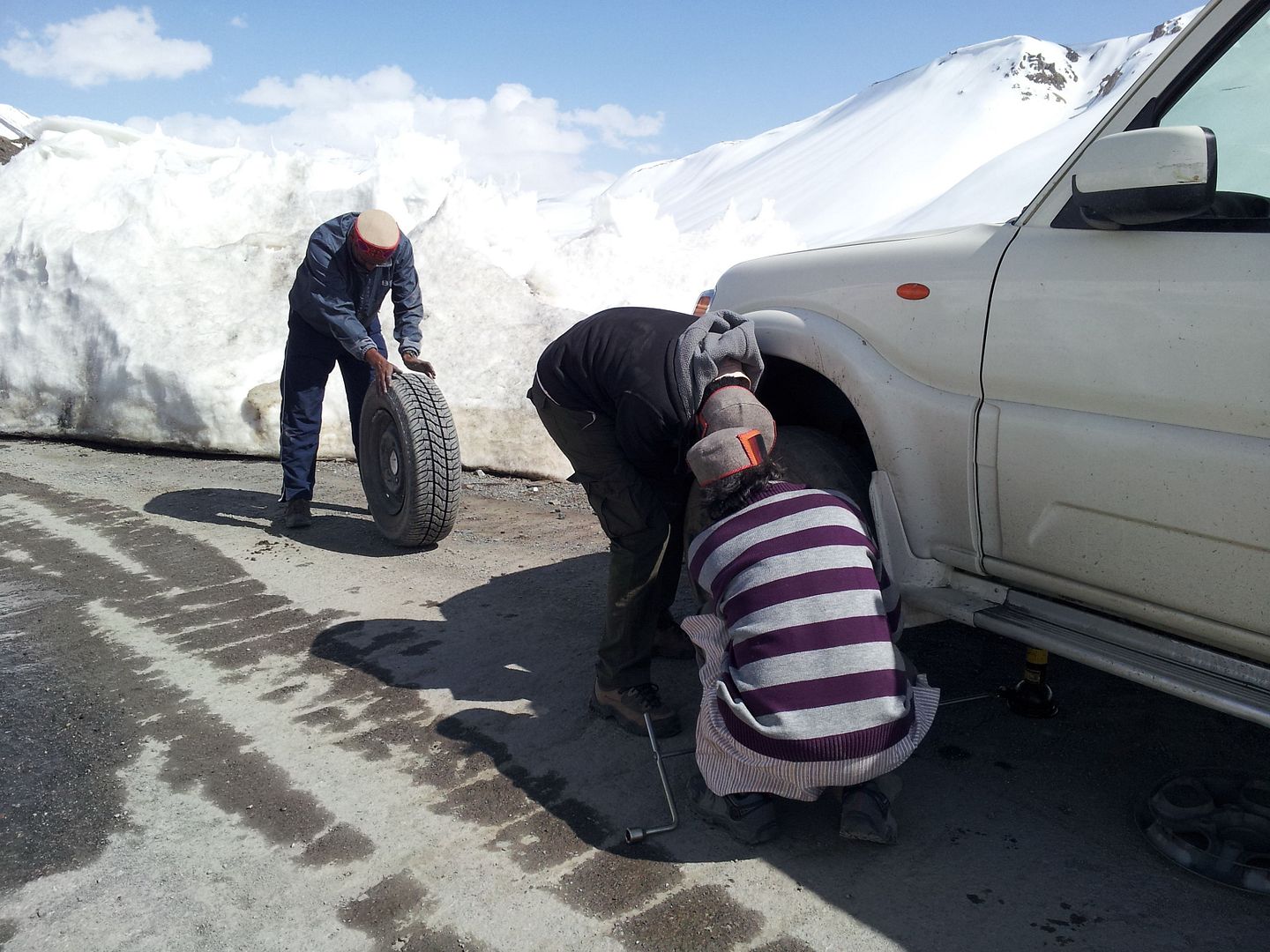 Mending the puncture at 4800 m at Baralacha La, huf..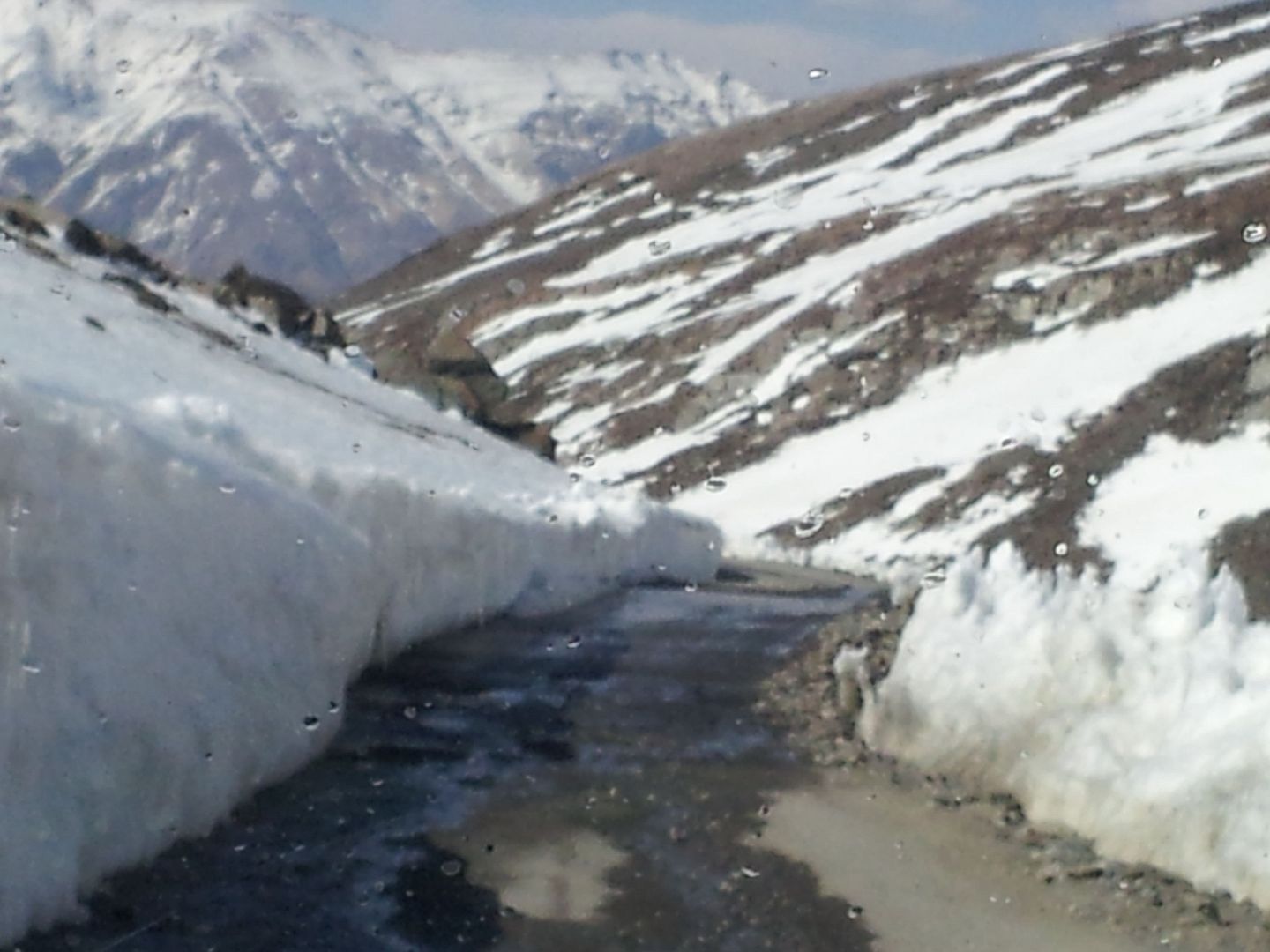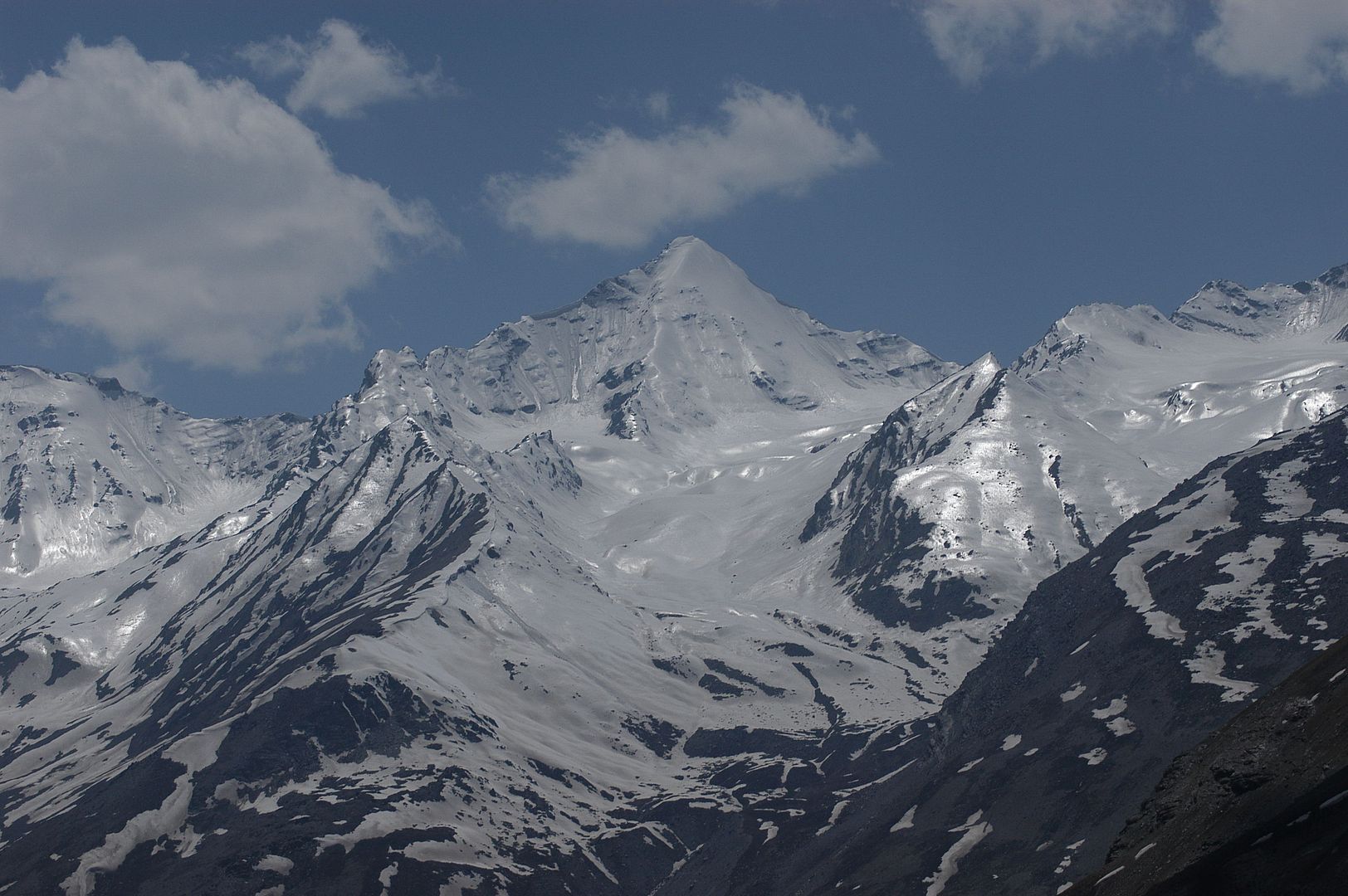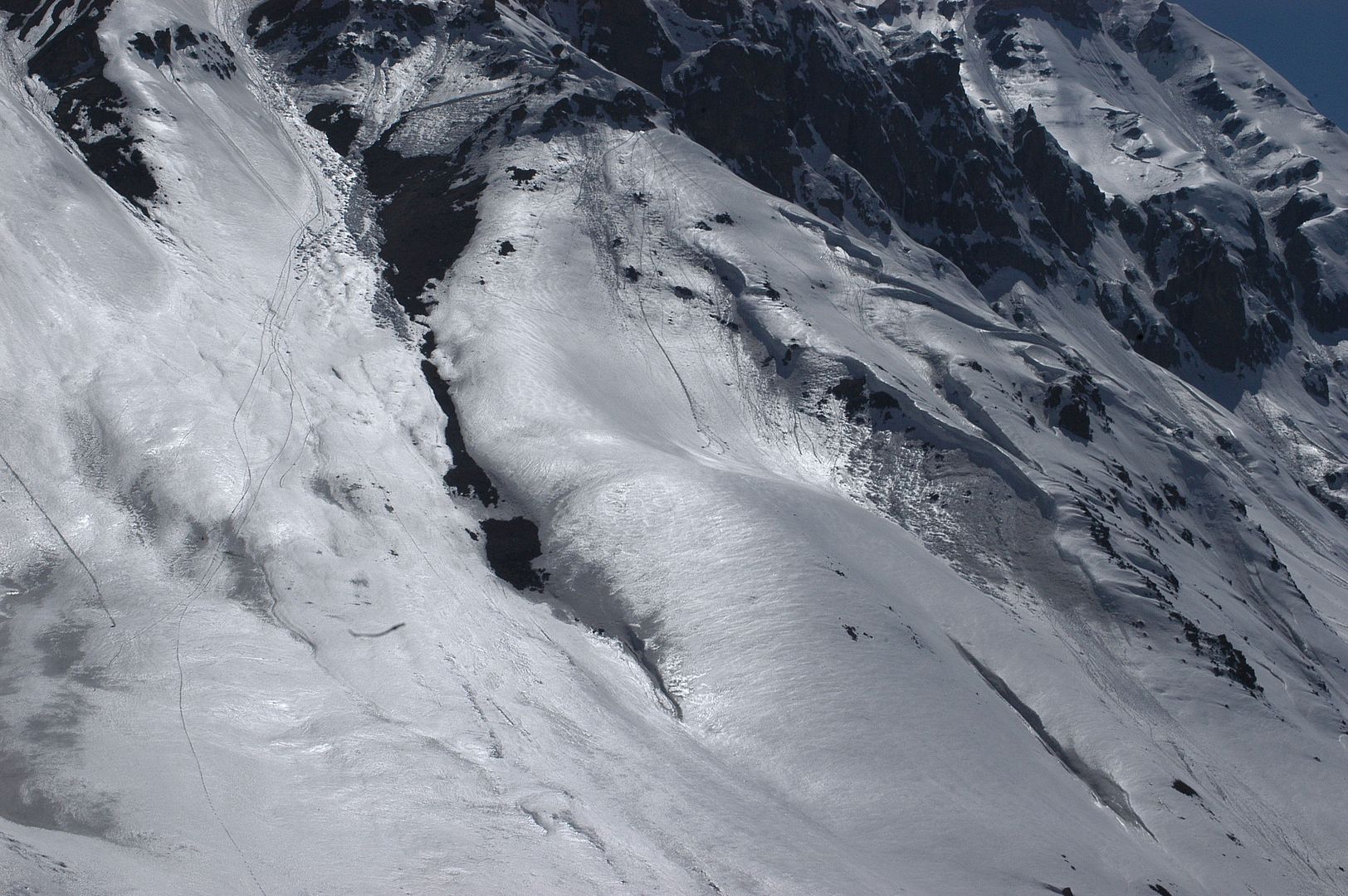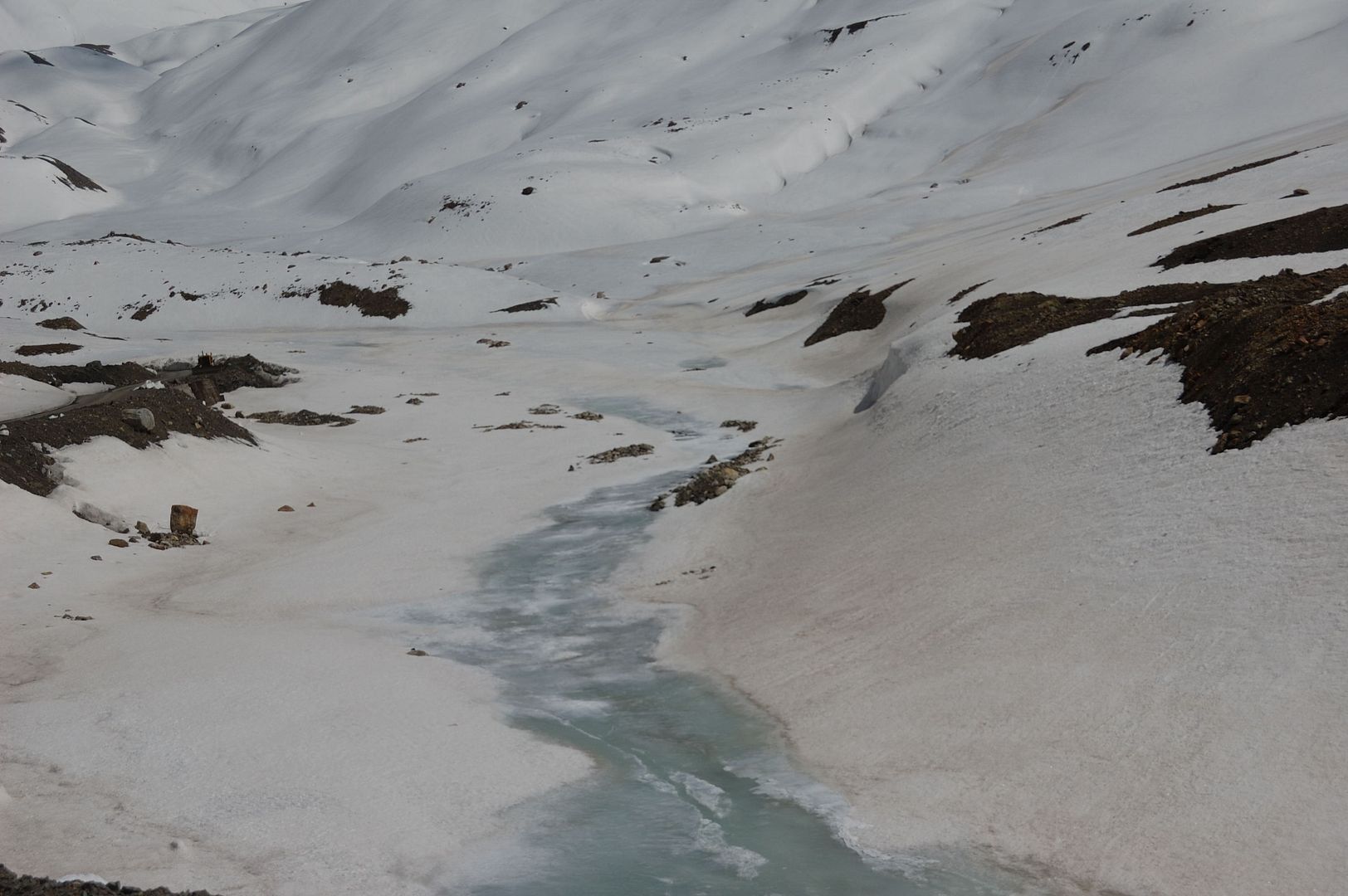 Sarchu सरछू @ 4000 m
The entry to Sarchu was amazing. After crossing the curvy path of mountains and snow, one suddenly comes across a vast plain between the high mountains but with little snow cover. There are gorges on one side where a thin stream of Yunam river flows. These gorges have very strange formations which look like pointed erections, possibly caused by wind erosion. The place is bone dry with cracks appearing in the soil with little precipitation even in severe winter when temperatures plummet below -30 degC. However, the place is very windy with wind velocities possibly approaching 40-50 Km/hr making the temperatures feel subzero despite actual temperature being about 5-10 degC. Here, no one lives permanently except a few Army settlements. Reception of cell phone is nonexistent and one really need to live like nomads. We found a camping site where we stayed in the camps. These camps serve you food and bedding and some of them also provide toilets which is indeed a luxury at this place (exposing your bum to morning frost is no fun :) ).
However, the scenes at Sarchu are awesome with lovely mountains all around and vast plain stretching quite far, gorges with thin stream and absolutely pure air to breathe, albeit with less oxygen. We strolled a bit to feel the place before settling into our camps as wind chill was getting severe making our bones feel it. We had some nice food from the camping guys and soon we settled down to sleep as we had to move to Leh which was still good 250 km from here. We had to use all our woolens here due to cold weather requiring us to unpack the tied up stuff which was the hardest thing in a cold and windy evening.