Sarchhu-Pang-Upshi-Karu-Leh (सरछू –> पांग –> उप्शी –> कारू –> लेह)
In the morning we got up early and soon after daily chores and with a good breakfast and tea, we loaded our stuff. Whatever little water was around, was all frozen. However we found that our Jeep won't start due to cold. Then one of the local drivers gave a tip to pour some hot boiling water over the engine which worked. We left Sarchu at about 8 am. It was cold, but sunny and not as windy as in the previous evening. Sarchu to Pang ( at 4,600 m (15,100 ft)) is an 80 km drive via the Gata loops (22 hairpin bends) at 4,190 m (13,750 ft) elevation and traversing through gorgeous and cold Nakee La pass at 4,739 m (15,547 ft) and Lachulung La pass at 5,065 m (16,616 ft) elevations. The scenery was very different to rest of the Himalayas, kind of cold desert with a completely different look. Initially we came across similar gorges and structure found while entering Sarchu and then landscape started to get browner with an absolutely different kind of natural beauty, emphasizing that non-green nature has its own beauty. Nearing Pang, we came across Lachulung La at 5065 m  and afterwards it was mostly dry kind of terrain with no greenery at all. Some of the natural features before Pang were just gorgeous. We arrived Pang after about 3 hours. Pang is a place at about 4600 m with no greenery and has a few shops for tourists run by Ladakhis who come here temporarily.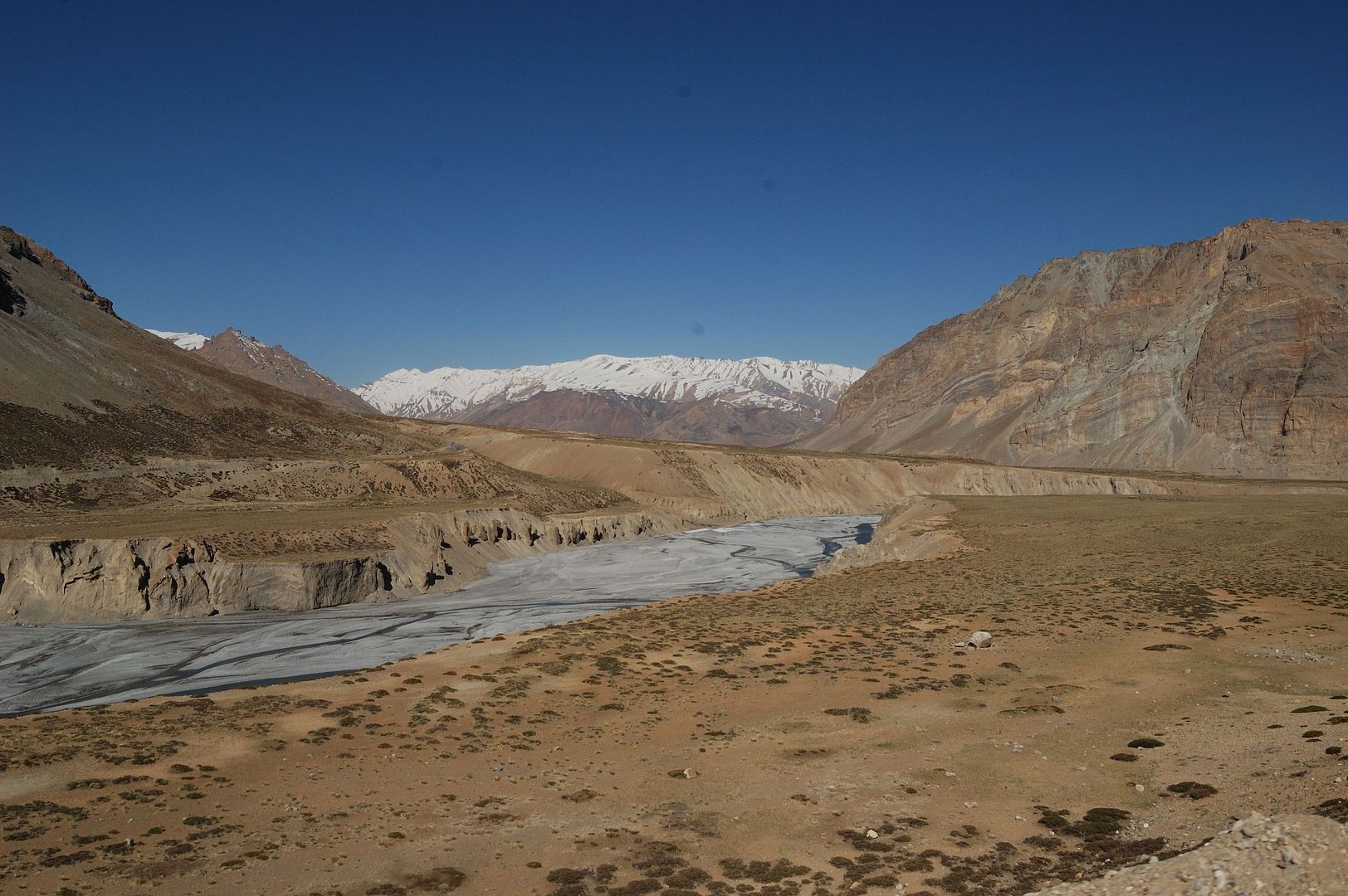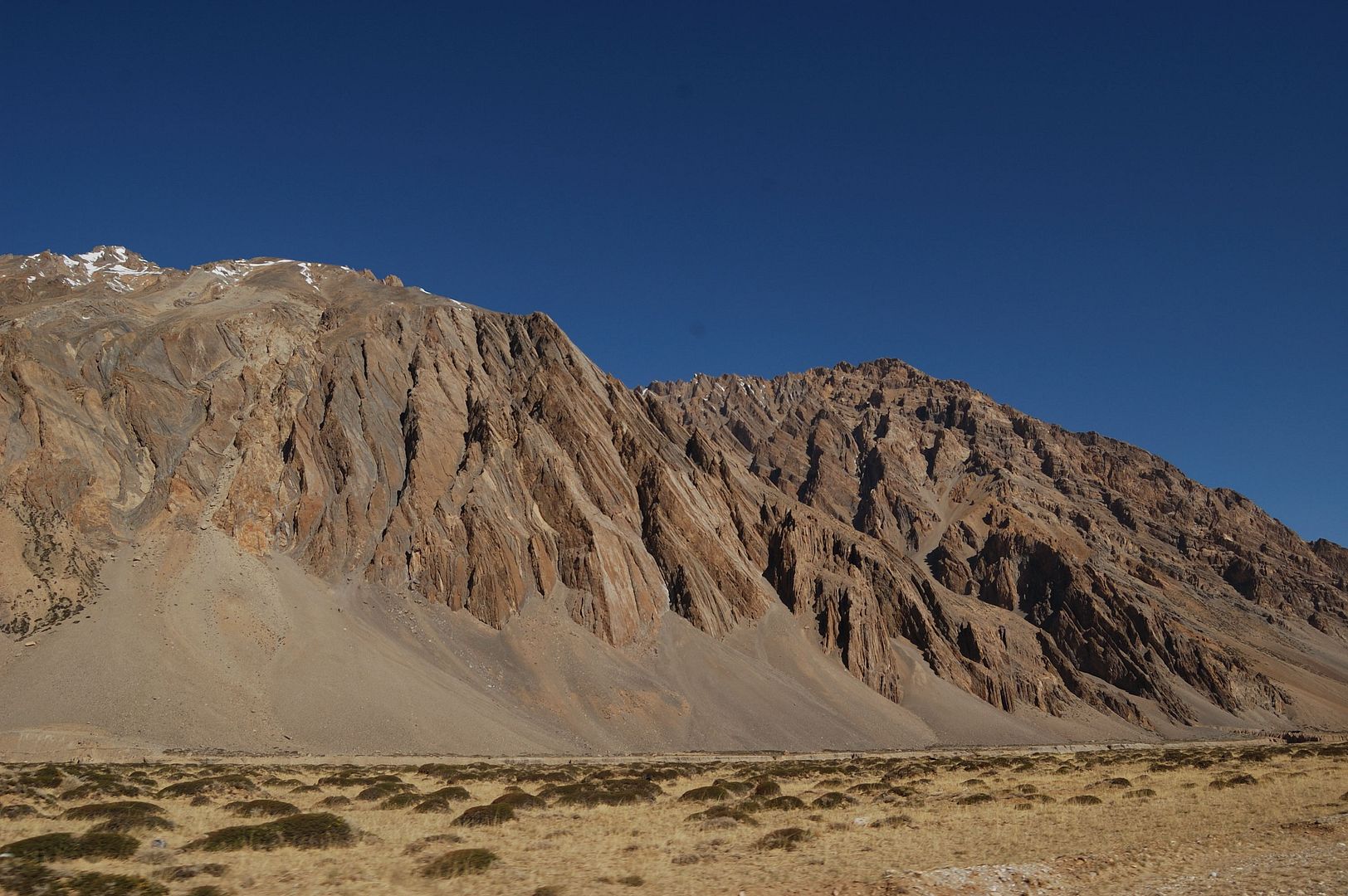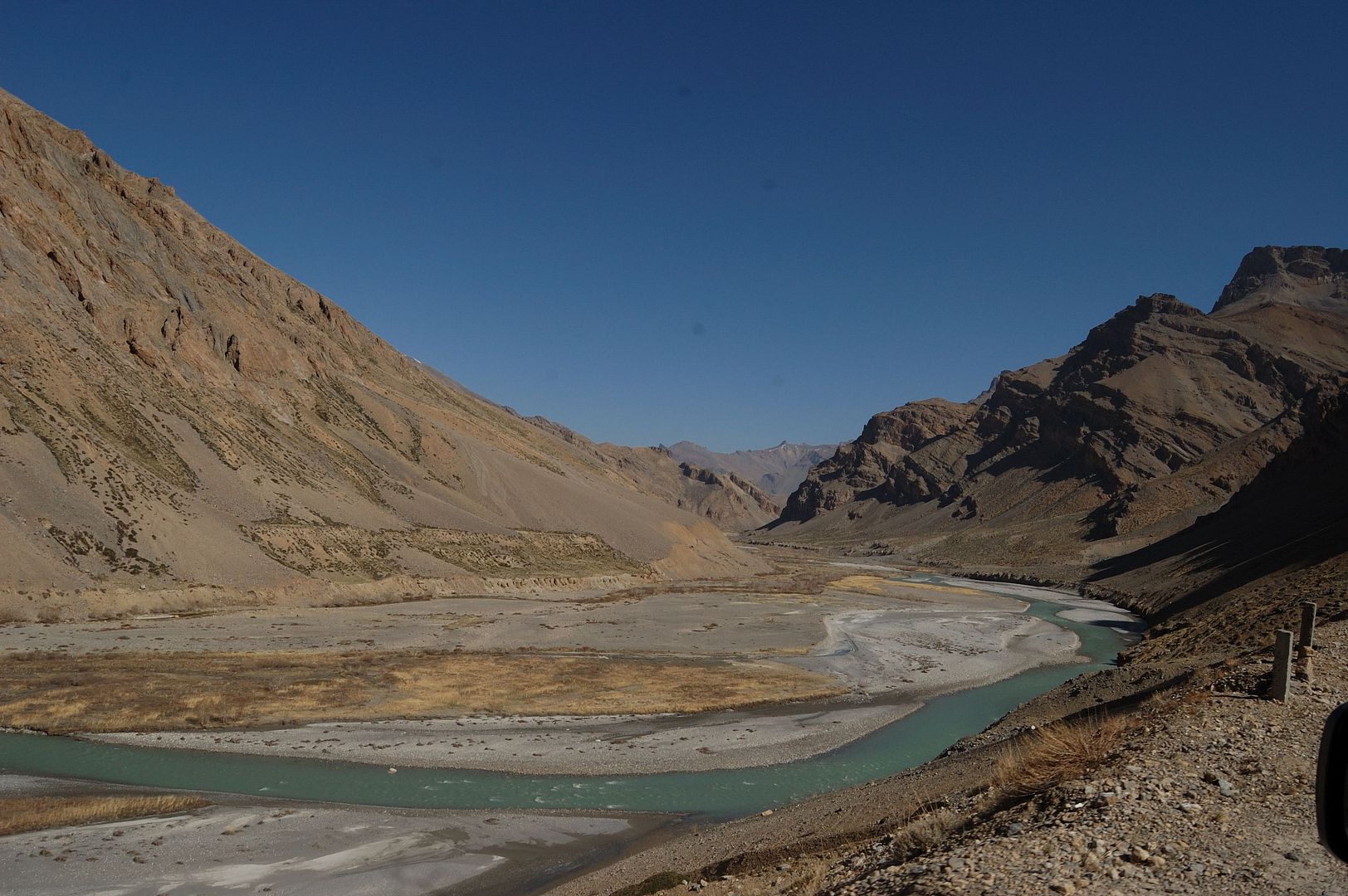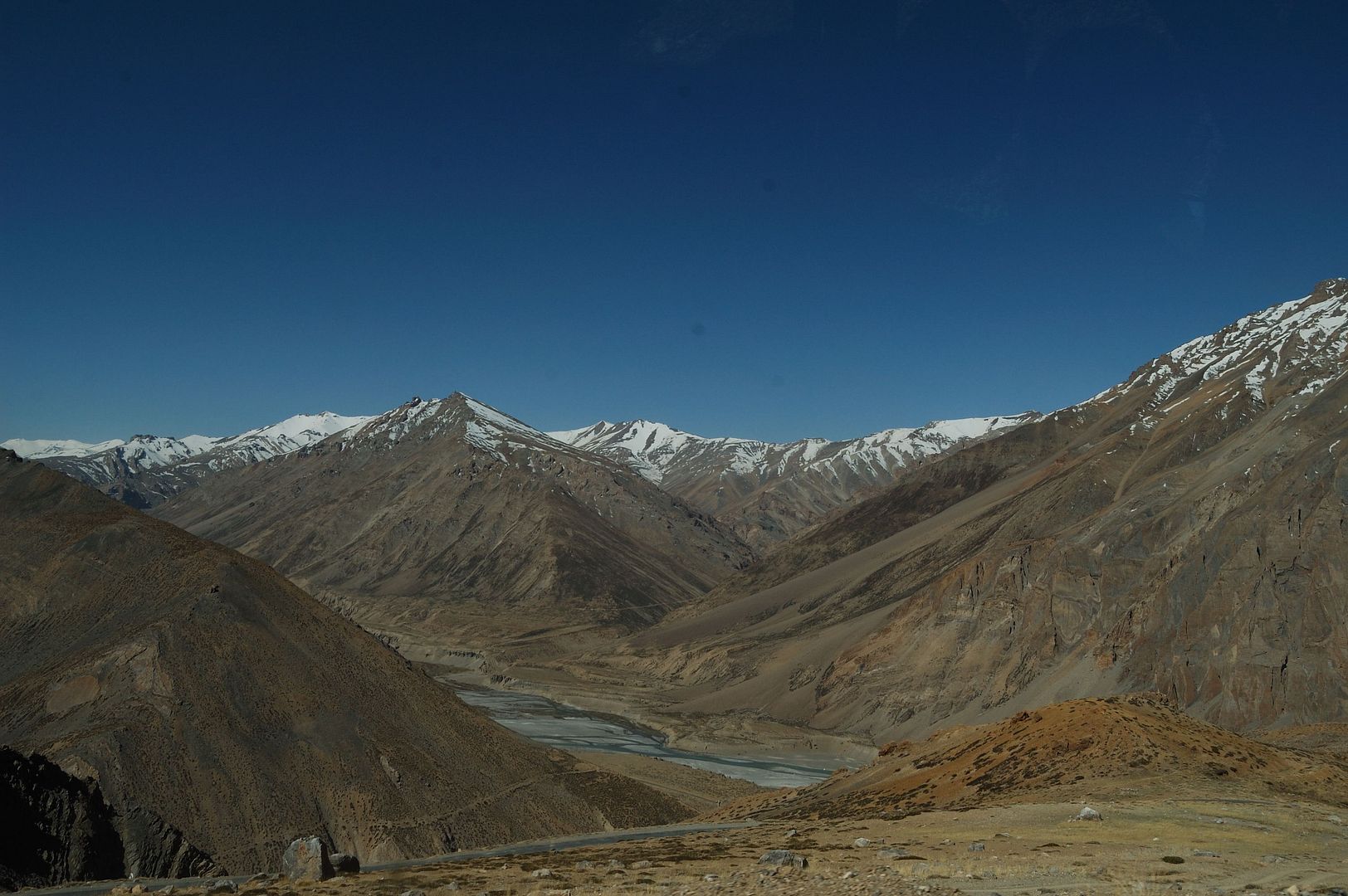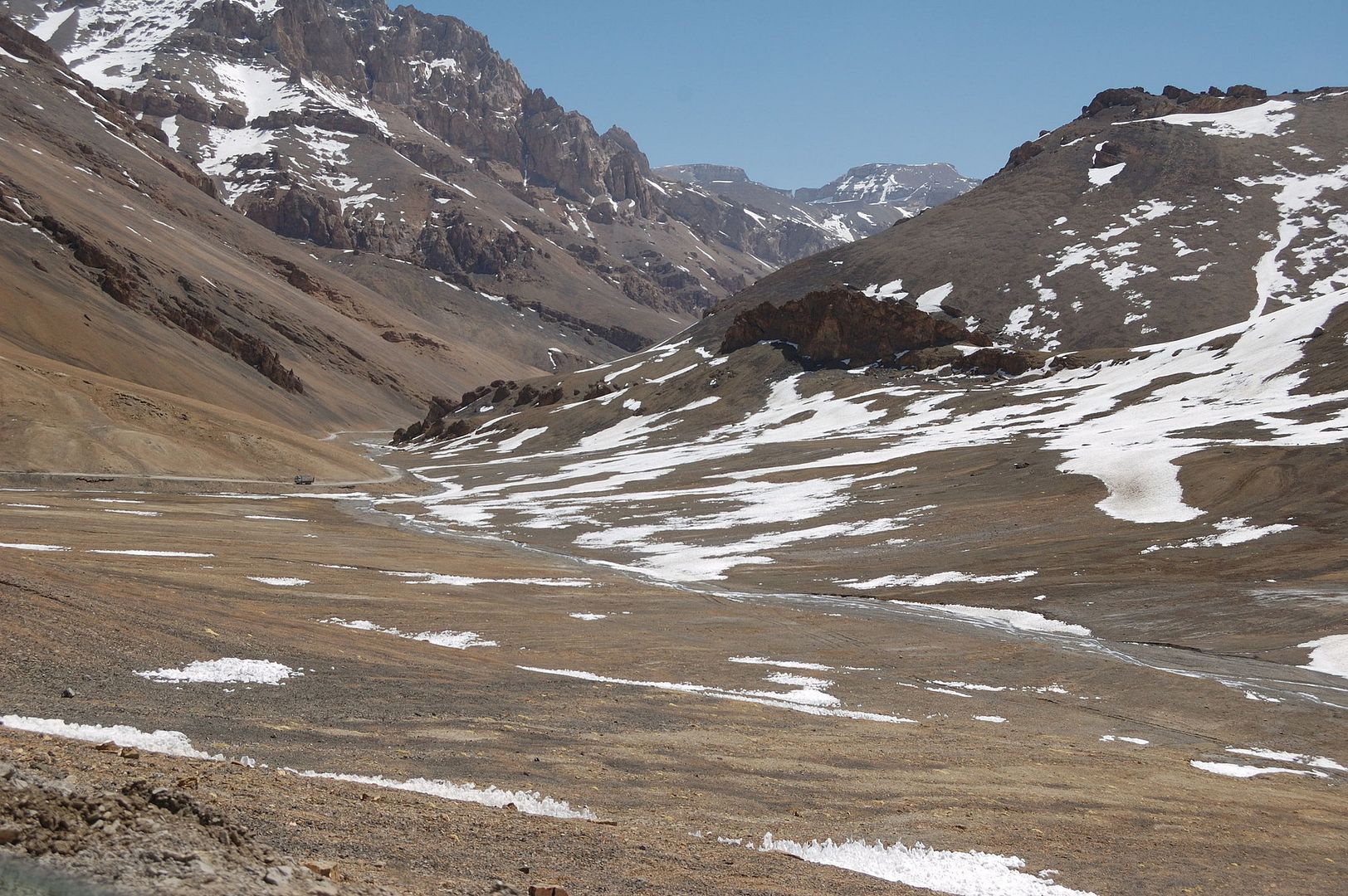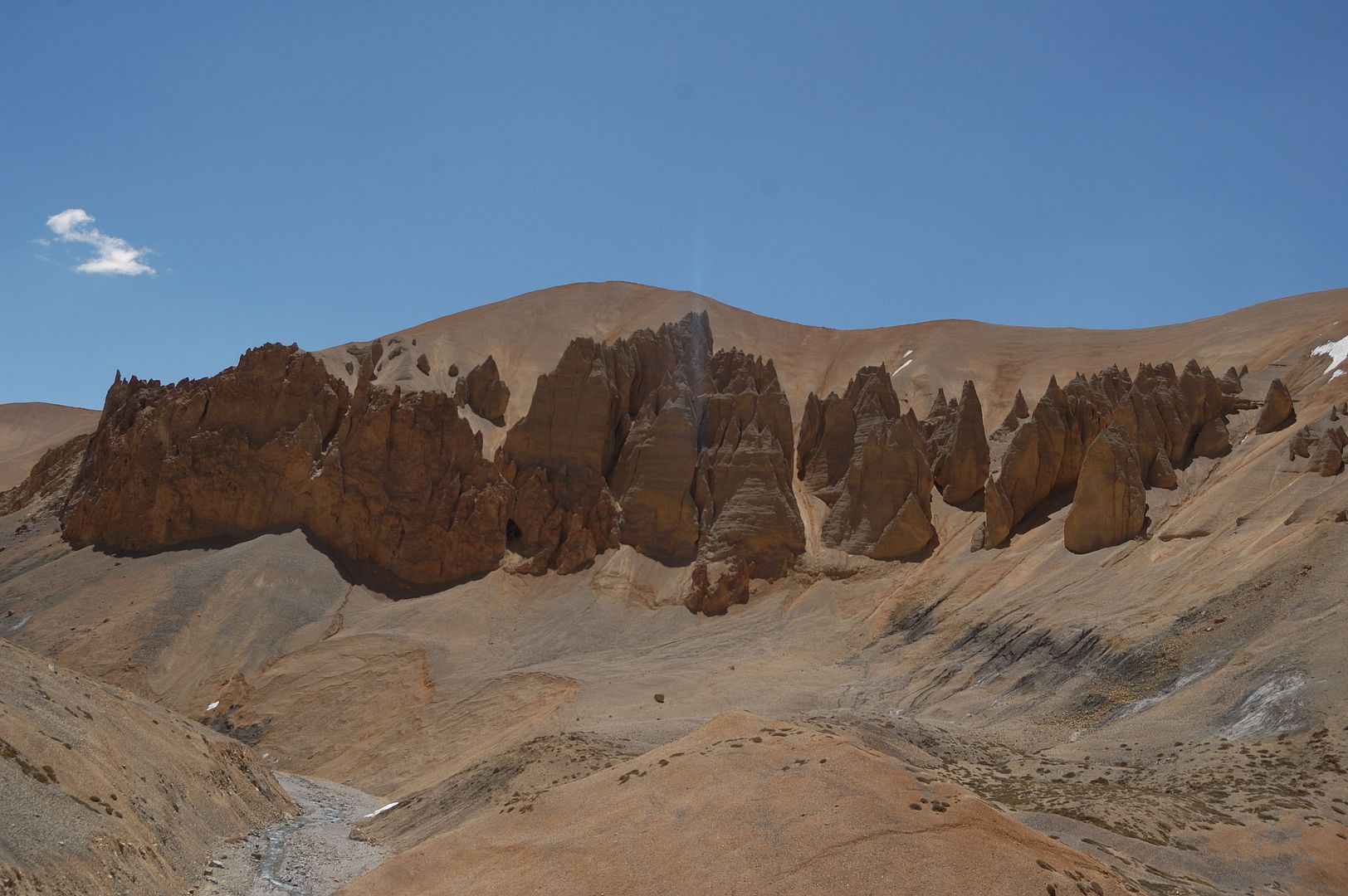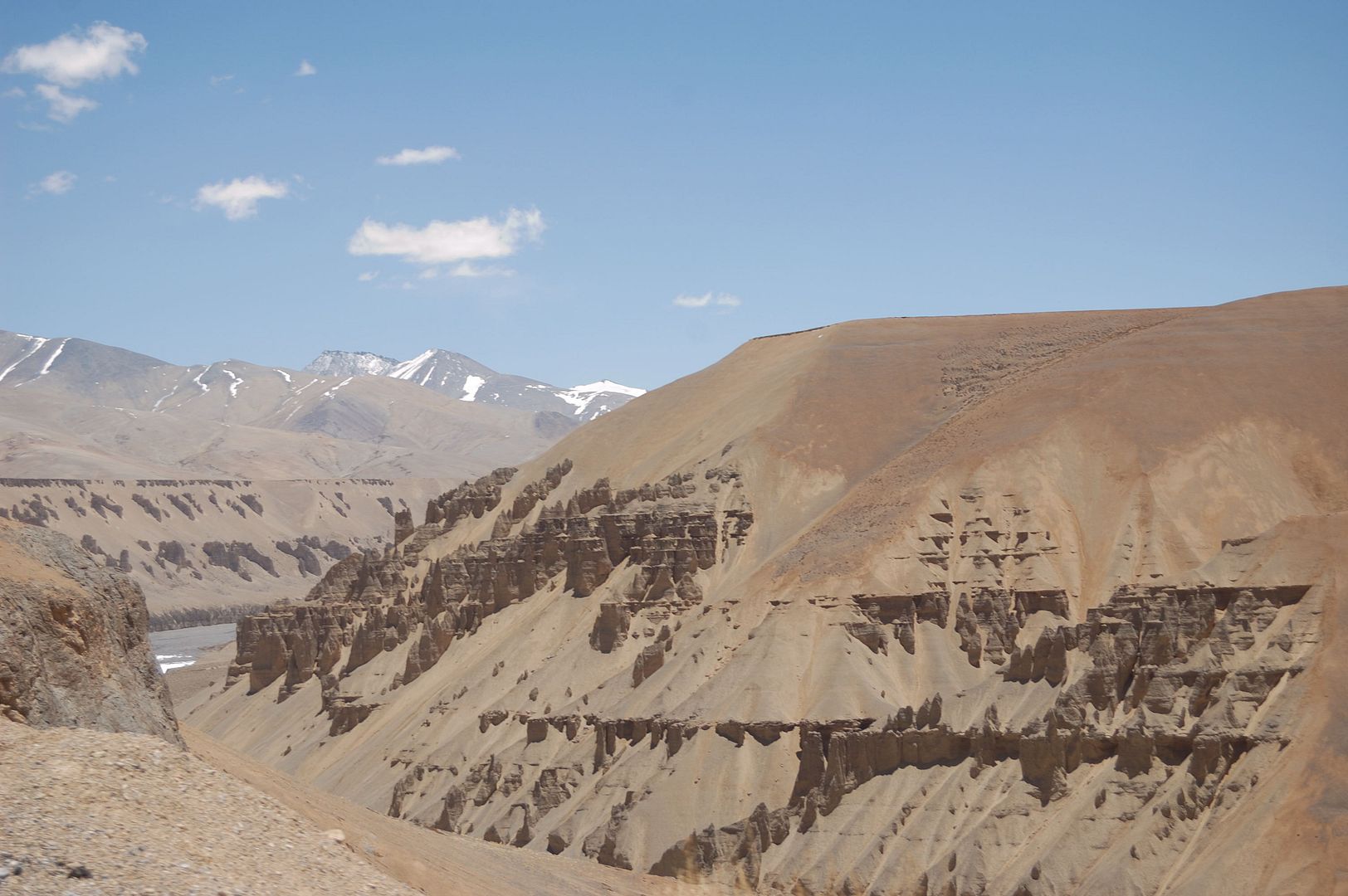 After leaving Pang, soon we entered into a vast flat terrain, called as More Plains, amazing at a height of 4000 m or so. BRO has done a fantastic job of maintaining a lovely road where we drove at over 100 kmph, unbelievable stuff at 4000 m. This stretch was about 40 km long before we entered into winding passes of Taglang La which is at 5,328 metres (17,480 ft) elevation, second highest after highest motorable road in the world after famous Khardung La in Ladakh. Getting down led to a slight change in terrain. On the way we came across small Buddhist towns of Gaya, Upshi etc where some amazing rock colours were seen and hardly anyone lives here.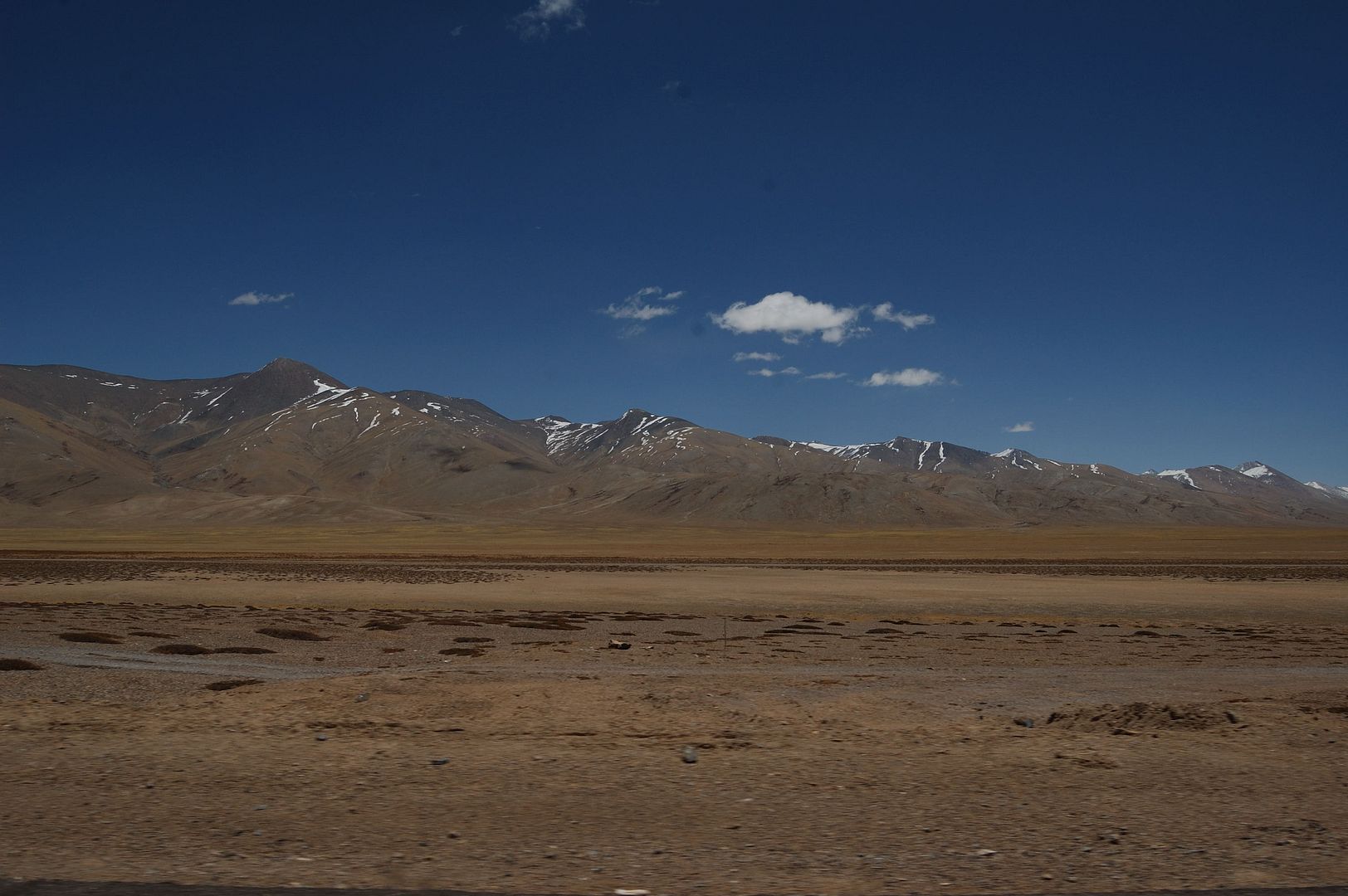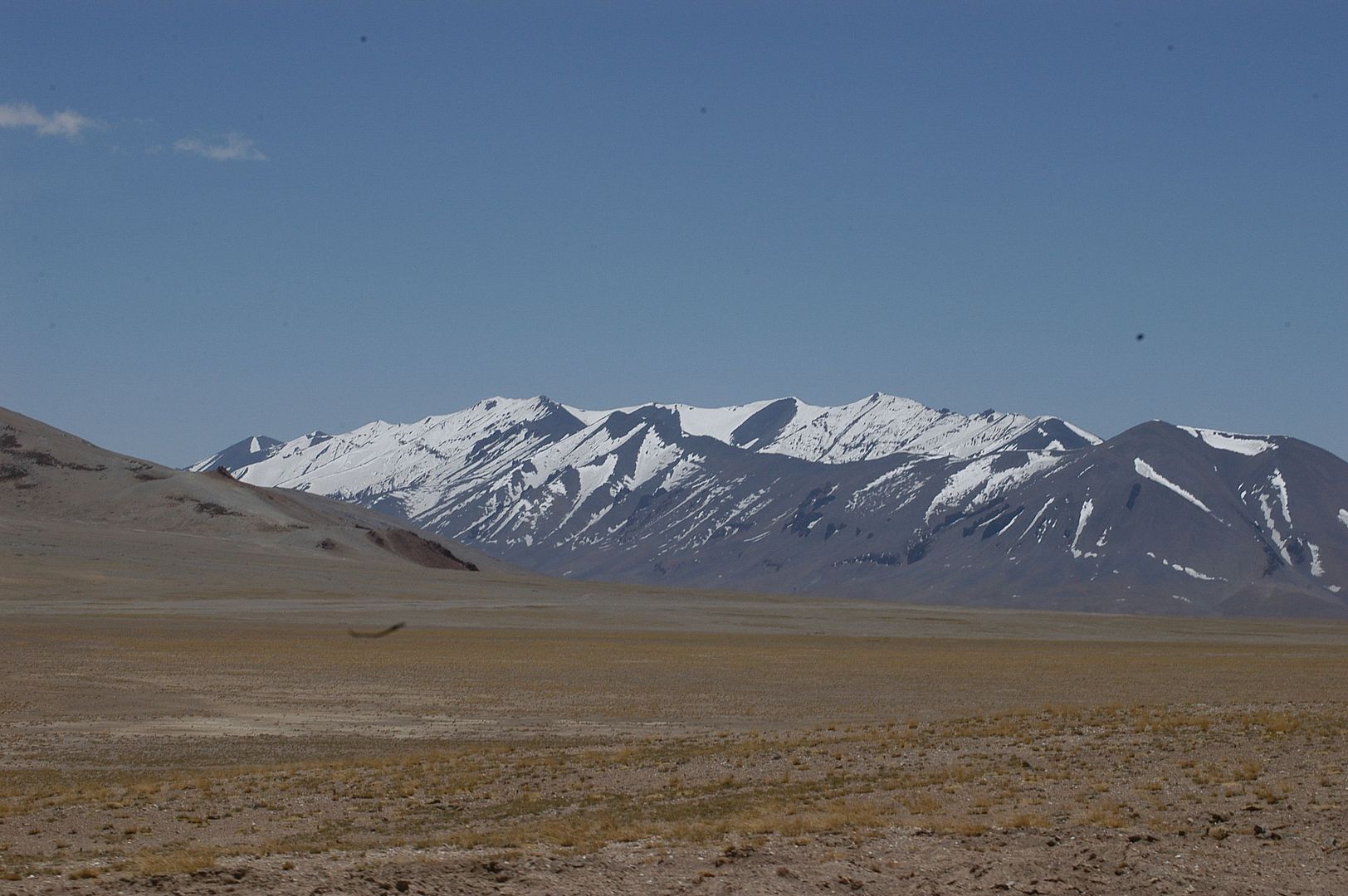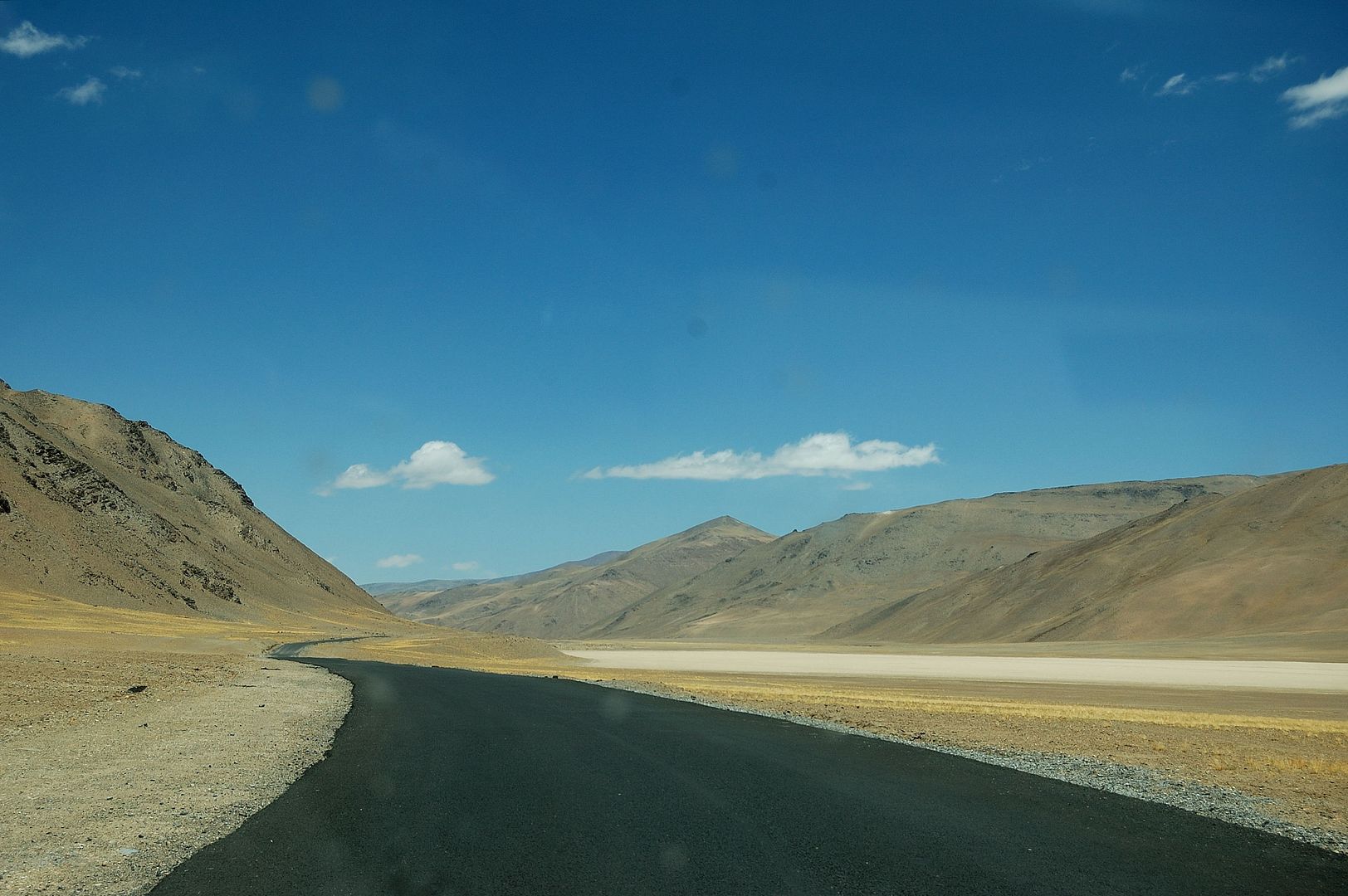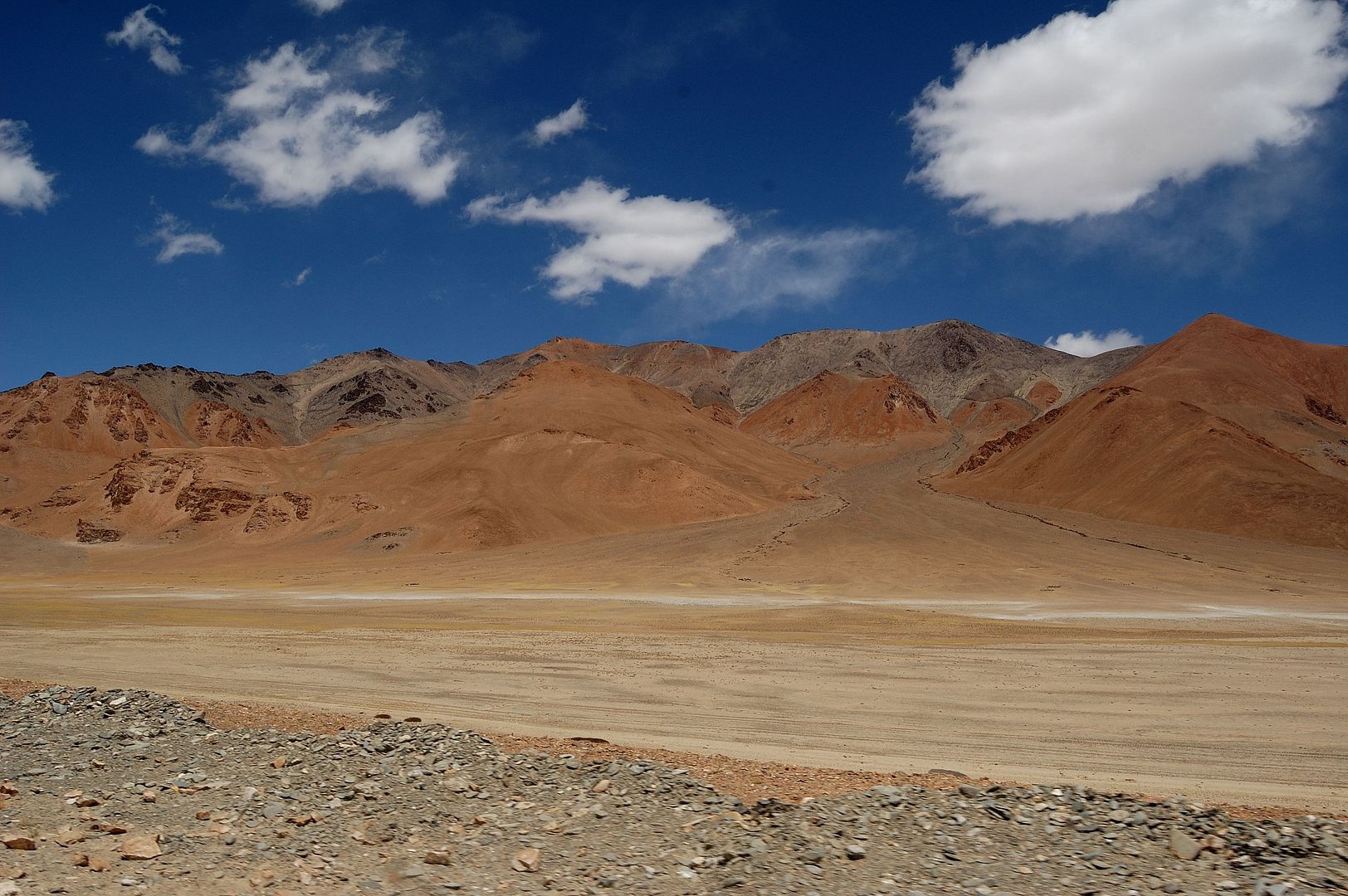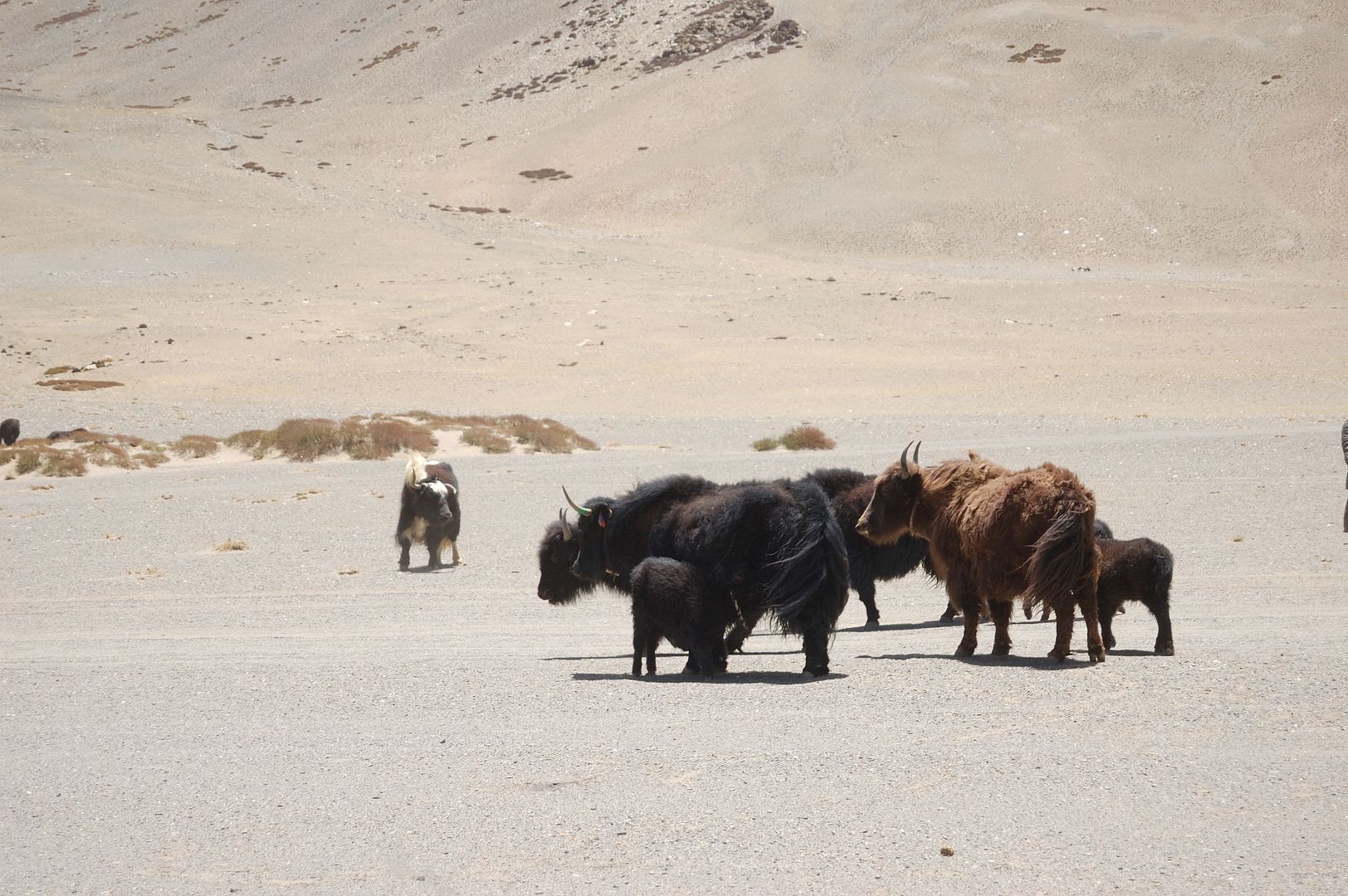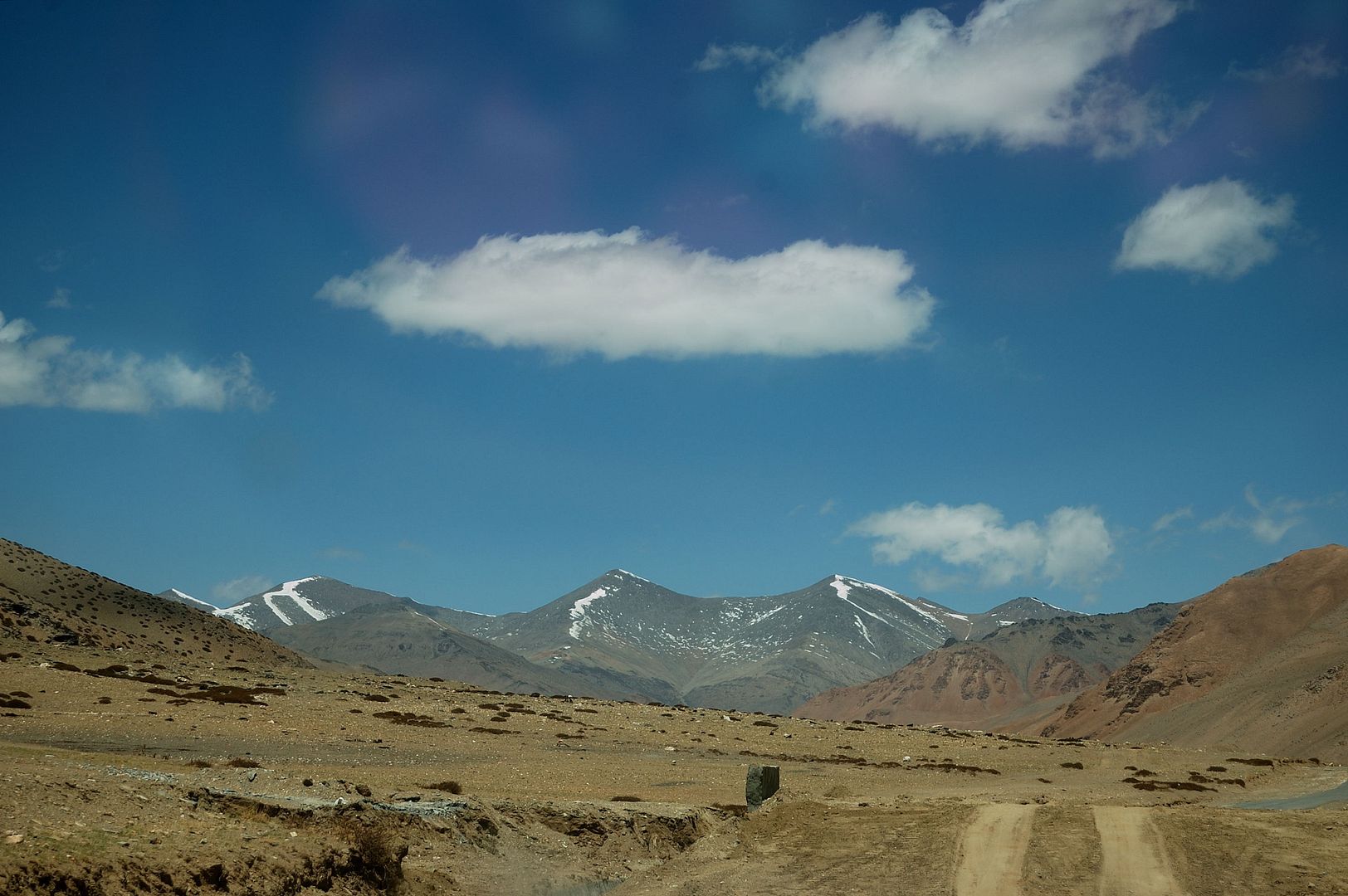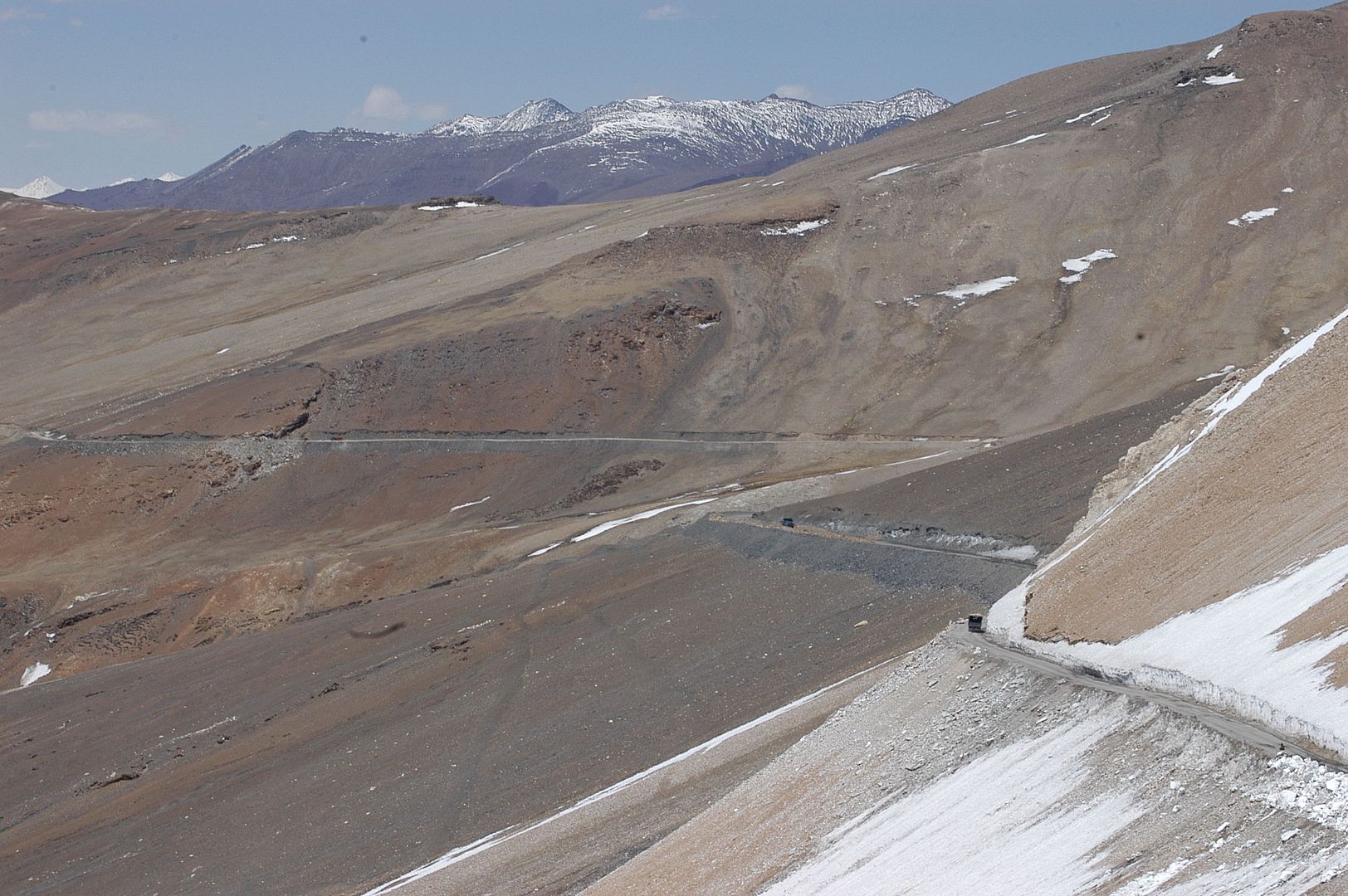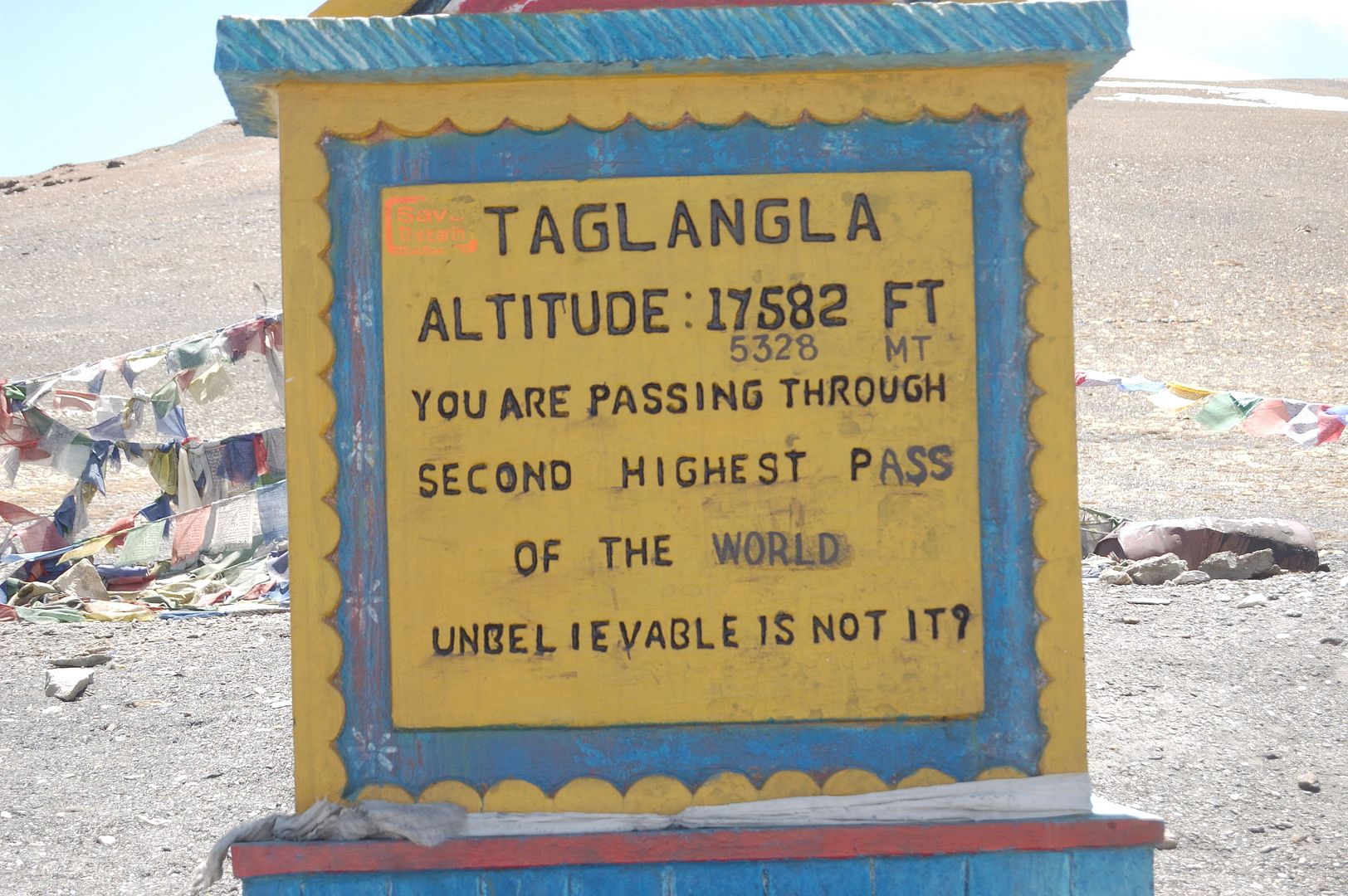 First town where some civilization could be seen was Upshi which is basically a check post where we did not stop. Next stop at about 30 km was Karu which basically a military establishment just before Leh. We stopped a Karu for a late lunch and some tea and then soon proceeded to Leh which took about 1-1.5 hours. On the way to Leh one can see gorgeous mountain views with Indus flowing along the road.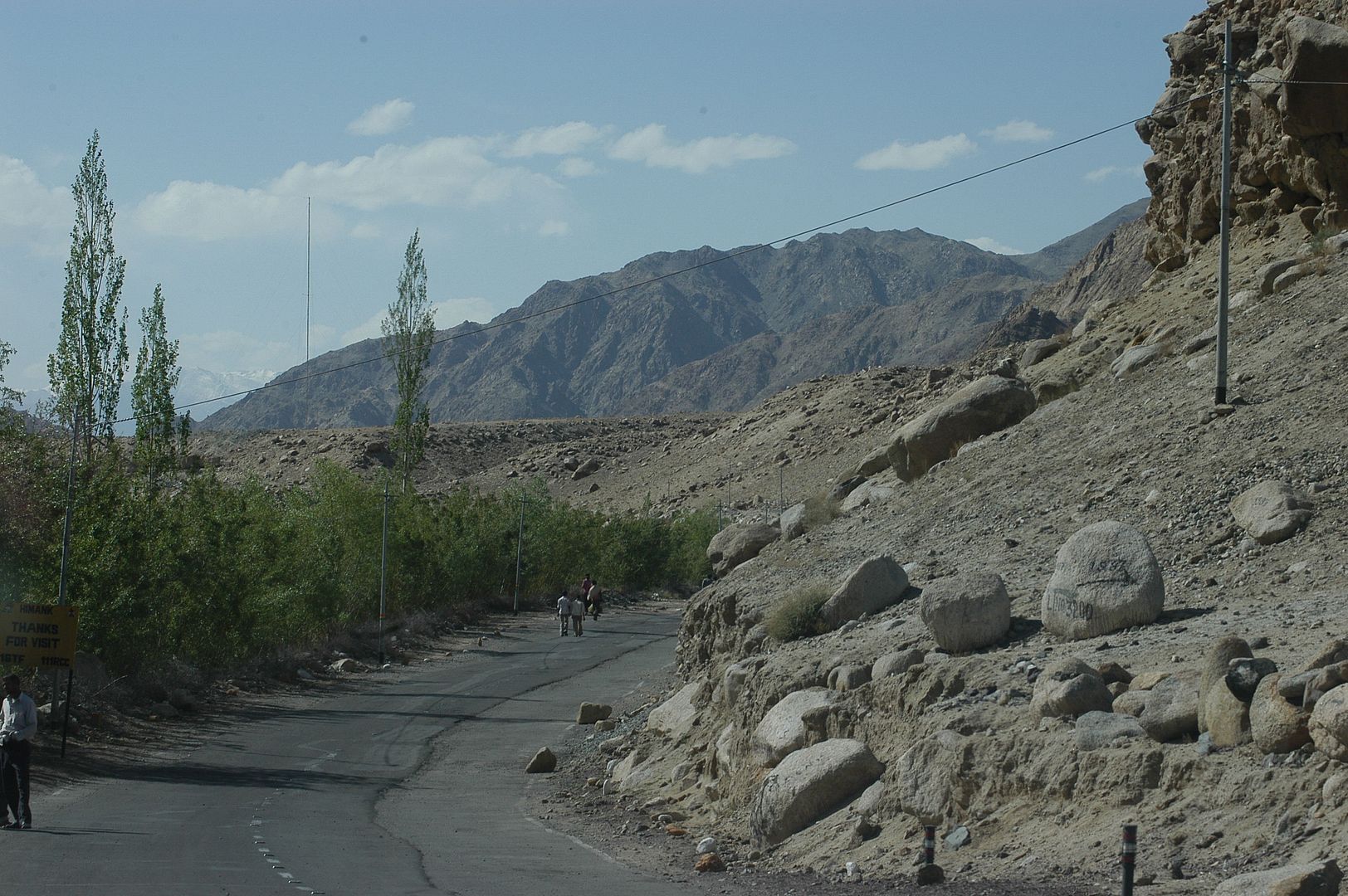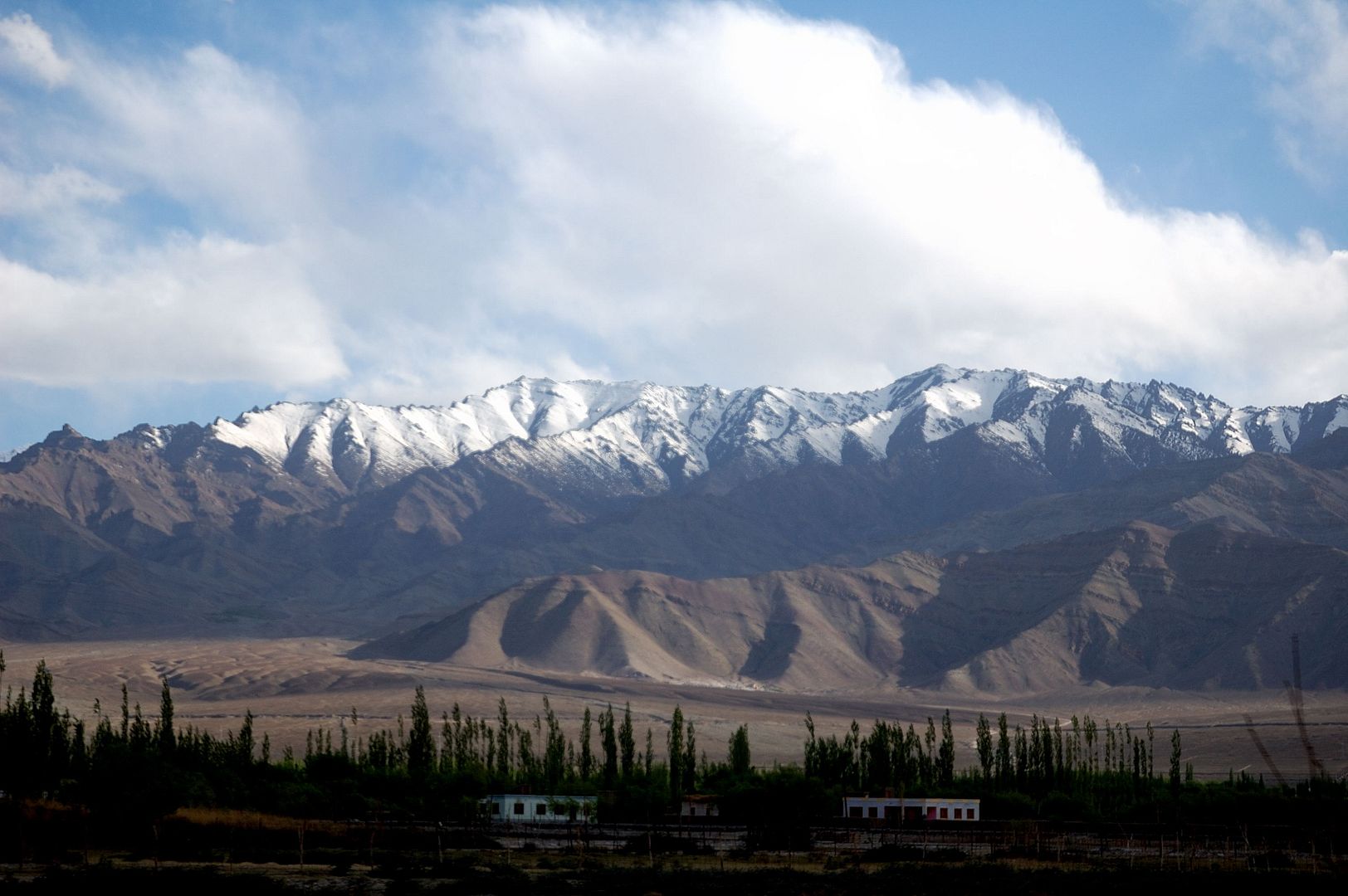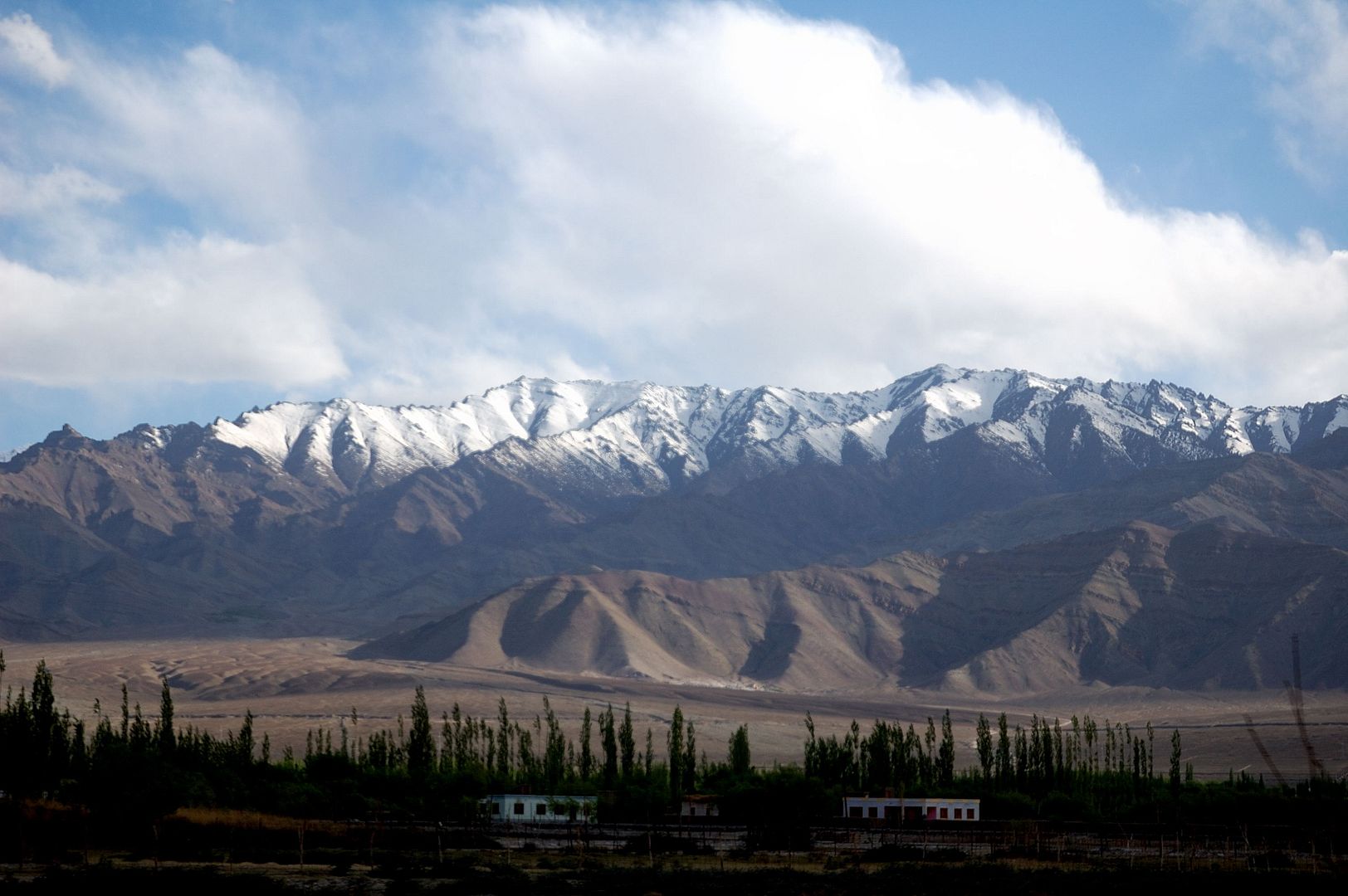 We were warmly greeted by our hosts at Army guest house which was wonderful.
Leh and around
Next, day we went to places around Leh such as Patthar Singh Sahab Gurudwara (पत्थर सिंह साहिब गुरुद्वारा), so called Magnetic Hill, Confluence of Janskar and Indus rivers, a Kali temple and a Buddhist temple, and one of the oldest monastery near Leh. The landscape near Leh is also dry, barren but mesmerizingly beautiful. Buddhist temple have special wheels called Maney ( माने) carrying the holy mantra "Om Many Padme hum" or "ओम माणी पद्मे हूं"  which the devotees rotate.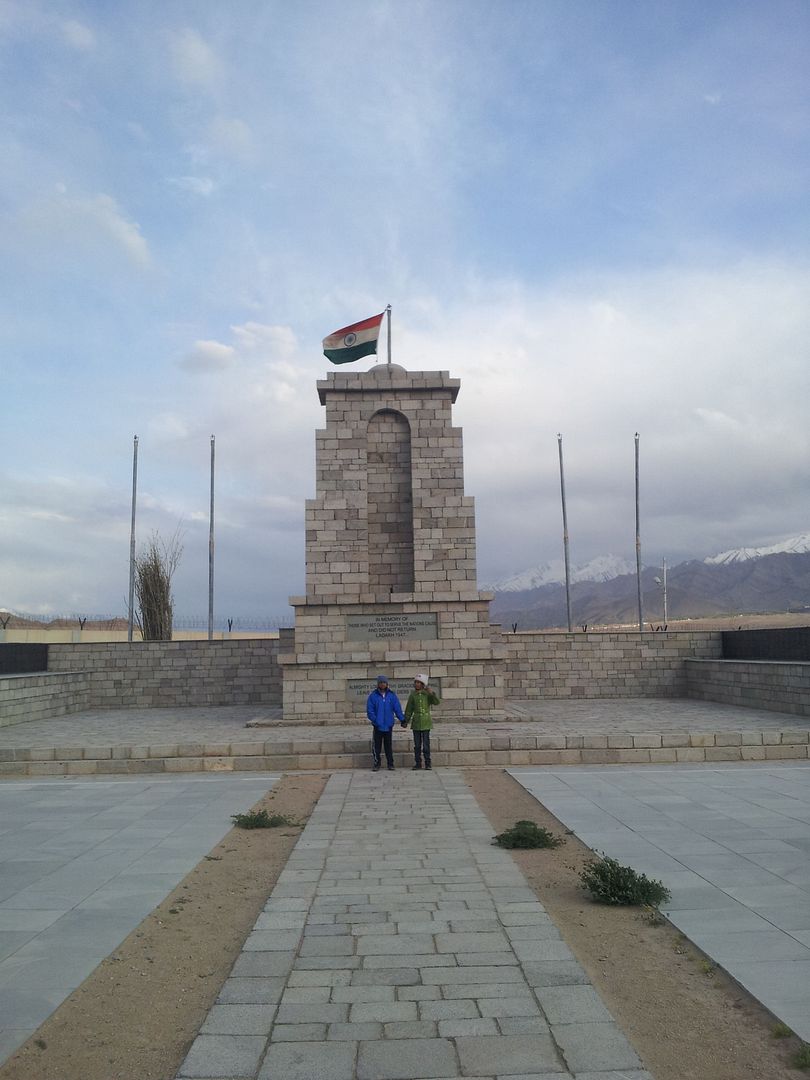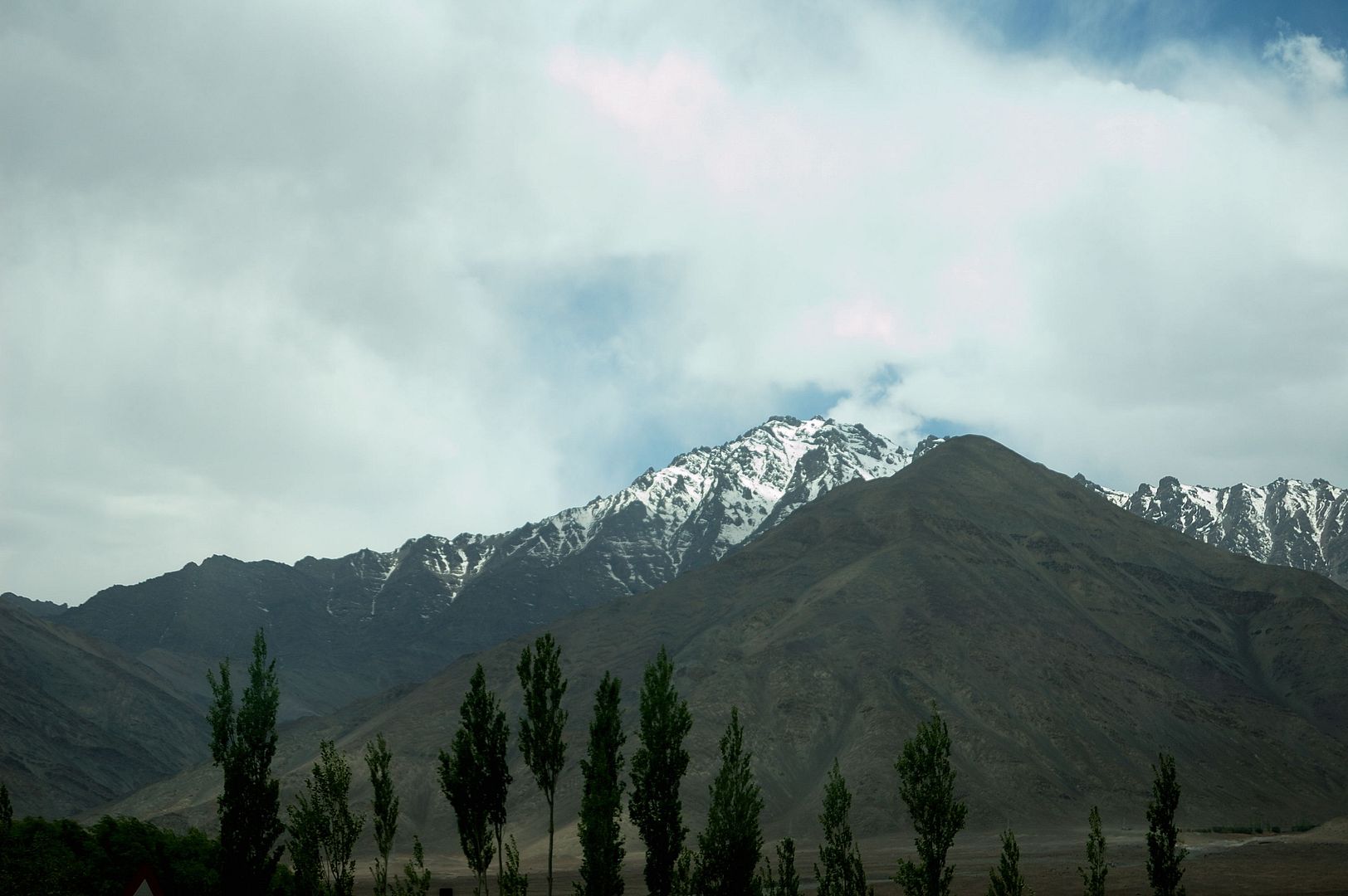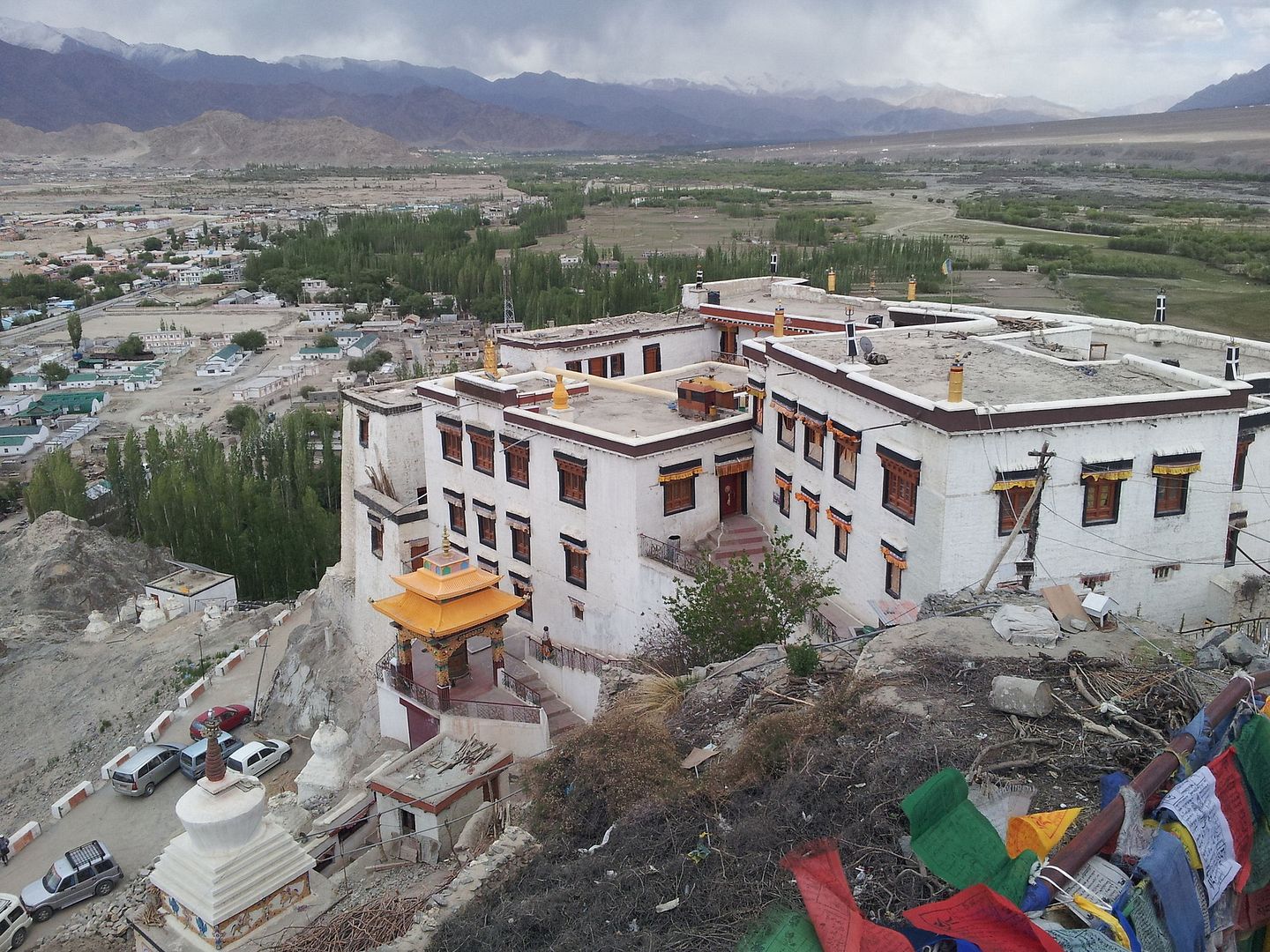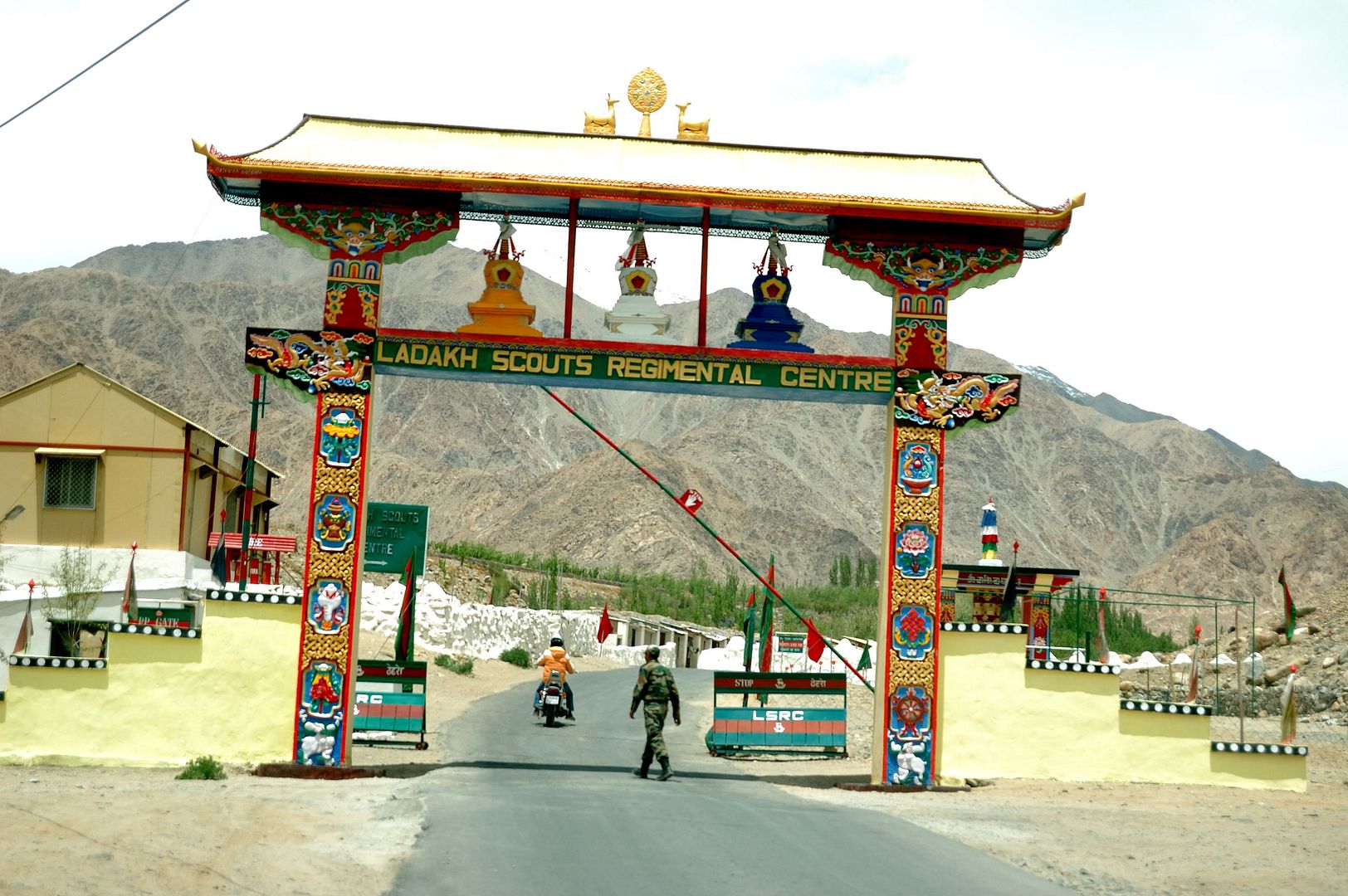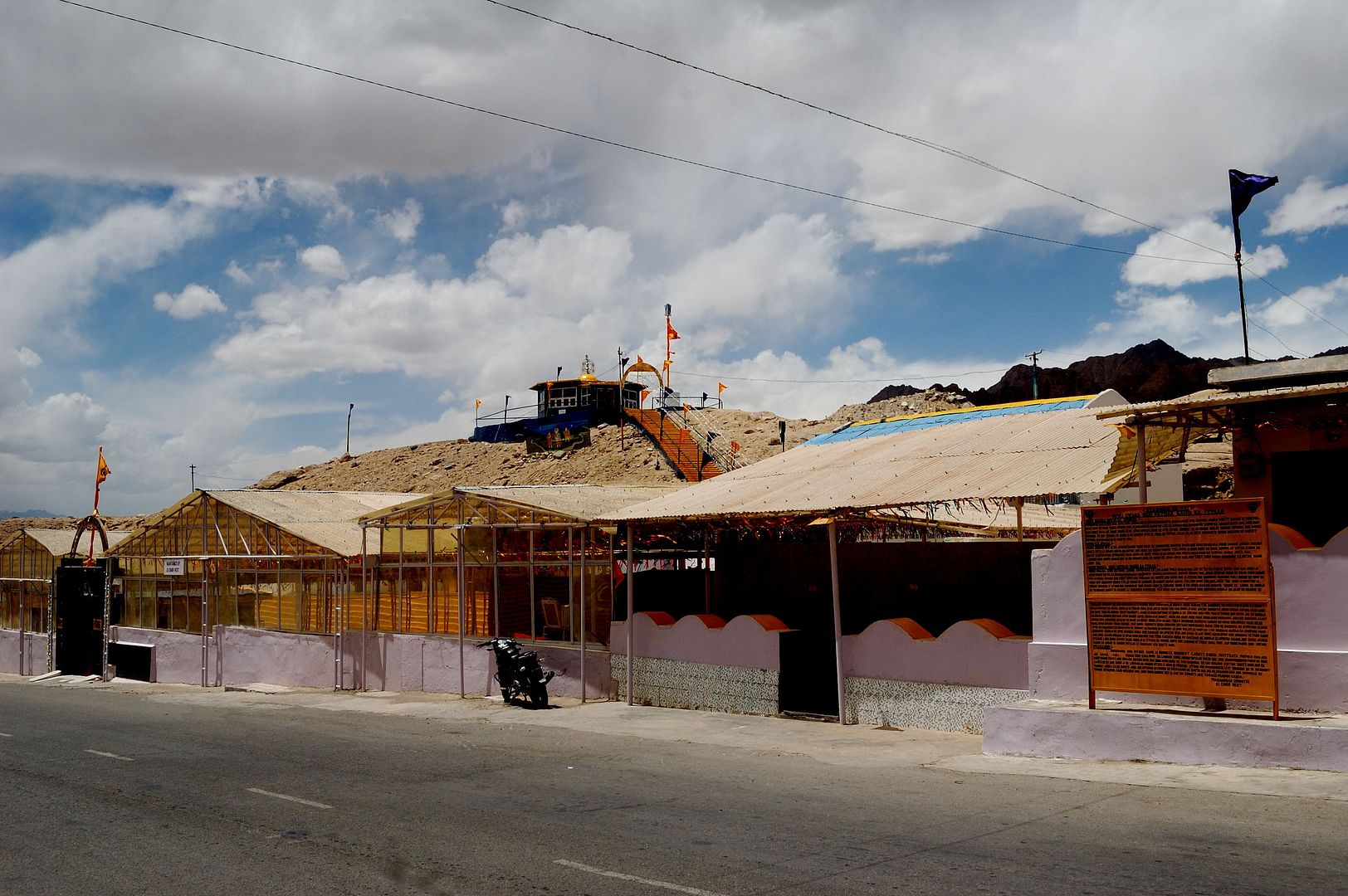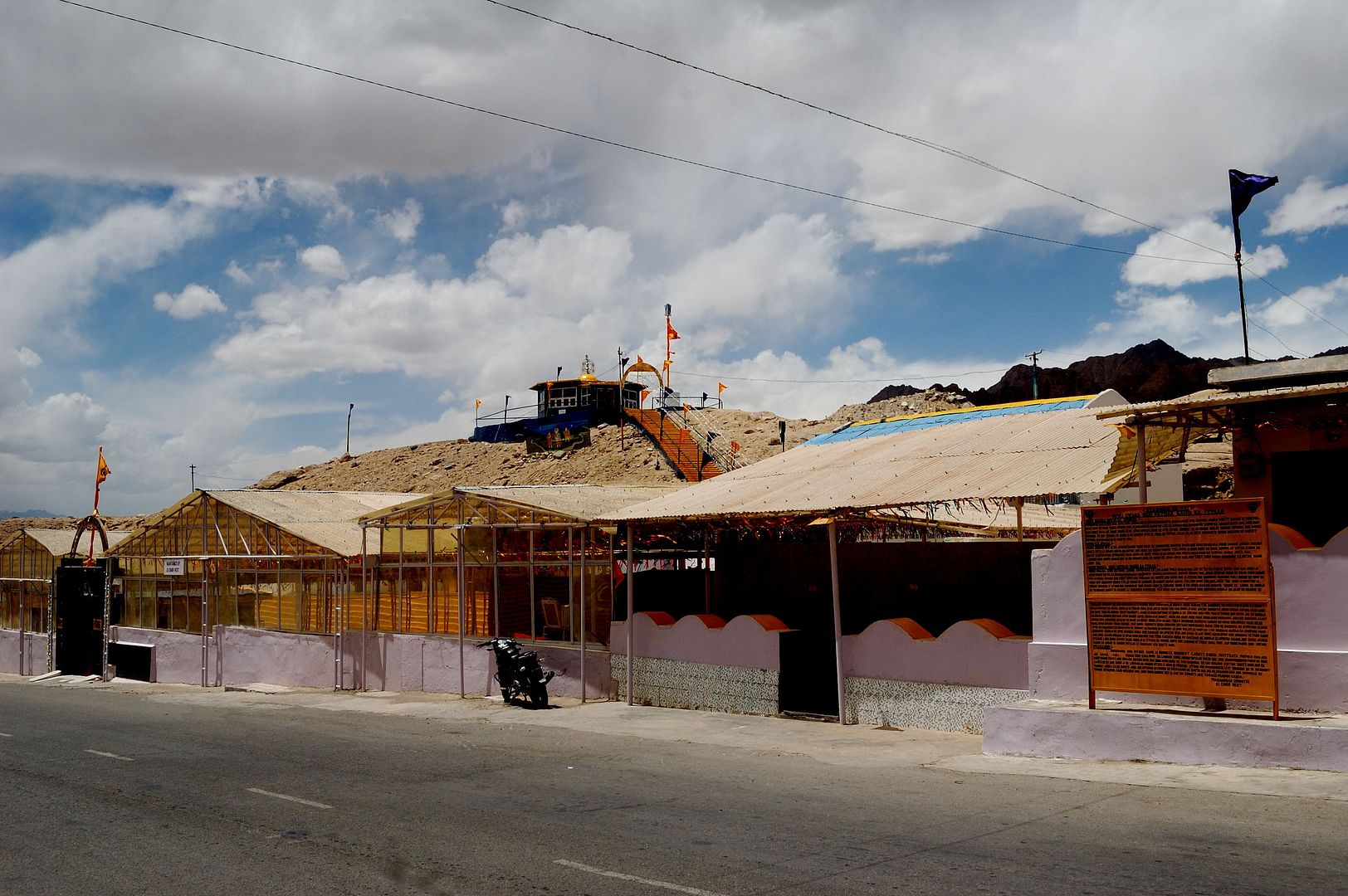 Testing magnetic hill, actually an optical illusion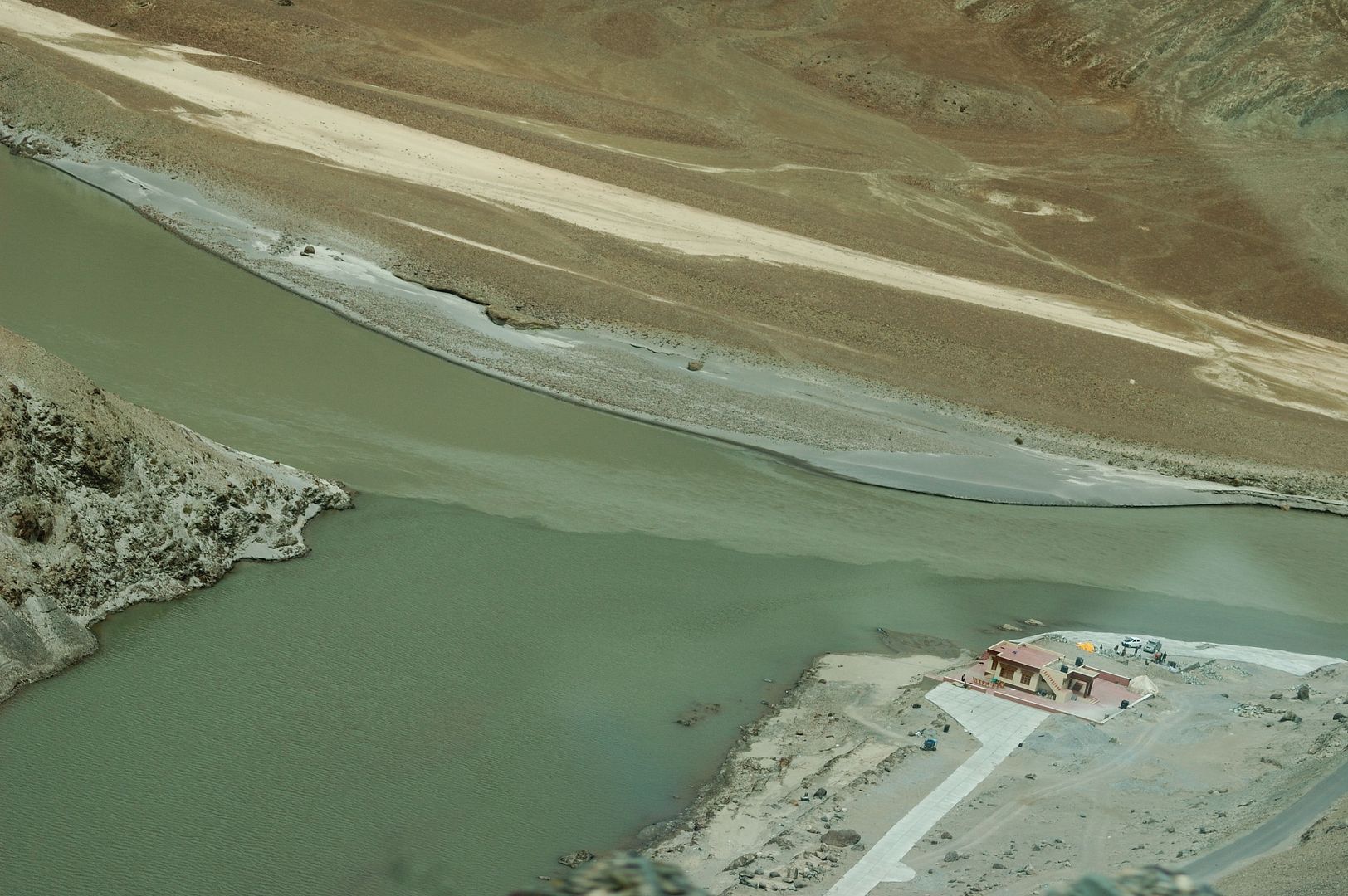 Confluence of Zanskar and Indus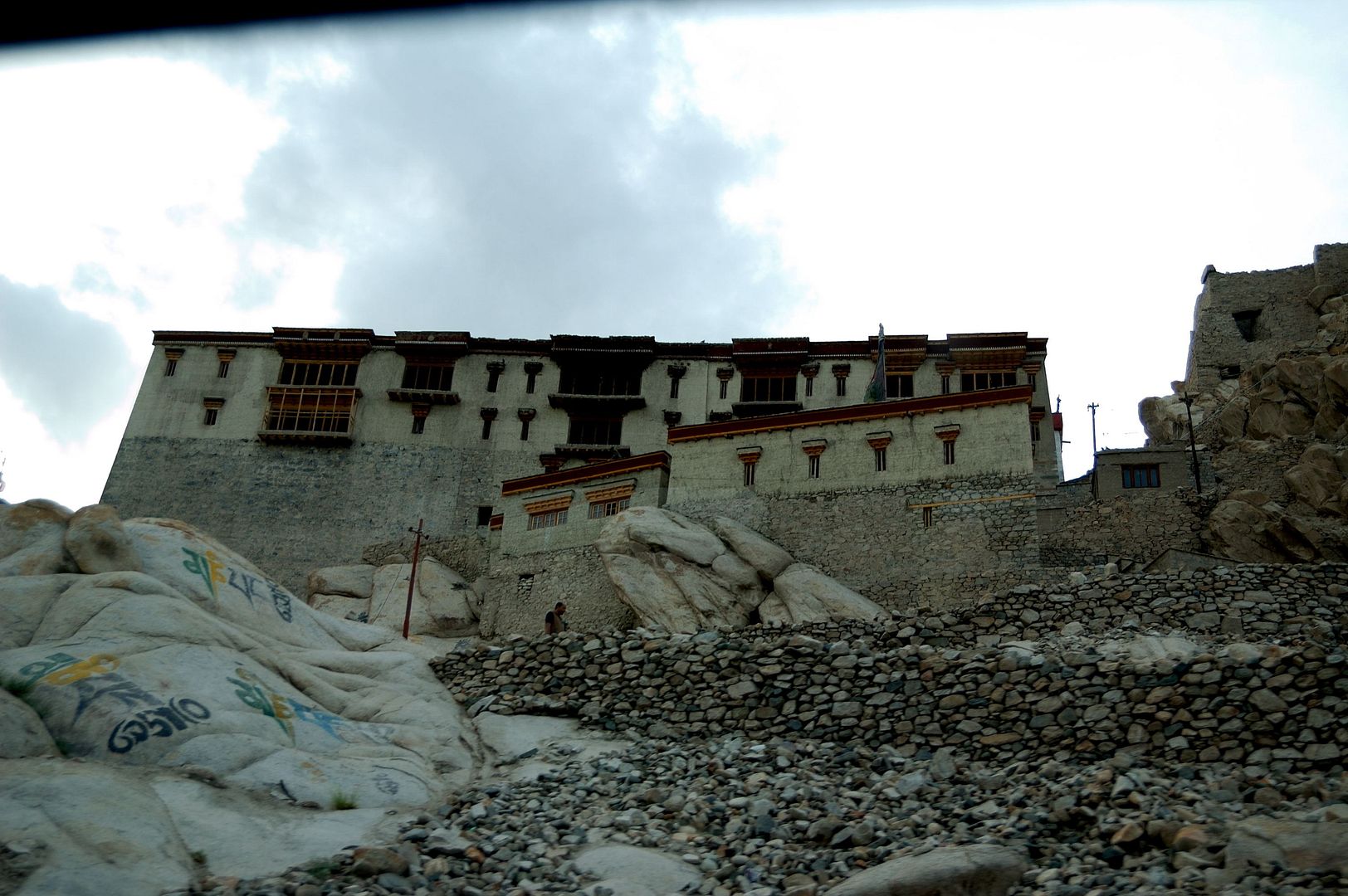 Thiksey Monastery
Leh-Pangong Lake-Leh
Next day we moved towards Pangongtso Lake which is 1/3rd in India and 2/3rd in Tibet. We went via Karu and then passing through Chang La which is third highest pass in the world at height above 5000 m. The scene beyond Changla into Pangongtso is beautiful. The water of Pangong is blue and clean but strangely lacks in marine life. We stayed here for about 2 hours before getting back to Leh the same day.
Leh-Kargil
Next day we got up early to take our trip beyond and our stop was at Kargil. As one goes to Kargil beyond Leh, the scenery changes quite a bit from sandy to slightly green to quite green. One also witnesses a change in the culture from predominantly Buddhist to Shia Muslim as one progresses towards Kargil, although look of the people remains fairly similar with Mongoloid facial features. However, the road to Kargil is patchy and at places is quite narrow and in bad condition. Kargil is a small town surrounded by hills and one can also get a faint view of famous Tiger Hill where Indian army fought with invading Pakistani Army in cold weather. The places get extremely cold in winter with temperatures getting down to below -20 degC. The towns on the way were Saspol, Nurla, Lamayuru, Mulbekh as we move towards Kargil. Here we stayed in Assam Rifles at their fantastic guest house and used their lovely officers mess facility where we could not enter without shoes.
Kargil-Drass-Sonmarg-Srinagar-Patnitop
Kargil to Srinagar road was fun filled with places like Drass, second coldest habitat on earth, and famous Zozila pass which is quite dangerous to drive on if the roads are bad. Near Zozila is entry to Amarnath via Baltal. The place is very scenic especially we descend into Sonmarg.
Sonmarg is a first view of the valley which is surrounded by Deodar laden mountains and snow cover. Truly amazing scene. After Sonmarg, we moved towards Srinagar via places like Narbal and road is pretty okay. The population starts chaging as one moves into valley with people looking different and distinct while faith changes to Sunni Islam by and large.
What one sees is abundance of water and greenery on this side and Srinagar is filled with water with major lakes such as Nigeen Lake and Dal Lake. Srinagar is not a a very good town for most parts. The most beautiful parts are near gardens like Mughal Garden, Nishat Garden etc, however the city is quite bad looking with choking traffic, crowd and filth at places. People of Srinagar can be at times aggressive with not much help expected. Locals gave a strange look as we were riding an UP vehicle. We just stayed for a while in Srinagar before leaving for Patnitop in Jammu province which is actually a nice hill town at ~2500 m and has nice Deodar laden surroundings. We stayed at a hotel in Patnitop for the night.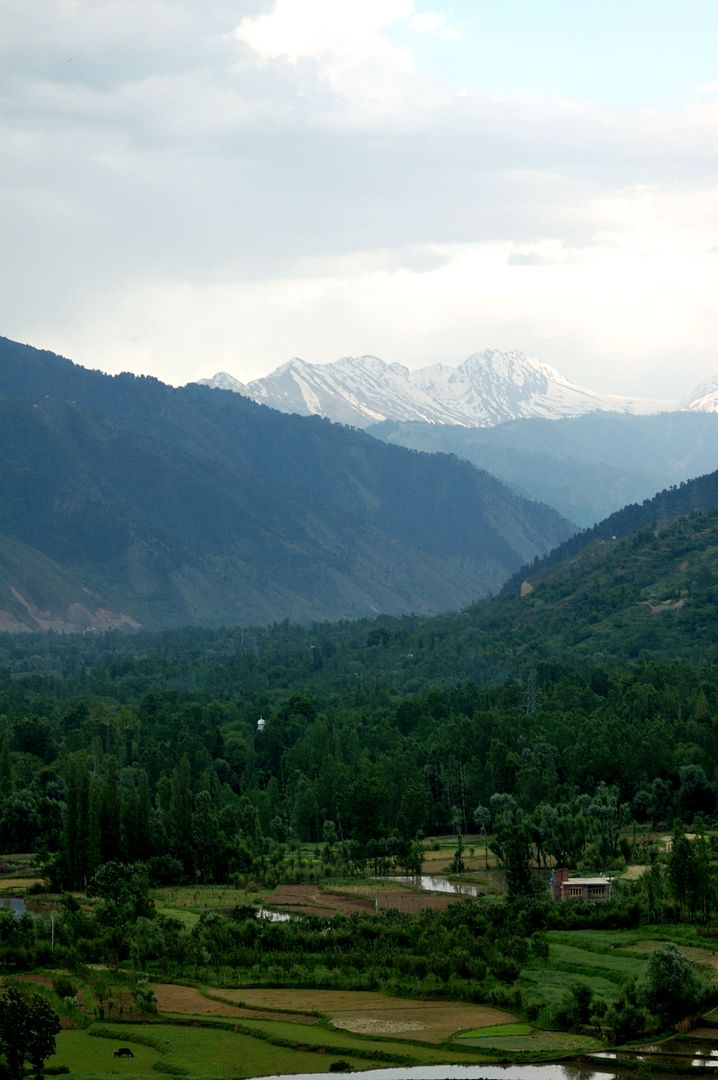 Patnitop-Jammu-Ambala
Next morning, we started moving towards Ambala via Jammu. The scene were good for some time but then flat lands started and weather also getting hotter. Jammu is quite flat with not much beauty. People are same as everywhere, busy, aggressive and not very helpful.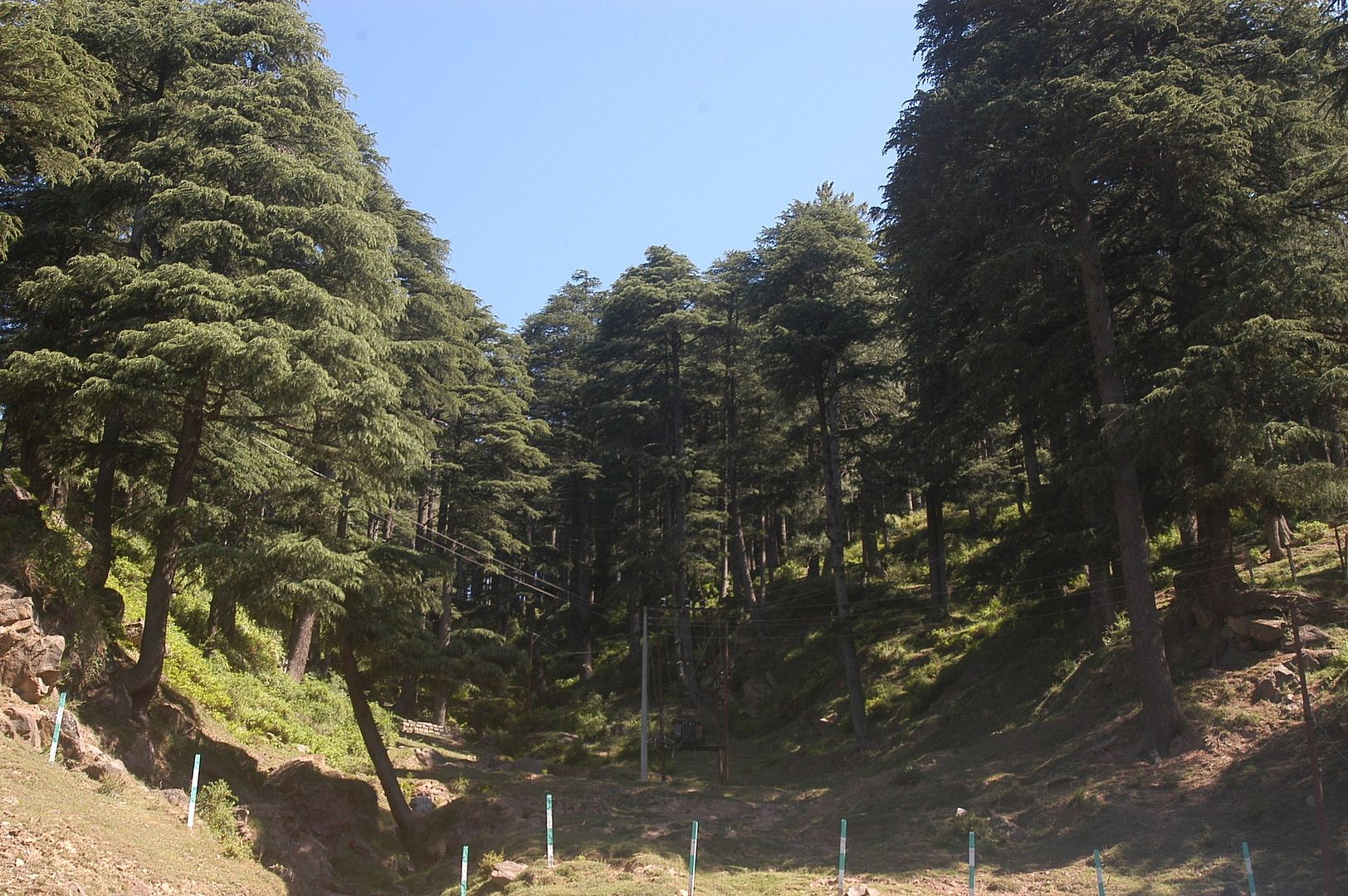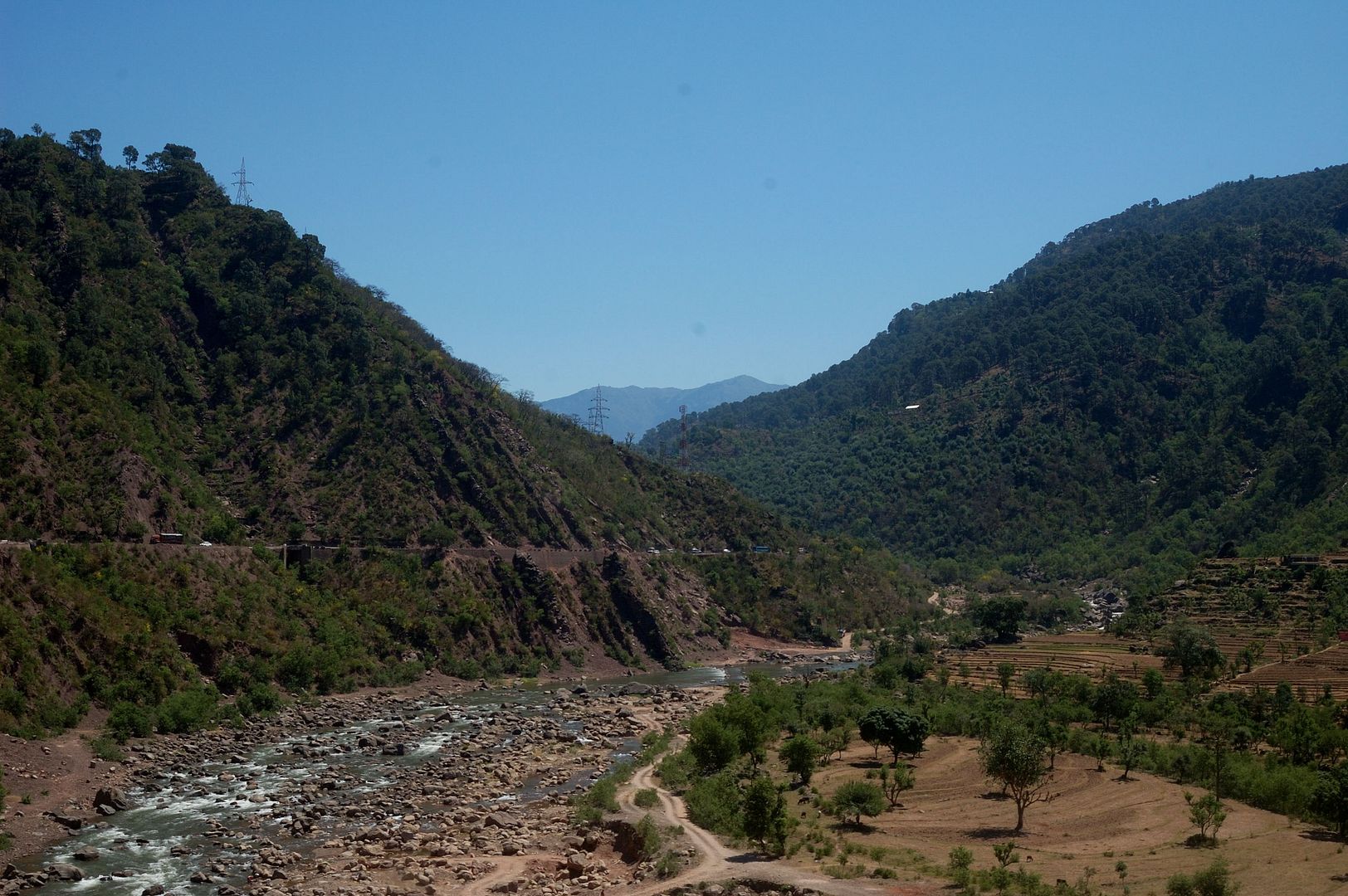 Ambala-Kanpur
Ambala Kanpur ride is not worth mentioning except that we took a bad road via NH-91 i.e. GT Road which was not a good idea as we spent a lot of time following slow vehicles due to single lane road.