Last year, in 2011, when a friend of mine shifted to Canberra, I was anxious to go there by road. Then, we were also in Melbourne and I was itching to do this ~700 km road trip in Hume's Freeway. After many yeses and nos, we finally planned to go there at the end of November 2011 when fortunately weather was also warming up.
We rented a car and we left Melbourne at 5 am. It was necessary to leave early so that we could be there in time. We left towards the North of Melbourne via Coburg and Craigieburne and in the morning, roads in Melbourne were empty. After about 50 km or so, we were on Hume's freeway which is a historic highway made long back in Australia and goes from Adelaide to Sydney, quite a long drive. The speed limit on this highway is about 110 km/h. After reaching Hume's Freeway, it was starting to get alight and beautiful landscape of Victoria was quite visible, with lush green lawns, Eucaliptus trees and a landscape with ups and downs. It was all feeling great with nice songs on the radio despite lack of enough sleep due to early morning drive.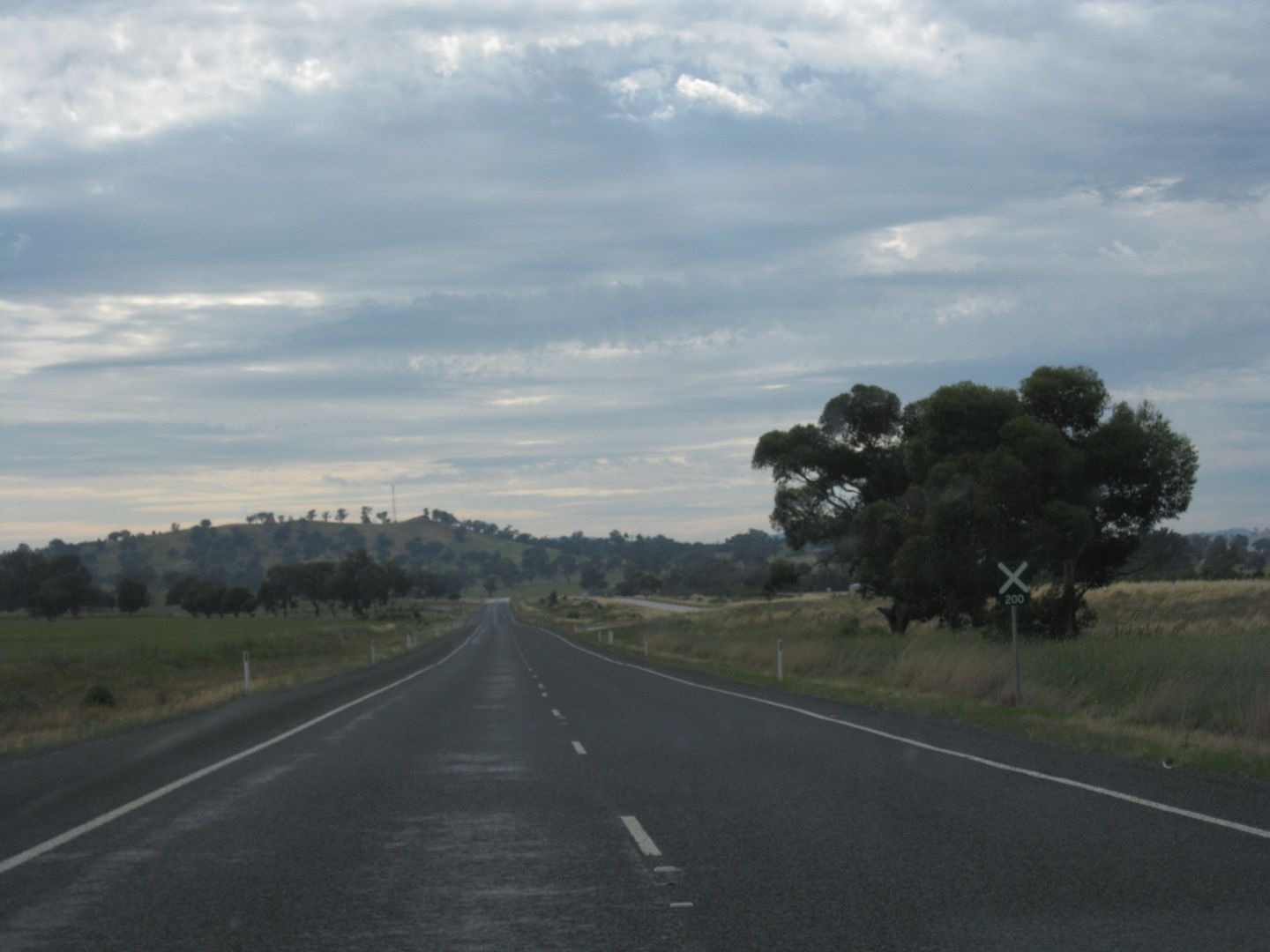 On the way to Canberra, a muggy morning.

First, we stopped after about 2.30 hrs drive at Seymour where we had a great coffee to ward off the sleep and the car was given its food to keep it happy and running! Weather was awesome with cool morning breeze of November. We kept moving and the views were fairly similar until Gundagai or Yass, very close to Canberra where hills start. The journey was basically Melbourne–>Seymour–>Wangaratta–>Wodonga–>Holbrook–>Gundagai–>Canberra. Many of these names seems to be inspired from aboriginal culture of Australia. However,  most of this route is fairly similar in terms of scenery, big wide freeway with greens on both sides, eucalyptus trees and up and down kind of road. On the way we found several dead kangaroos which get hit by the vehicles and die. I guess many of these would be removed periodically by the employees. On the way we stopped at Gundagai and has coffee to refershen. The good thing about driving in these countries is that there is not much rush, thanks to less population and people seems to be aware about littering and general etiquette. Anyway, we had a good coffee in nice sun and then started our move to Canberra.
Views on the way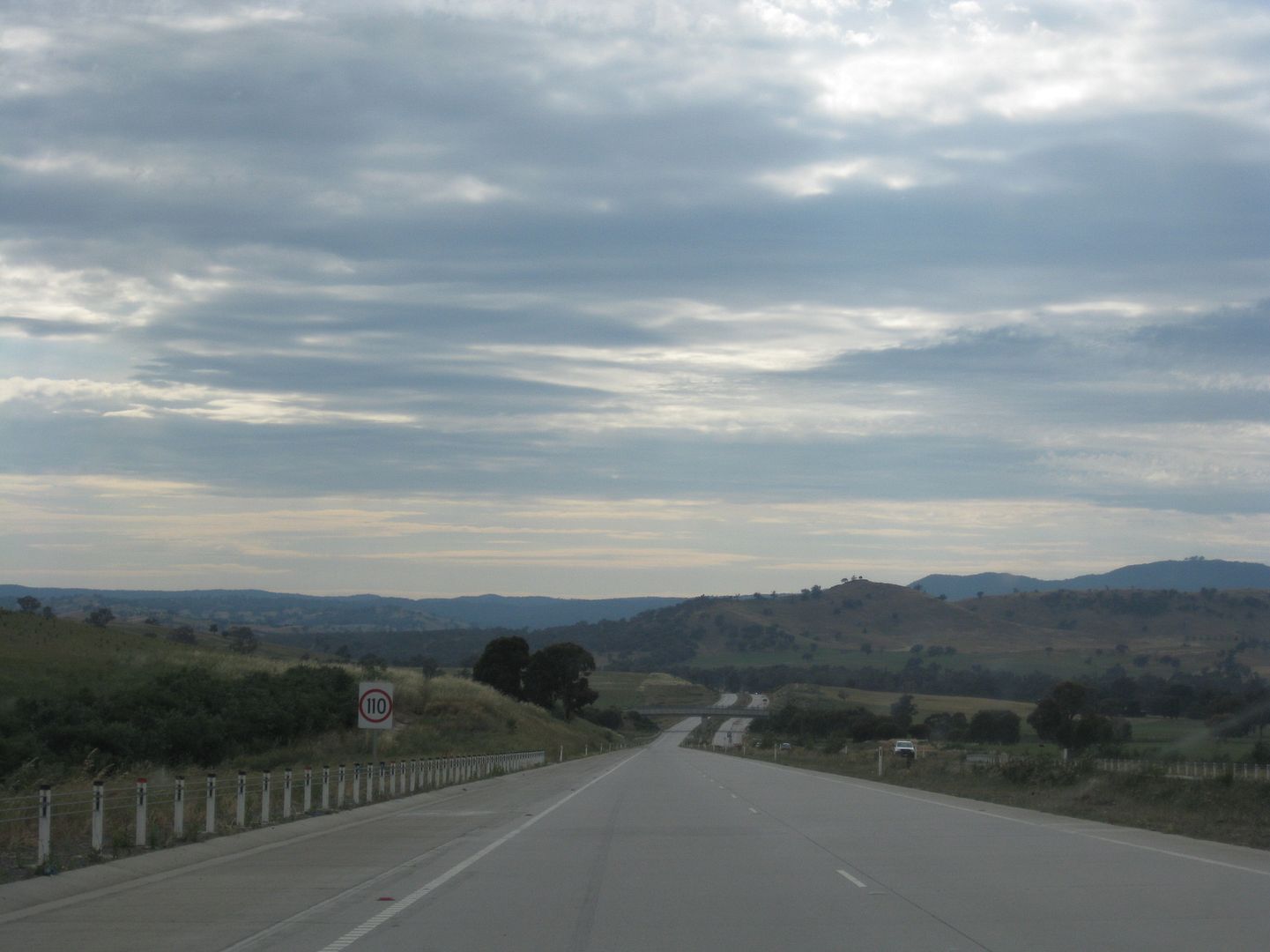 Nice to see a speed limit of 100
Another fabulous view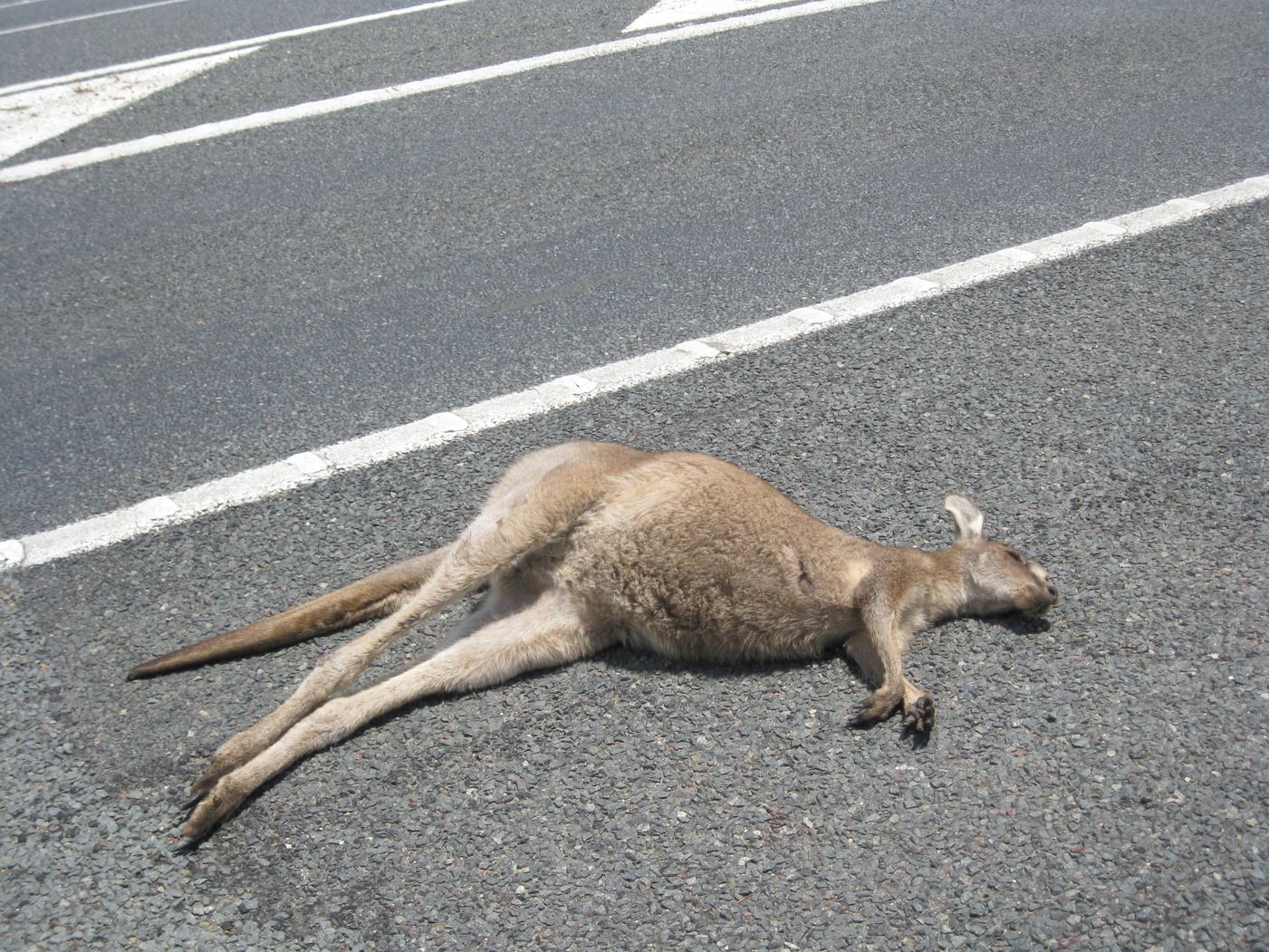 A dead kangaroo
About 100 km before Canberra, we had to leave Hume's Freeway to join Barton Highway as Hume's goes to Sidney. This highway is not oneway and so, if there is any roadwork on, speeds can go down. It happened with us and we had to spend a bit of time on the highway. However, the good thing is that people do follow lanes and don't try to overtake. I guess it is because traffic is very homogenous unlike India where things move at various speeds ranging from 10 to 100 km/h and more over, in India, we are still now good at driving on highway, we treat it like a city road..
Once we entered Canberra, we found it somewhat different as there are many circles and many of these have concentric two or three circles which have different exits and that makes life somewhat difficult. We also tool one wrong turn and had to take a bit of detour. Part it was our fault or say bad luck: mobile signal was bad so googlemaps refused to load in time and our GPS battery died in time and refused get charged. In any case, after couple of bad turns, and stoppages, we finally found out way to our friend's place, thanks to rather smaller size of the city. We were getting a little fidgety as petrol tank needle was showing almost empty tank, but our map print outs and instructions on phone helped.
Entering Canberra, facing state circle
In Canberra, first day when it was very sunny and actually quite hot, we first visited a nice park in Hughes where there is a nice and big lake, and parks where Kangaroos can be seen, especially in the evening. Some of these parks are Canberra nature park, a few near Lake Burley Griffin. We had a nice walk around it and saw a few Kangaroos.
a herd of kangaroos
Kangaroos fighting, see how they hit with their legs to the other guy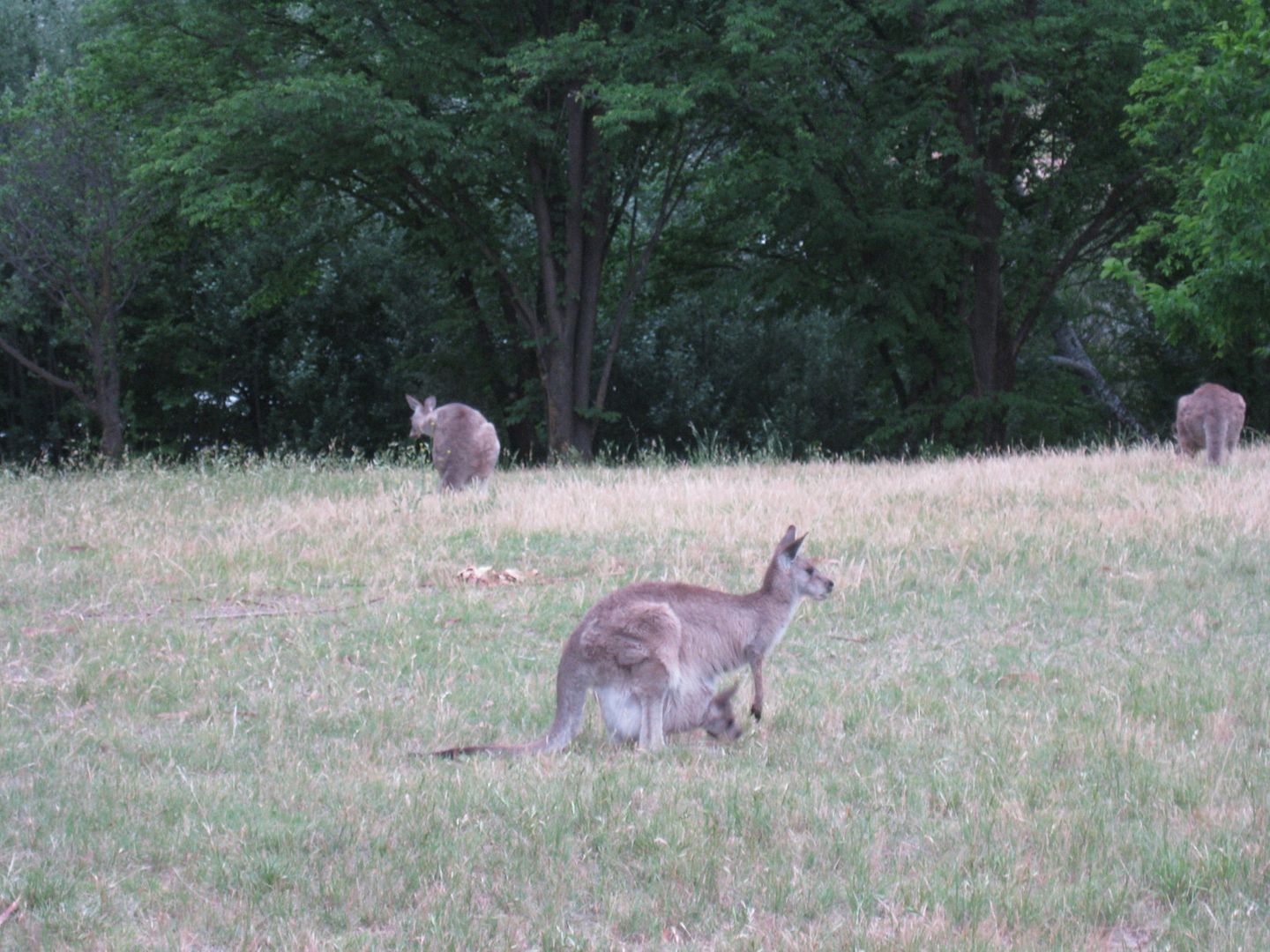 one with the baby in the pouch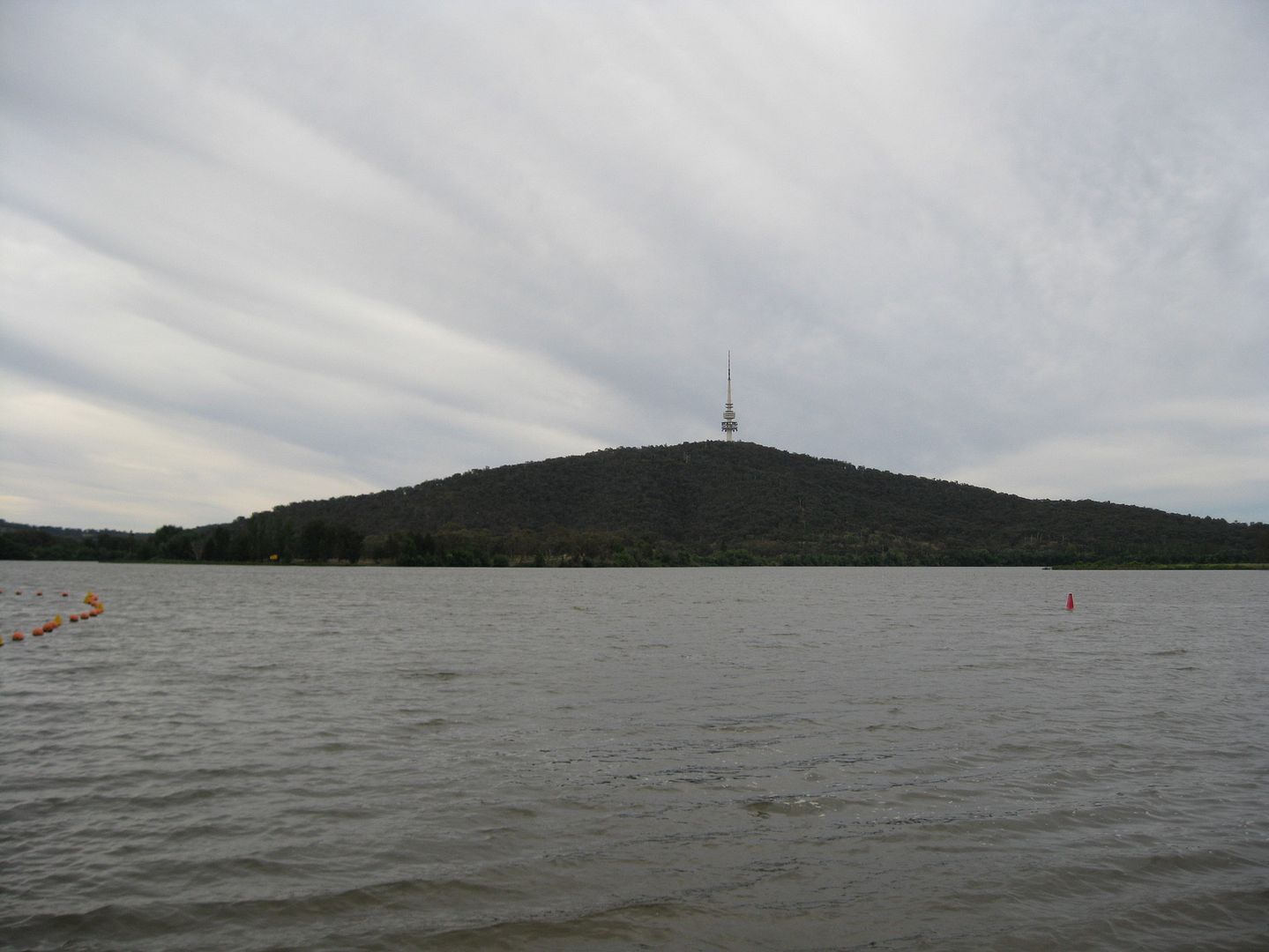 Lake in the day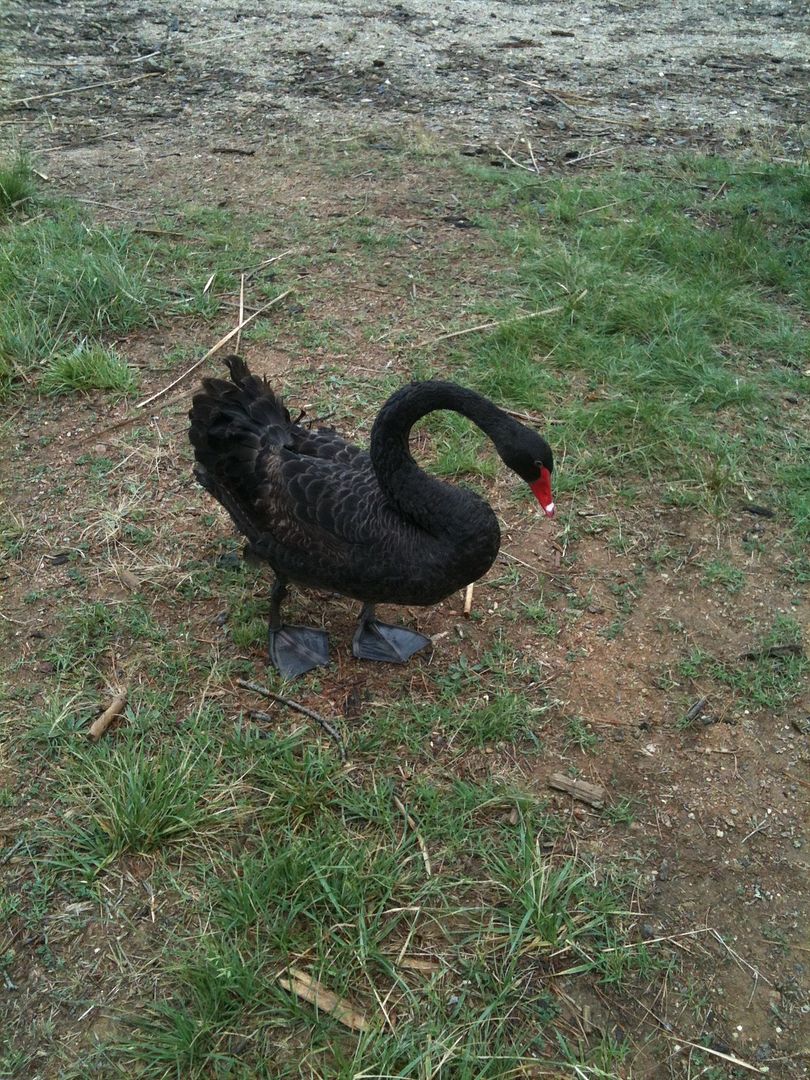 a black duck at the park
Lake in the evening
Next day was horrible, muggy and cold, suddenly temperature went down below 20C (below 5C at night). So no outdoors and we went to Australian Parliament and to Australia War Memorial which were nice places to visit and are free for public. It is great to see the history of parliament in Australia, how well it was recorded and shown to the public. On the contrary in India, it is so hard to enter the parliament and then how poorly the history is shown, goes on the show what our politicians are. You can see the chronicles of Australian politics, telling one about the constitution in the beginning and how it evolved to include the Aborigines later on. It is fascinating to see that government did apologize to the aborigines. I don't think in India we have ever apologized to the outcast people of our society.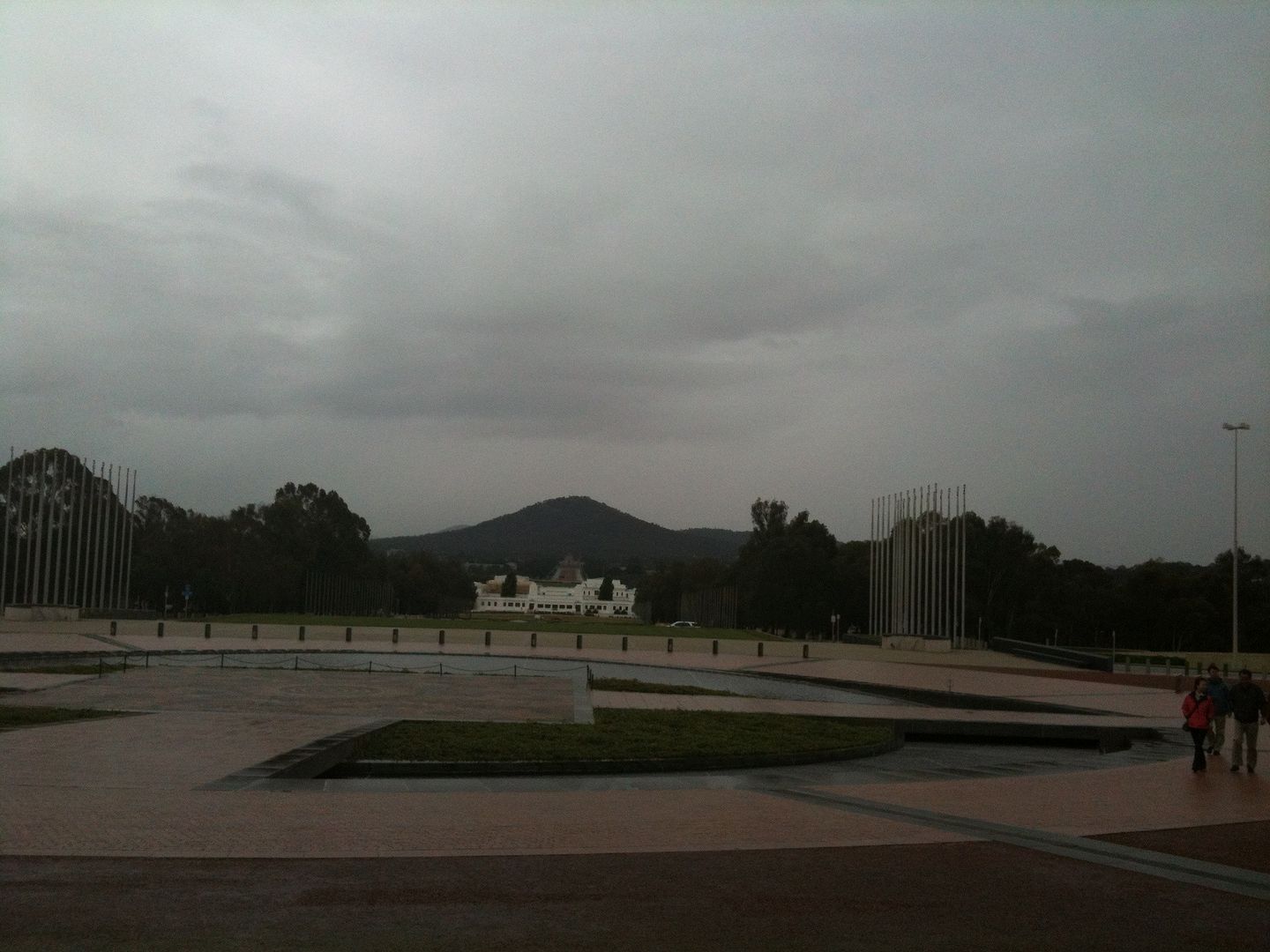 View from the entrance of the parliament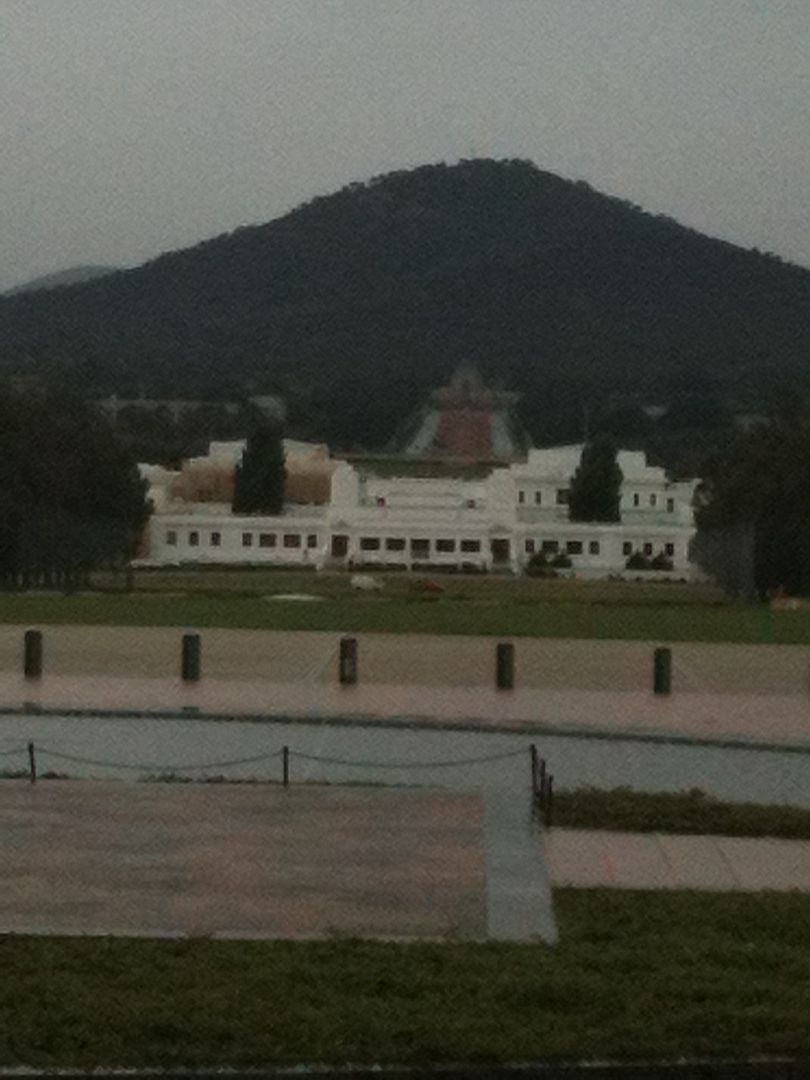 Capital hill

Parliament hall

One of the pathways, where one can sit and read on the walls, quite nice..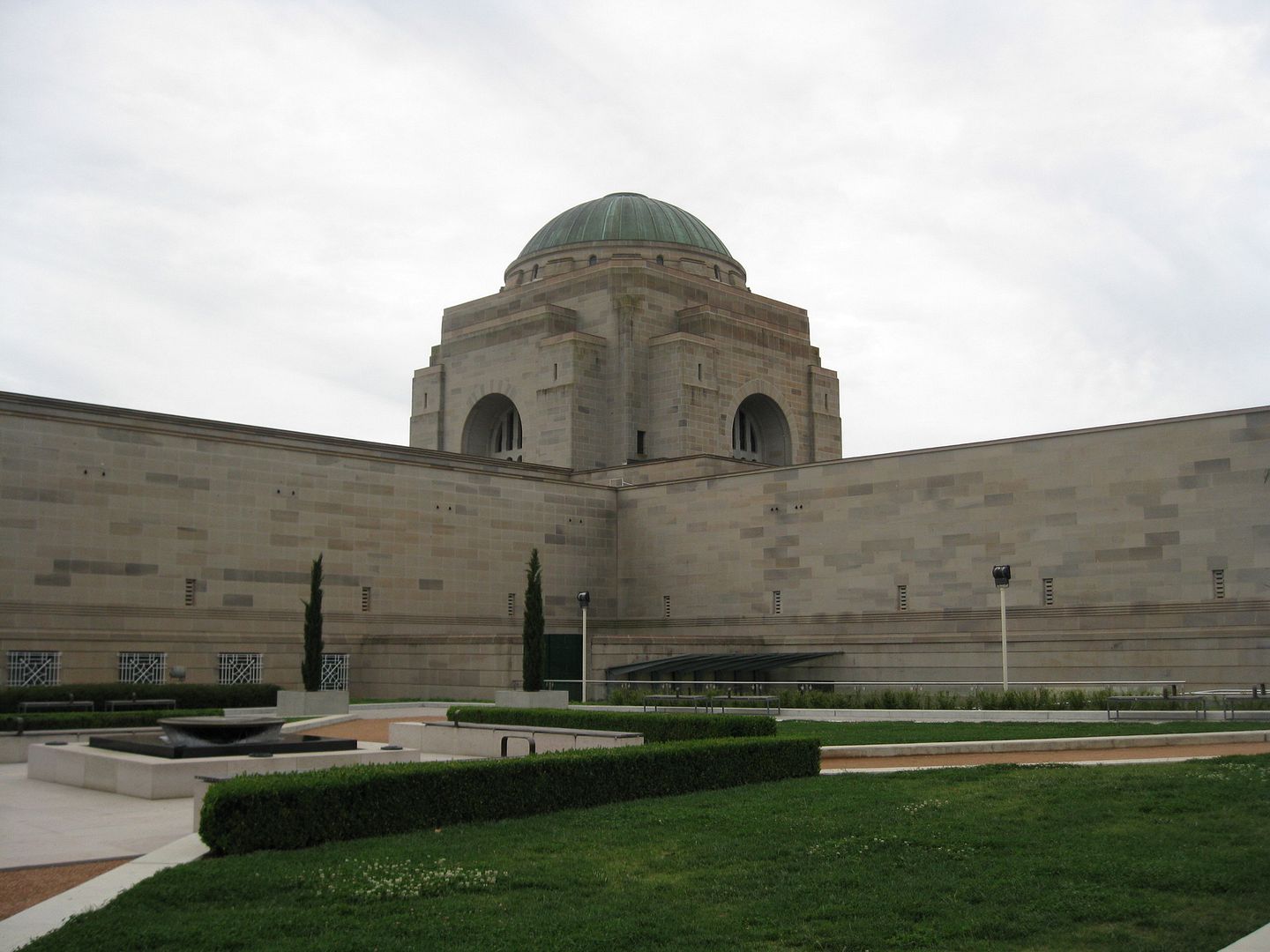 Australian War Memorial
Self-explanatory
Road in front of war memorial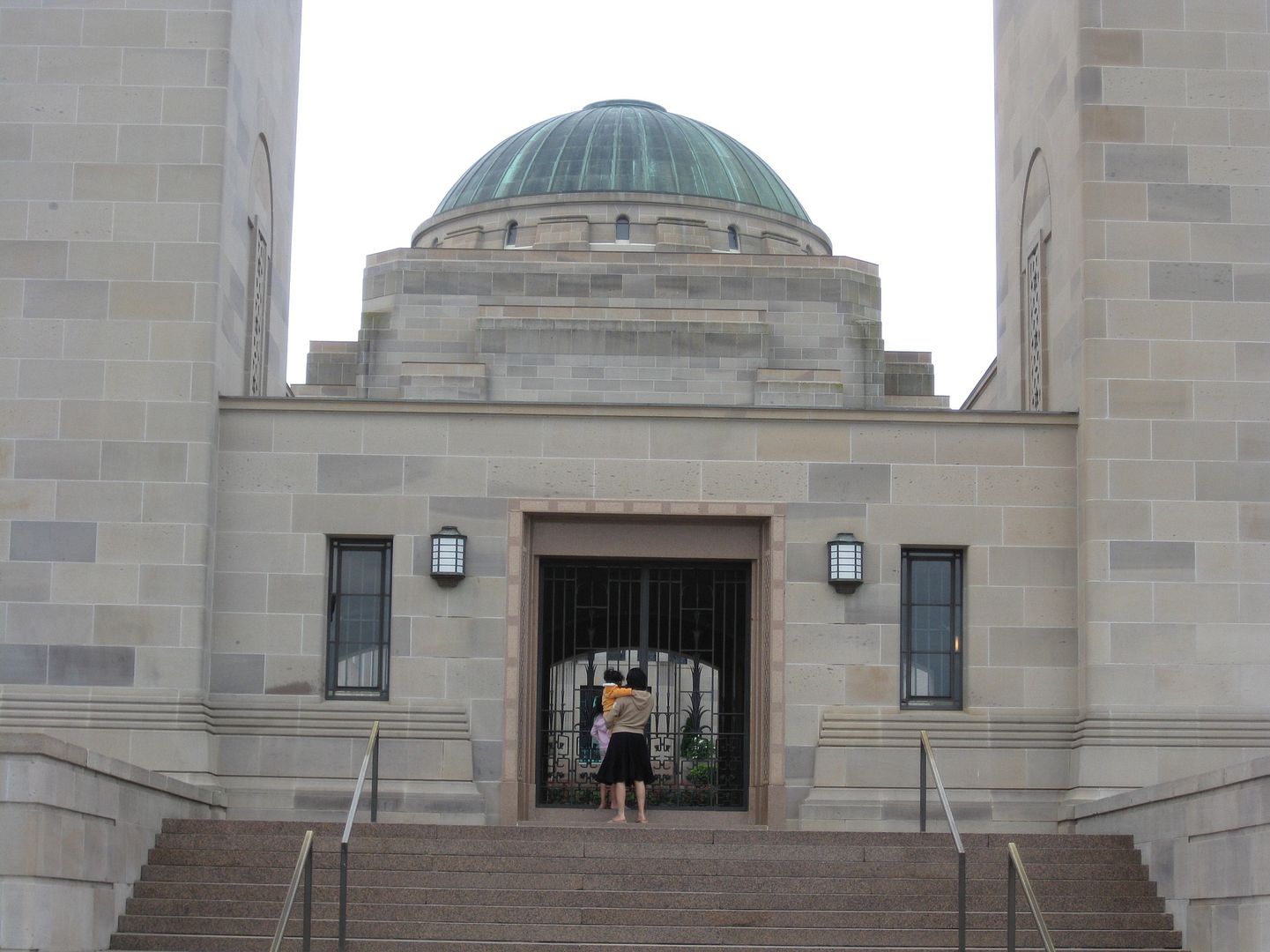 Wat memorial entrance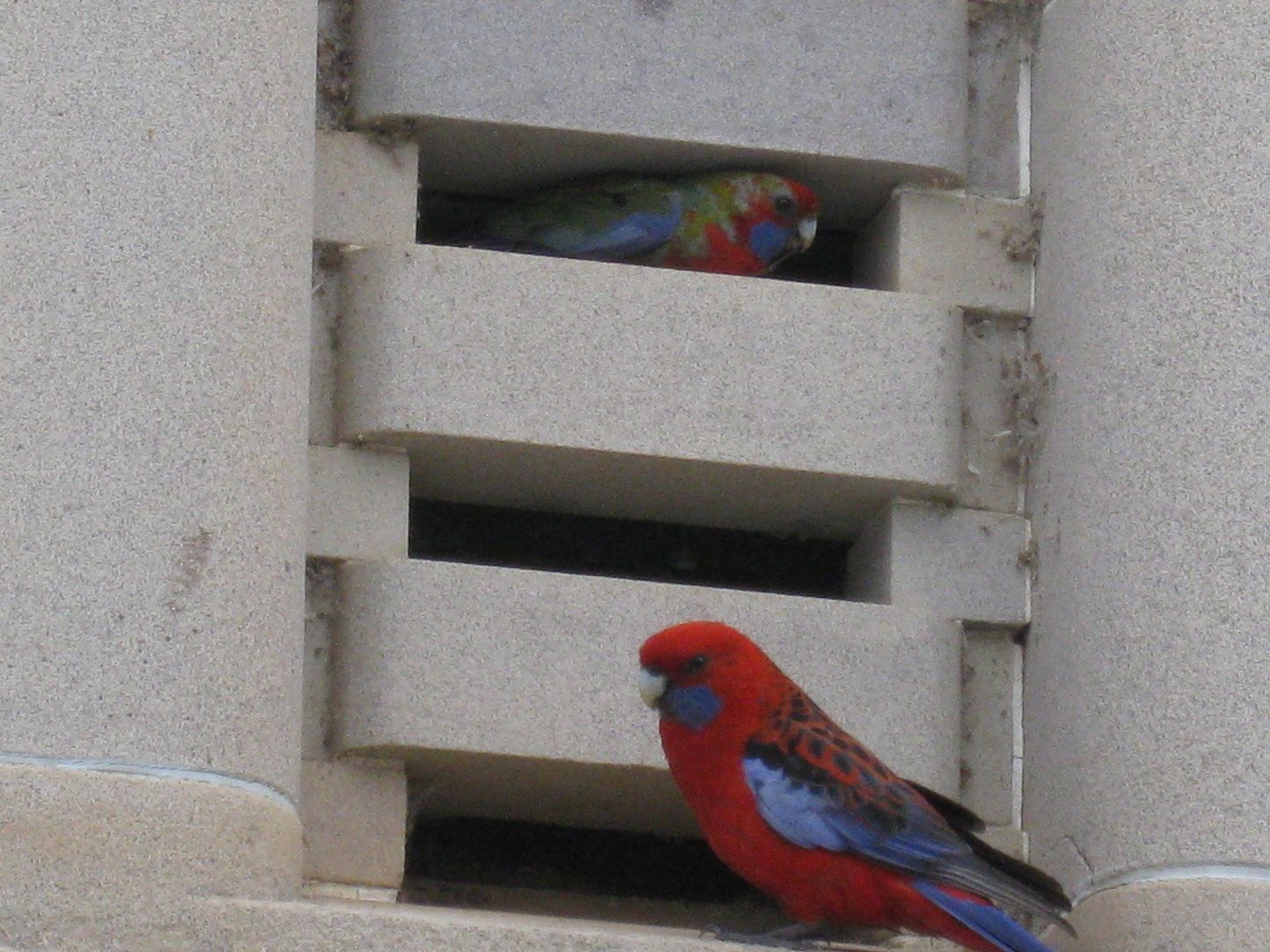 Nice colourful bird at the war memorial
Next day morning was the time to leave on return journey of 700 km back to Melbourne so time to sleep early and head on.. until next time, bye..