In October 2011, I went for a trek to Mount Shitidhar, a small peak in Himachal Pradesh. This trek is not a very long trek but can be pretty tough if you want to do it in a short time, simply because of altitude gains on a short distance. Earlier we planned for Ladakhi a higher and tougher trek but snow was too bad so aborted that.
We started our journey from Kanpur. It was trek organized by IIT Kanpur students adventure club whom I joined.. Basically one has to reach Manali first which can be reached via Delhi and Chandigarh. From Delhi, there are plenty of night buses (AC/Non-AC for Rs 500-1000) which take one to Manali in 11-12 hours or so. I was joined by students in Manali who reach there from Chandigarh via Bus.
In Manali I spent my time visiting Hidimba Temple, quite famous one and beautifully located, and a place called Naggar slightly away from Manali where a Russian painter Nicolas Roerich lived who also married a famous and very pretty Indian actress Devika Rani. It is about 2 hr drive from Manali and is a very scenic place.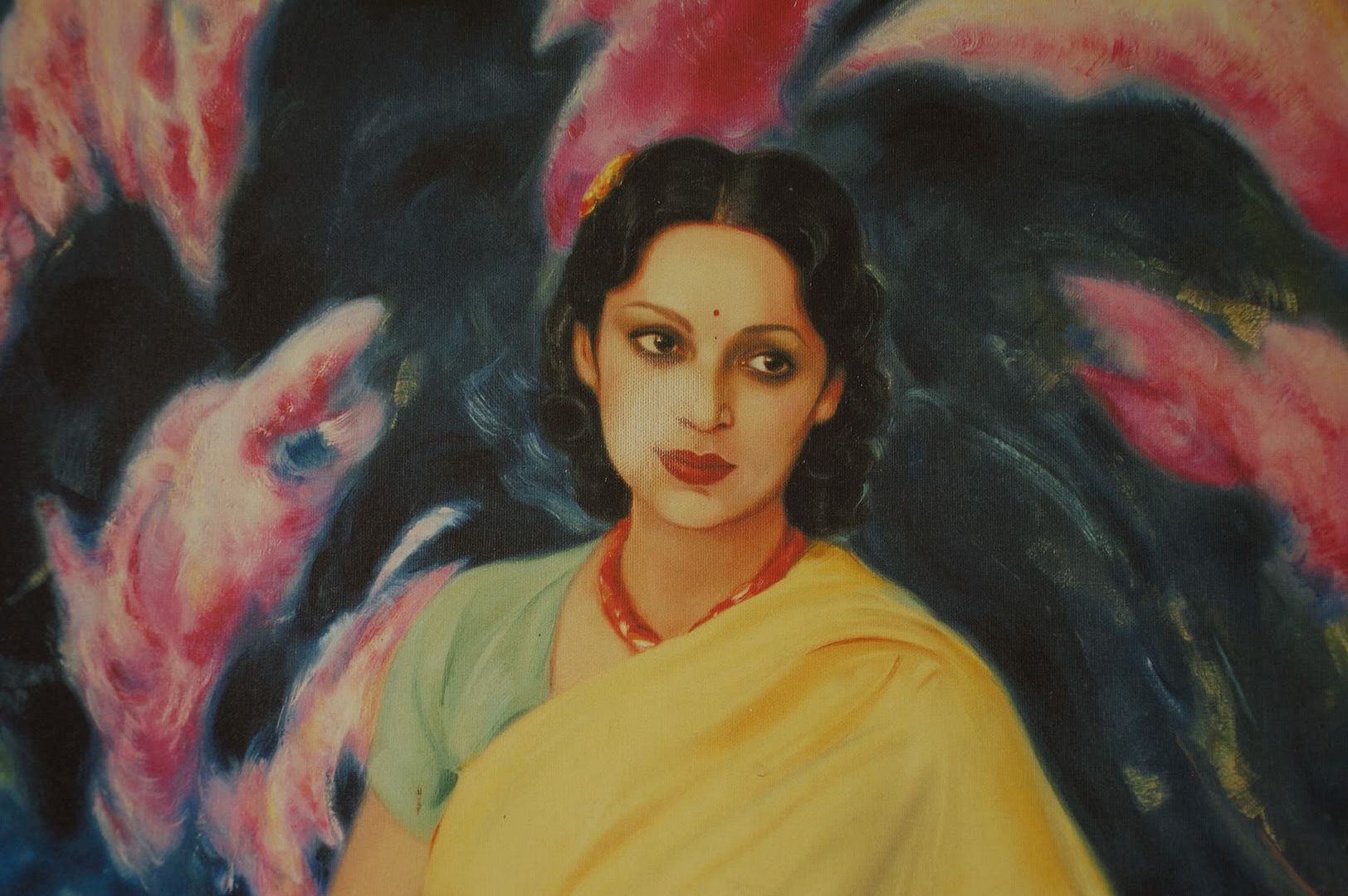 View of the Valley from Naggar
Day -1.
We packed and organized our stuff with two porters and two guides started our journey to a place called Dhundi which is the starting point for trek. To here, we followed the road to Rohtang place and then took a diversion to Solan Nallah from where Dhundi is about ~6 kms away. We reach Dhundi at about 9.30 am and then got off the jeep. Dhundi is a nice place itself located at about 2700 m and one starts getting a feel of the trek. The trek from Dhundi happens by crossing a small river, Beas river, which is quite turbulent and one needs to be carefully while crossing the river over stones to avoid fall and getting drenched.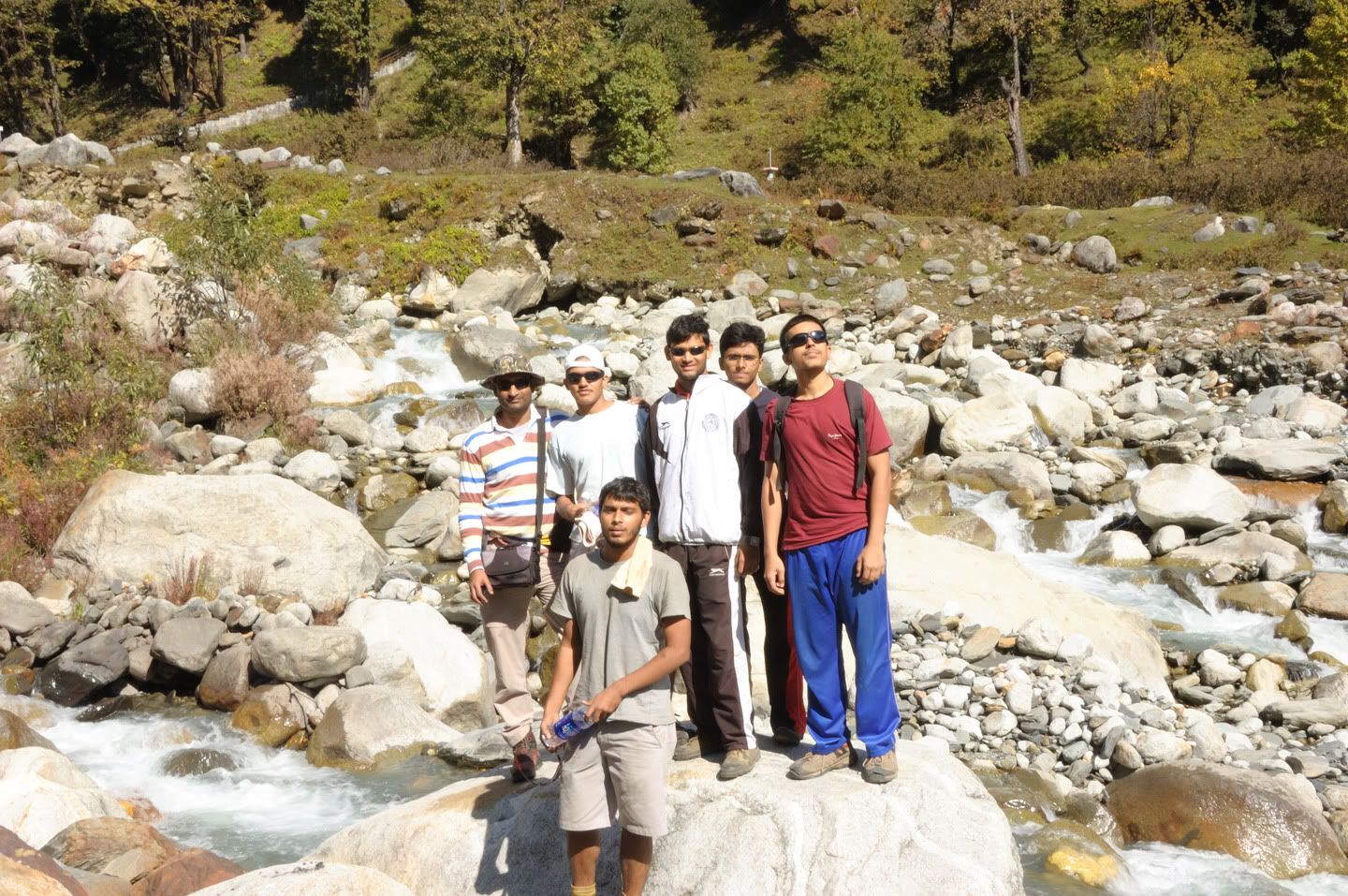 From Dhundi we started our trek soon, say at about 10.00 am. Initially it was pretty flat and then soon after 1 km or so, the ascent started and it was quite steep ascent.. The scenery along the way is simply fantastic and one immediately starts seeing the mountains. The terrain was is different from one finds in Uttaranchal or Sikkim with lesser population of trees. The terrain is not all that good and at times, one can find it tough. After about 2 hour of fast trek, we reached a place called Bakrathaj where army cadets were camping and training. We stayed there to have some snacks and soon proceeded to our first camping point 'Beaskund' at 3586 m.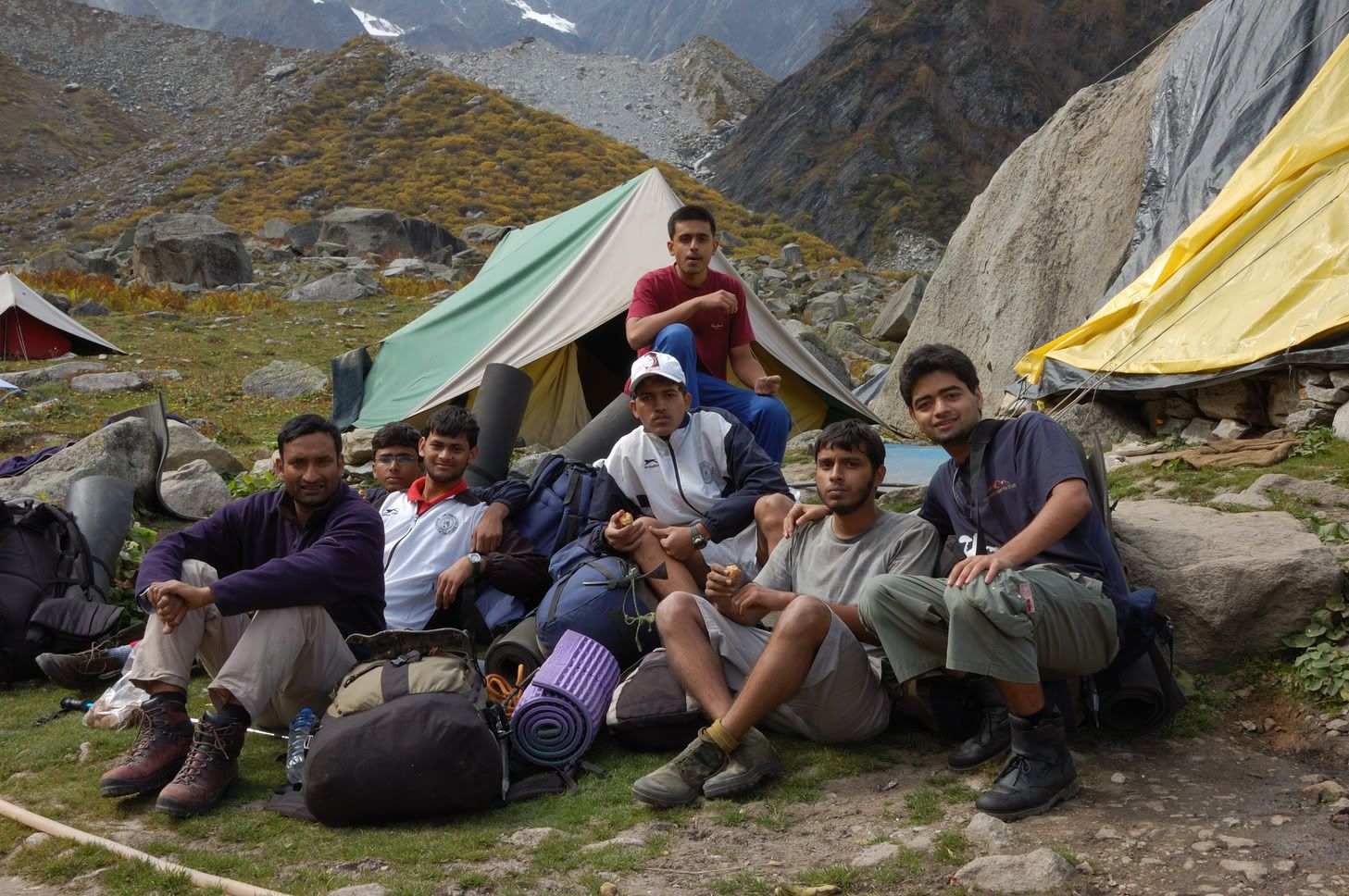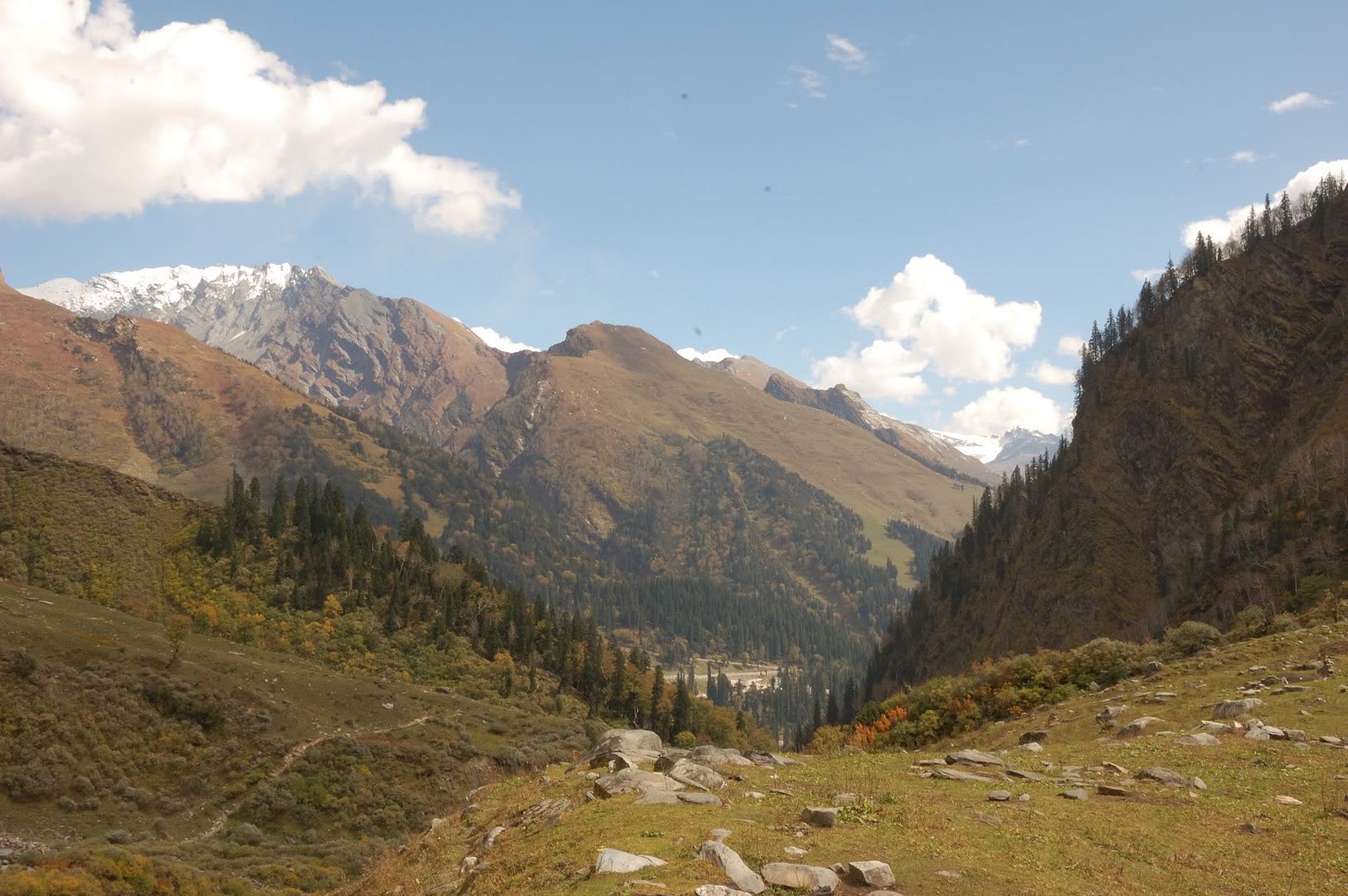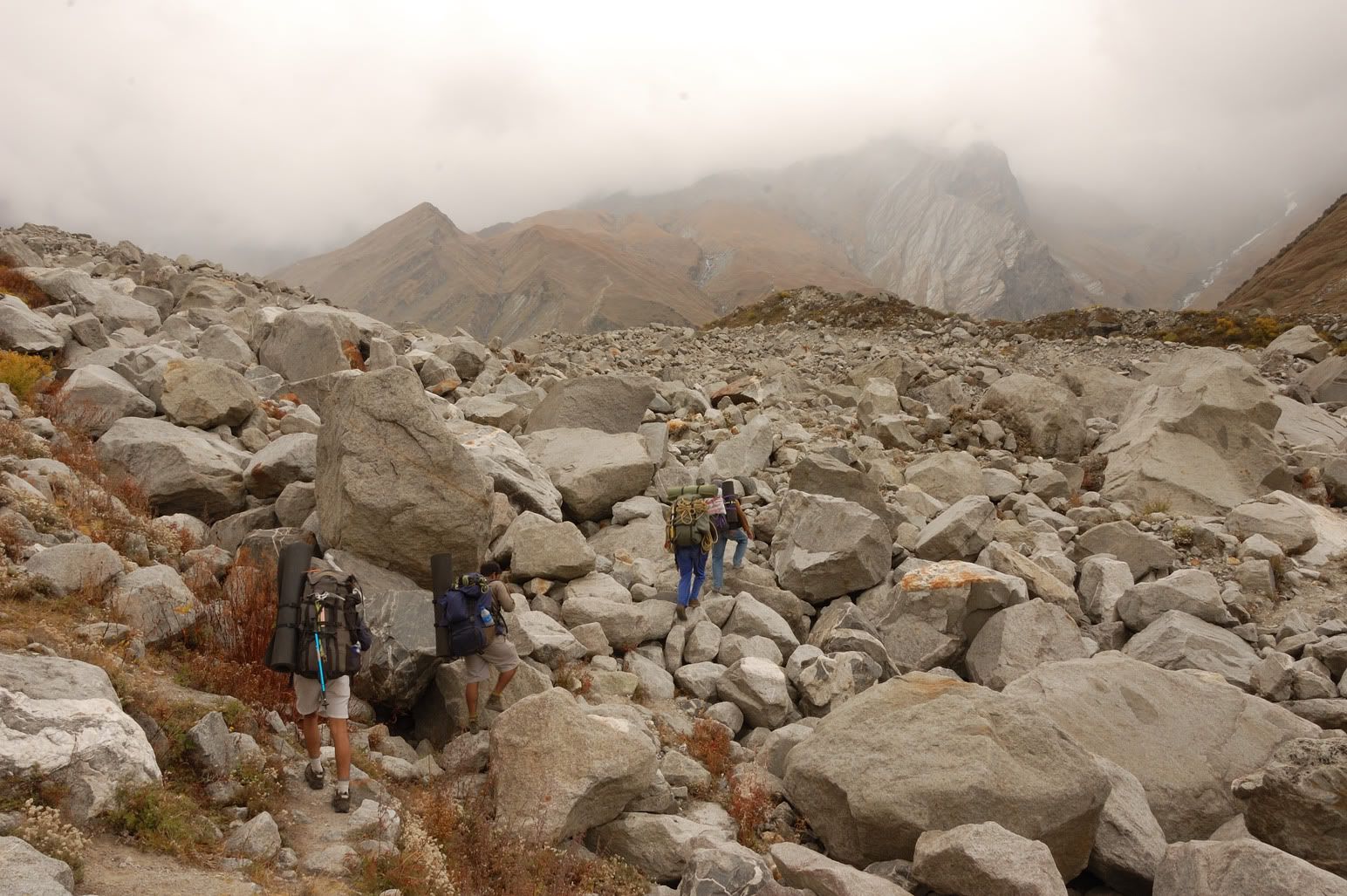 Beaskund place is name after the pond from where Beas river originates and it is a massive ground surrounded from all sides by snow-capped peaks and looks simply awesome. We took about an hour to reach Beaskund. The trek to Beaskund was pretty tough as there is no path and one need to literally climb vertically on the stone boulders and there is rick of slipping down or twisting the ankle and getting injured. By the time we reached, it also started snowing lightly with cold getting worse.
We reached Beaskund at about 2 pm and put up our tent. After putting the tent, we then had a walk to the pond which so beautiful with its perfectly pure water and bluish-green colour. The Beas flows gently first as a stream before it becomes turbulent and converts into a proper river near Dhundi. We then slept off early to start for our trip to next point, which is called as camp-1 where we wanted to put half of our stuff and then get back to Beaskund the same day.
Day 2:
Although overnight sleep wasn't perfect, we got up early in the morning. We found a fantastic view of Mountains around us: particularly Shitidhar and Hanuman Tippa which were looking fabulous..

First Ray on Hanuman Tibba

Awesome looking Hanuman Tibba in a few minutes

Shitidhar on the back
During night, we could hear sounds of snow mounds falling down and creating scary noises. In the morning, the water around us was frozen with tinge of snow around. The mornings in the mountains are very clear and the best time for good nature photography. We packed off half of our stuff and then proceeded to Camp One at ~4800 m which is almost a vertical climb. First we reached the pond from which Beas River originates, and which is where water of the falls accumulates. This was about 1-2 km away from camping place and is a flat but rough road and took about 30 mins to reach there..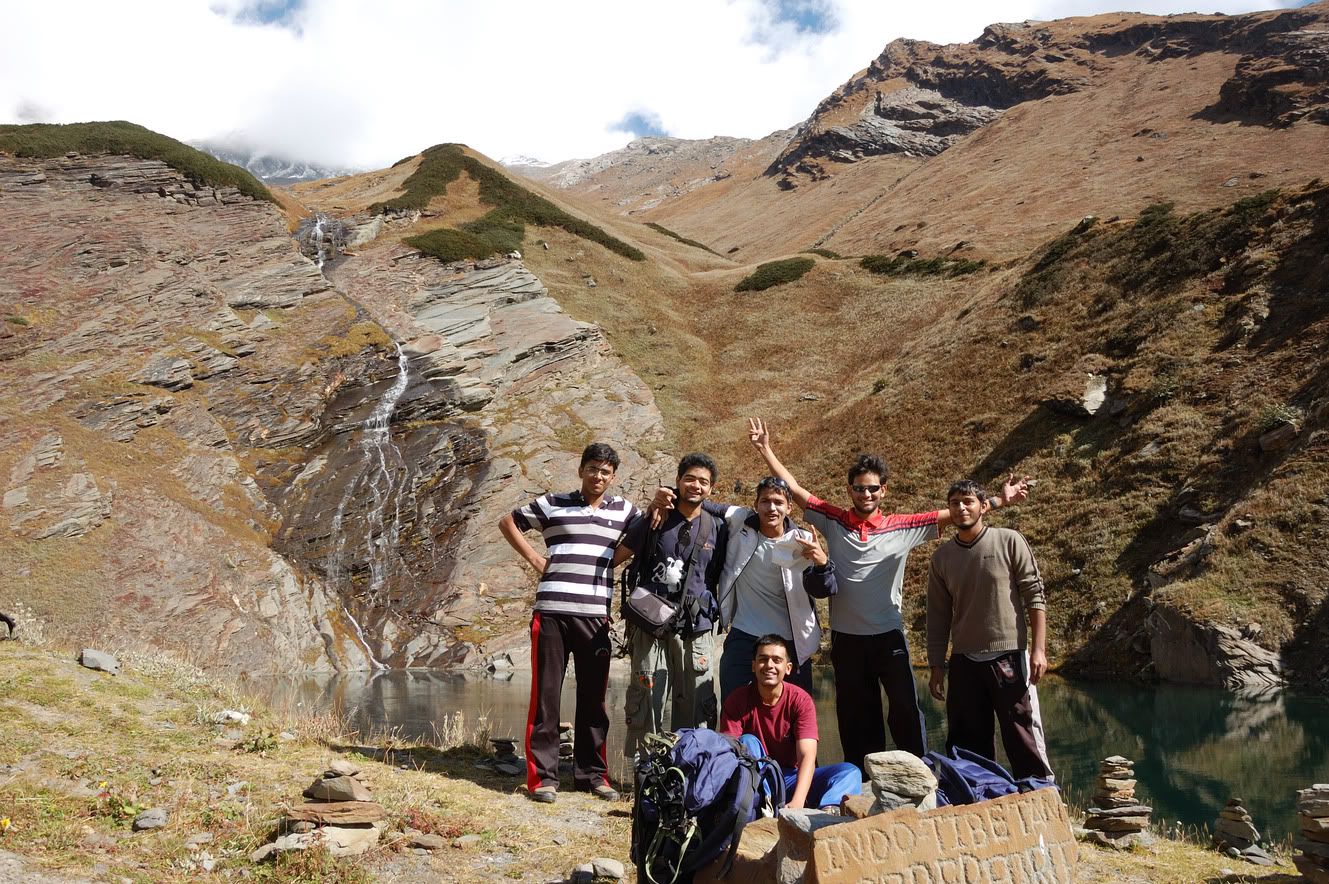 View of the Beas Pond from a little above
We stayed at the pond for 30 mins to enjoy it and its water and then started our ascent to Camp One. The ascent to camp-1 is almost vertical and with bags on our back, it was quite strenuous.

Ascent to Camp One
On the way there was big snow Nallah or frozen fall where water flowed underneath and snow on top was a bit risky to tread upon. We slowly reached this point. The route to this place was vertically down with no steps or any stones to support and one has to very careful to avoid getting falling and any injury. From there, we climbed a short distance as if we were climbing a vertical grass laden wall..

Waiting for the turn on a steep climb

Sense of triumph for some
From, here to trek to Camp one was quite tough and tiring and we made it in about 3-4 hours since we started after completing about 6 kms of a vertical and tough trek. We reached Camp one at around noon time or so and then set up our camp for the next day.. Camp one is a pretty rough place with snow all around.. The view of Beaskund looks pretty cool from here, everything looks tiny and right in front of us we could Shitidhar.. There were other spectacular views of higher peaks far off which look so clear from camp one. Camp One is basically start of snow and the point from where one reached Shitidhar peak and Ladakhi peak.

View of camp at Beaskund below and lovely mountains at the back

View of camp at Beaskund below and lovely mountains at the back from camp One

Shitidhar from Camp One (on right, triangular peak)

Some other peaks seen in distance from Camp One

Whole range in front of Shitidhar under very low Sun
We then proceeded backwards down to Beaskund as this was the part of acclimatization for our final summit. We reached Beaskund after a leisurely trek downward in about 3-4 hours with many stoppages where we had plenty of fun.
More of Trek detail in next post (Part II)