A so-called-conference brought me to Rome.
It was a chilly mid-February and we had completely underestimated the weather. Further, I had never been close to this land on the globe so was clueless in any sense of direction. I was advised to carry heavy woollens along with caps, muffler, gloves and the works. And I kept thinking – what the heck, so what if I feel a little more cold, I'll just live through it. Boy! I was wrong!
Amidst the chill and coastal winds that hover above the city, we managed to cover the most of it. Rome, or (rrrr)Roma – as they call it in Italy, is a city with many facets. The city of love, the city of ROMAnce, the city of water, the city of architecture, the city of history, the city of food, the city of art, the Eternal City, the Open City, the city of you-name-it!
Rome, a city dating back almost 3,000 years, has been Europe's most ancient urban centers – much ahead of its time – where the present is the key to the past; and the past is present (this line was picked up from the Time Elevator – refer later). It houses troves of world's architectural masterpieces, such as the massive
Colosseum
. Once there, you see an unparalleled concentration of art oozing out from all corners. The grander ones are Michelangelo's
Sistine Chapel
, the
Trevi Fountain
and the
Basilica of St. Peter
at the Vatican City (the Catholic Church's independent city-state, which is home to the Pope).
The whole tour is a visual treat and an overwhelming experience. Each monument has a detailed history to it, the records of which are available everywhere. So to compare it with other historical cities, especially in Asia, Rome particularly has far less mythology and a grand deal of History.
Language is a barrier, to the extent that people sound rude most of the times. Indians are used to high standards of hospitality, living the phrase 'Atithi Devo Bhav', that after a while we tend to feel intimidated by a certain level of arrogance. It is only much later that you realize that Romans are actually good-humored beings, who love to eat, drink wine, talk about soccer and juggle multiple careers. Period.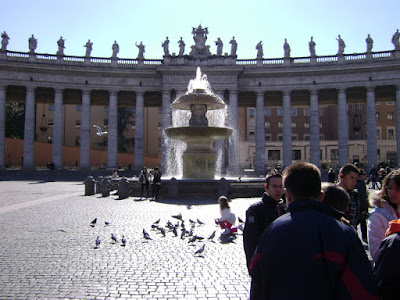 For those who live to eat, Roma is the paradise. On every street you would come across restaurants, trattorie, osterie, pizzerie, enoteche, cafés, bars, and gelaterie; it becomes hard to stop after a while. But I'd suggest not to count calories, especially if you're a tourist. For two reasons : You may not come to Rome again for a long time, so why regret later (like I did); and more importantly, as a tourist you walk so much that you anyway end up losing weight. So, binge!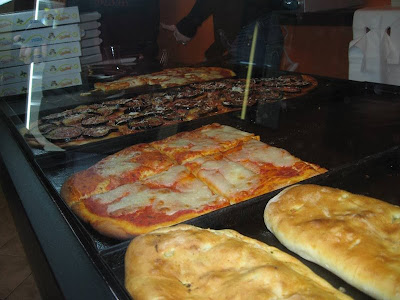 In and around Rome, there are many a Piazza – meaning a public square or Plaza. The most famous being Piazza Navona, is one of premier gathering points. Within this elliptical open space, there are three fountains around which there are many artists selling art. For those who have interest, there is very fine work in water colors on paper, oil on canvas, pencil, caricatures, sketches that can be taken back home as souvenirs.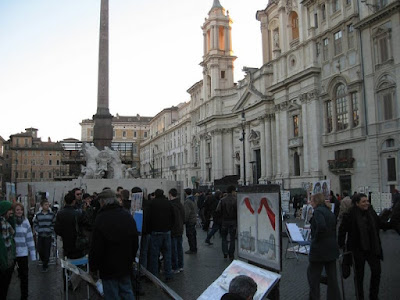 A busy evening at Piazza Navona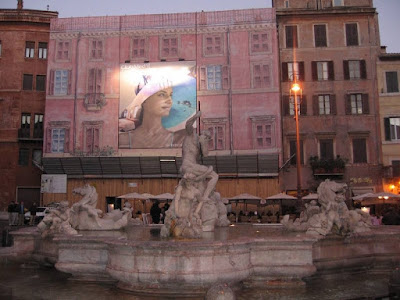 Fountain at the Piazza. Don't miss the building-wrap in the back!
The most important places in Rome are The Vatican City and the Colosseum. Both of these require at least a half-day to visit and should not be missed. There are many more places but I guess that can be chalked out suiting your duration of stay.
To shop, there are some great lanes near Piazza di Spagna, or Spanish Steps where you can find almost all designer brands and other stores. There is also Porta Portese – a flea market, on Sunday mornings in the quarter of Trastevere near the Via Portuense. We missed it but it is supposed to be Italy's most colorful and biggest 'chor bazaars'. Things to buy from Rome are definitely the herbs, oils (olive, truffle, flavored), interesting mementos of the collosseum, the David and other monuments. Leather is also of a very high quality and if hunted well (pun unintended!), you can get some very well priced bags, belts, wallets in neat designs. Rome is also famous for glass jewellery, of which I have suspicion that it gets exported from India (!!), and of course, it being a city of fashion there is a grand variety of fancy apparels, shoes and accessories. Italy also, apparently, has a fixation for Pinocchio – I could not decipher why.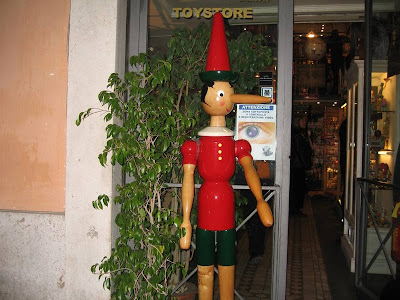 Rome is notorious for petty crime, but that's about it. You have to be very careful and would be asked to move in groups, so need to abide by that. Thieves are interested in money, yes; life, no.
Like Delhi, Rome is also circular and even has a ring road (called Autostrada) that is about 56 kms long. So travelling from one place to another takes a maximum of an hour in regular traffic. Cab fares begin from 4 Euros and for a single hop should not exceed 30.
Credit cards are accepted but you are advised to carry Euros, as at many places and sundry shops, they will only take cash. For those going from India, most debit cards work in regular ATM machines and you end up paying only about 3 Euro per transaction of a 100 bucks, as the surcharge. So if you do not want to carry cash, you may safely rely on ATMs around the corner.
One good thing we ended up doing was taking a ride on the "Time Elevator". This a 45-minute 4-D show inside a special, small cinema hall that shows 3000 years of Roman history, from Romolus and Remus (the two bothers who built Rome) up to the present day. After being able to see most of the city and beginning to comprehend it, this was a great re-cap, complete with the effects (yes, the rain, the rats and the time-machine hovering over the city)
Before going there I was told that Rome is Delhi placed in Europe – monuments, great roads, mouth-watering food… yes, it did seem so.