As I came back from Uttrakhand I got ready for my adventure camp of Mount Abu. We sat in our school bus and went towards Mount Abu on 29th night. No one slept in the bus all enjoyed all night. We reached there on the next morning. We took out our luggage and arranged them in the tents which were assigned to us.
Some of the tents in our camp site.

Then we came out and got ready for that days activity. Before that our camp teacher Ashok sir told us the rules of the camp. Afterwords we went for our first track of the camp.

All of us going for tracking.
We felt very exited. We went to the Lower Codhra dam. It was made by the Britishers. It had a very little water stored there. We found a goat's skin hanging on a tree branch.

A view of the Lower Codhra Dam.
Than we came back to our camp site. Than came our food time. The food usually is not good in camps, but here it was like eating food of hotel. We than were sent to our tents because it was very hot outside. At evening we went to the Toad Rock. It was a rock with the shape of toad. What a GREEEEEEEEEEAAATTTT view we got from there.
The Toad Rock .
Than we went on BELLY'S  walk. We walked through the forest. We reached at the sunset point. It was a great sun set. We watched for at least one & a half hour.
The SUN'S  golden light show.
WE than came back and enjoyed camp fire and dinner. On the next day we went to base camp 1. There we were trained with the obstacles. THe different obstacles were best till now.

One of the obstacles.
Next was our Nakki lakes visit. We visited Nakki lake in the evening. The beauty of the lake was great. We enjoyed boating & the evening view.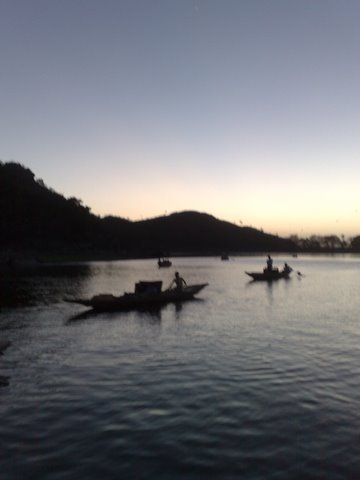 A view of great NAKKI lake.
On the next day it was time for our caving activities & night tracking. We went to the Upper Codhra dam. at around 7:30 p.m. we went into a cave. It was dark in the cave. We weren't able to see our way & our teachers told us to leave torch outside the cave. I got hurt a little bit in the cave. Then as we were coming back to our campsite it was dark. All of us switched our torches on & came back to our campsite.
A view of the Upper Codhra dam
Next day was our day for rock climbing & rappling. We had to climb a big straight rock with our hands and feet. We many times slipped in our way to the top but none got hurt.  Then came rippling. Rippling means to come down from the rock. It was very easy & much better than climbing.
A child climbing the rock.
It was a great fun there. on that day we again went to Nakki lake.
The next day was the last day of our camp. On that day we did horse riding, gun firing & river crossing.
Me riding on a horse
We did all these things at base camp 1. Then we ate food, packed our luggage, sat in bus and came back to our home.