| | |
| --- | --- |
| | |
"The Land is so barren and the passes so high that only our fiercest enemies or Our best friends would want to visit us" -Ladakhi Saying
I was planning to visit Leh by road since past couple of years, reading blogs, preparing itinerary, detailed plans even power point presentations but it never materialised but this time we were determined to make it. Me my cousin Gaurav and friend Dinesh we agreed to make it this time no matter what comes. We finally planned for a 9-10 days visit in the month of June 2010.
Before I start let me tell you that purpose of this travelogue is NOT to advise or guide people as to what to DO when going to LEH but rather tell people what NOT TO Do. Most of the things we did must come strictly under "Don'ts".
Timing :- We chose June as no other time was available with us. It wasn't a good choice as there were floods in Beas River near Manali and Punjab during that time.
Vehicle:- we decided against renting a SUV and decided to take our own Alto. We thought in worst case if we get stuck we'll turn back to home..As it turned out it's almost impossible to turn back.
I got the servicing and check up done one day prior and ensured that the car is in good condition. Just one day before leaving we heard that a petrol canter is stuck at rohtang and rohtang is closed since last 3 days. We decided to go anyway as postponing of dates was not possible for us.
Day-1 We left Delhi around midnight for Manali by the morning we had crossed Chandigarh and entered into Hills.
Road was choked with traffic (mostly trucks going towards shimla). Just before mandi it started to rain heavily and it looked ominous. It kept raining till we reached Kullu there were landslides at many places and we had to wait for some time for the road to get cleared.
We reached Manali late in the afternoon weather at Manali was pleasant (as always).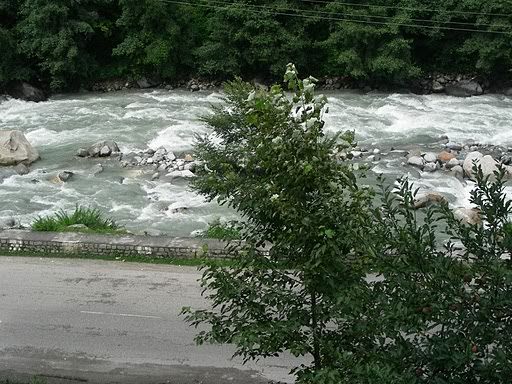 We were delighted to hear that Rohtang pass was just opened and the truck had been removed. But the condition of roads was pathetic. Roads were almost nonexistent and we asked many drivers everyone advised against going in ALTO. They said the car won't able to take on the harsh terrain and will certainly break down. We really got demoralised hearing about all this and even contemplated going back from Manali itself but then we met one driver who told us that we should continue since we have come this far. We then decided lets go Dekha jayega jo hoga.
Day 2- We left early morning around 5 am towards Rohtang pass & stopped at Marhi for a cup of morning tea.

Weather at Marhi was chilly and view amazing. When we reached Rohtang (abt 2.5 hrs) we realised why taxi driver told us not to take alto. Just before Rohtang crossing Road was muddy. One innova had got stuck there in slush and other cars were stopped behind her..it took 7-8 people to push Innova out of mud. At that point me and Dinesh got out from the car ready to push our Alto in case it got stuck too..Gaurav (our best driver) took the command of the steering and managed to steer it through the deep mud. Car swerved like a snake but luckily did not stick up..We had our hearts in the mouths but soon the muddy patch was over..Me and dinesh ran over mud in joy. We felt good about clearing the first obstacles but little did we know that it was a mere tip of the iceberg.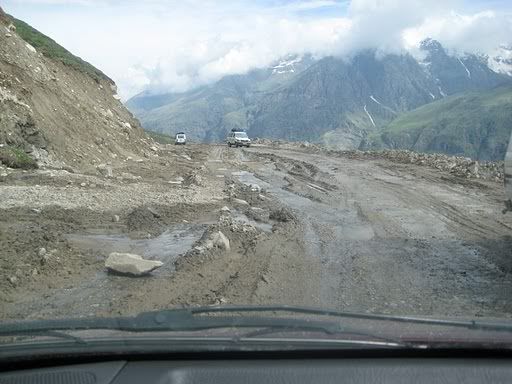 We reached Rohtang and spend some time there clicking pictures..there was no snow there at that time but the view was still amazing.
Our target for the day was Jispa a small town near Keylong. We were never in no hurry. There was a last petrol pump in Keylong after that no petrol pumps till Leh. We did a tank full and carried 20 ltrs in a spare can for emergency. Roads after Rohtang were really bad it was actually a rocky kaccha rasta one couldn't go more than 15-20 kmph (at least in an alto).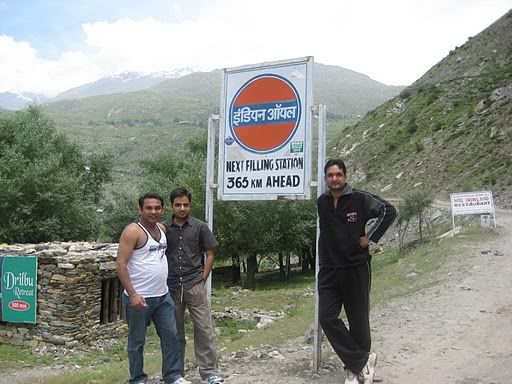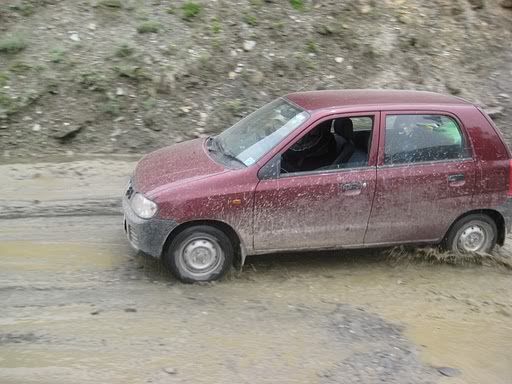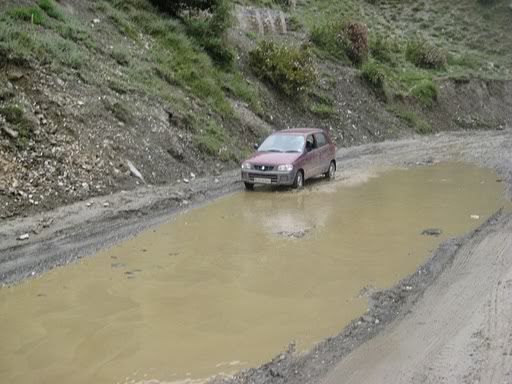 When we reached Jispa in late afternoon we found that Jispa Hotel was charging exorbitant rates almost twice of the usual and to our surprise we realised that we forgot to withdraw money from Manali ATMs. We had about 7-8K with us barely enough to survive till leh but nothing to cover any sort of emergency.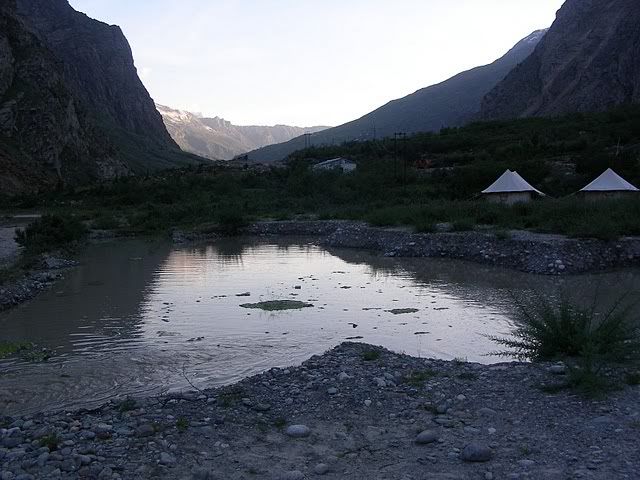 We took a tenting accommodation just near Jispa hotel for 1200 rs including dinner for 3 I think that was a fair deal. Jispa is a lovely little place and it was quite a sight. It's cut off from rest of India for about 7-8 months in a year due to heavy snow.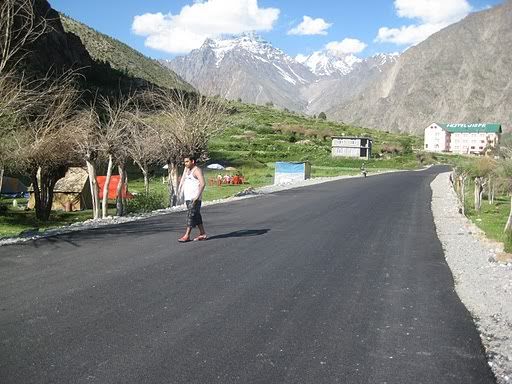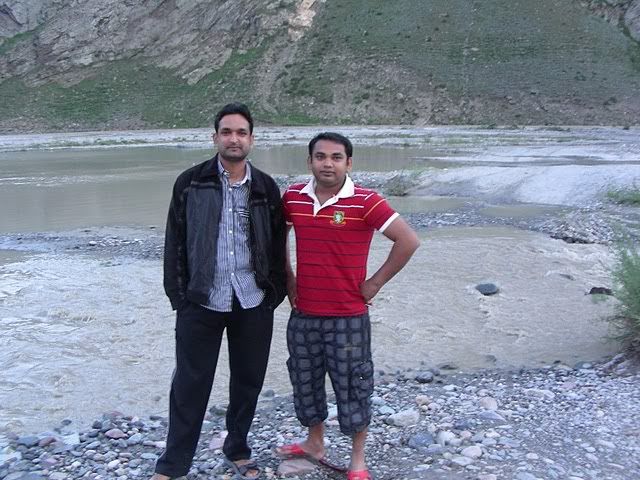 Day 3. target of day 3 was Sarchu another tenting accommodation before Leh. Most of the people left early morning to LEH but since we were going only till Sarchu we decided to take it easy and had our breakfast in Jispa itself and left around 10. Sarchu is about 5-6 hrs drive (depending on condition of road).After we left Jispa we found that many vehicles had stranded there at check post. We came to know that there's a flash flood just before Darcha a couple of nallas/streams (mini rivers) have been formed on the road itself and no vehicle could cross it .It was really a disappointing news as it could means hours even days but we took heart from the fact that BRO guys were already working on the restoration of road. We then decided to move forward and check the status of Nallah/stream ourselves. After about half an hour we saw the stream it was mind blowing..road was almost gone and water had flown so much of debris and pebble with it that it looked like a river itself. We parked our car just before the stream and kept staring at each other not knowing what to say. We saw few bikers cross the stream they managed to cross it with great difficulty.
No BRO guy was present there somebody told us that that they are working on another stream much bigger than this one. Now we were really clueless and didn't know what to do there was so much water in the stream and it came with such a great flow that we were afraid that it could even sweep away Alto .some guys then started removing the big stones and rocks after some time the flow of water receded a bit and few SUVs tried to cross it and managed successfully.
We just decided to observe other people and then decide what to do. A NANo came (testing vehicle) and it got stuck in the stream that fully it had a backup vehicle which pulled it from the stream. It was really scary to see that.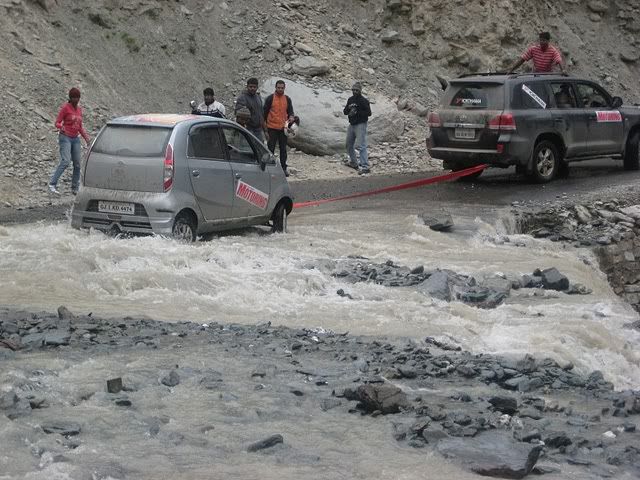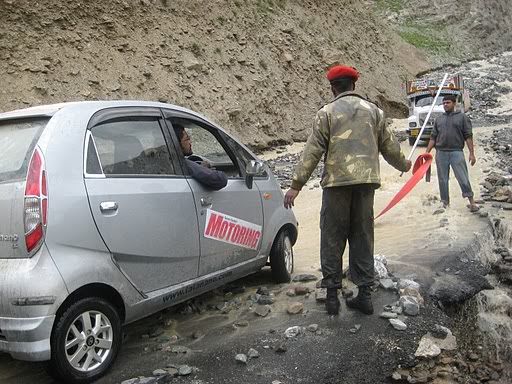 Then we saw some small vehicles like santro cross the stream. Don't know what came into Gaurav's mind then he suddenly got into the car and told us that he's crossing it he started the car and in one go crossed the stream without a single sign of trouble while myself and dinesh looked with our hearts in mouth. We were delighted to see him on the other side and we clapped and shouted in joy..
Now it was turn to cross the next big hurdle the next big stream, when we reached there we found 100s of truck and other vehicles stranded.


We also saw the bulldozer of BRO guys. After waiting about one hour the BRO signals that we could cross the road..and it was not at all difficult considering the previous stretch, BRO guys had made the road motorable.
Soon we crossed Darcha and headed towards BARALCHA one of the highest passes on the stretch. Temperature at baralacha was almost freezing and snow everywhere and it made a very beautiful sight.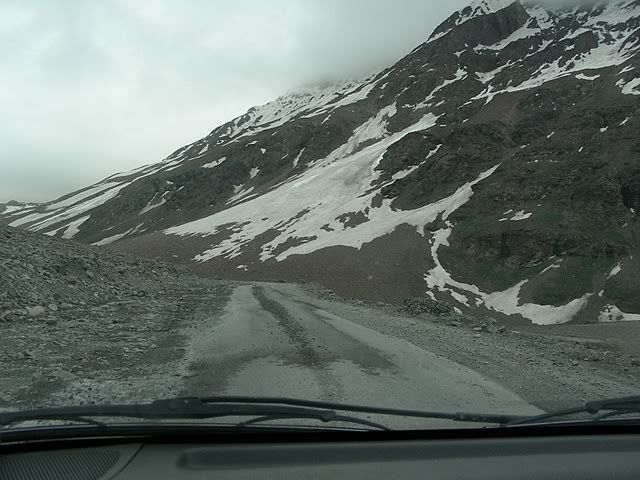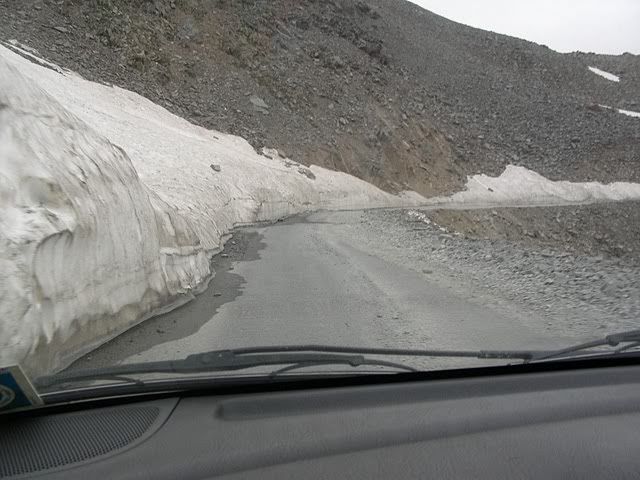 We reached Sarchu and took a tented accommodation there and then I got hit with AMS (Acute mountain sickness) I spend the whole night vomiting (thanks to dinesh and Gaurav for taking care of me).

Day 4- We had to reach Leh and leh was still good 10-12 hrs drive away. I began to feel better by day and ate some dalia and had some lemon tea (I must say lemon tea work wonders when u feel weak after vomiting).Pang was next destination after sarchu (80Kms). Road was more or less good now and terrain was all desert like. Then come the famous Gata loops. Gata loops are a collection of sharp 21 loops which takes you to an altitude of 15032 feet. Roads in the loops are in not so good condition and the slow moving trucks leaving cloud of thick smoke make the ascent feel tougher than it actually is.
Next up is the third pass on the Manali Leh route, Nakee La, 15,547ft. While few km down the road is Lachulung La pass situated at an altitude of 16,616 ft. The descent from Lachulung La will take you to Pang, which is a temporary tent settlement some dhabas selling hot maggi noodles and has a check post where travelers need to register themselves. Take a breather here and eat something for the final push to Leh.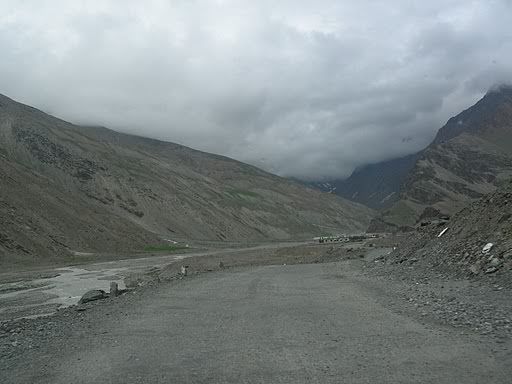 After stopping at Pang for a quick cup of tea we started the leg 2 of our journey (Pang -upshi 125kms).The road from pang takes you to famous Moore plains. Situated in a plateau it's hard to believe that such a flat piece of land can exist at an altitude of 15400 feet.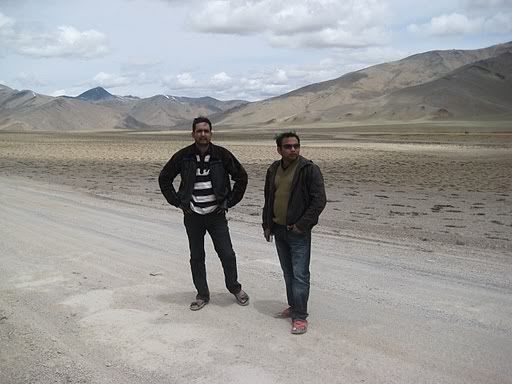 It was like a desert and driving there was like rallying in desert. Soil was loose and Alto was really swerving every now and then.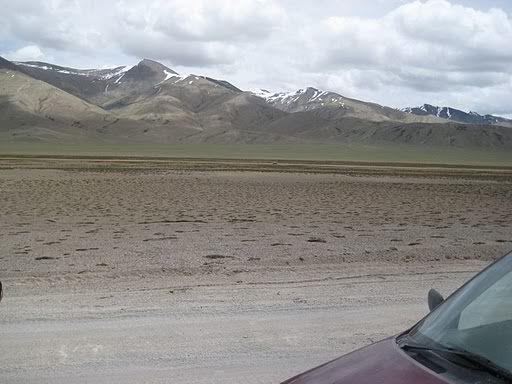 windshield was full of fine dust and we had a tough time crossing moorey plains ( we had thought that moorey plains would be easier to cross and as it turned out it was one of the toughest stretch to cross.
After the dusty journey on the Moore plains, we found ourselves on the ascent to the third highest pass you will encounter in Ladakh, Tanglang La (17,582ft).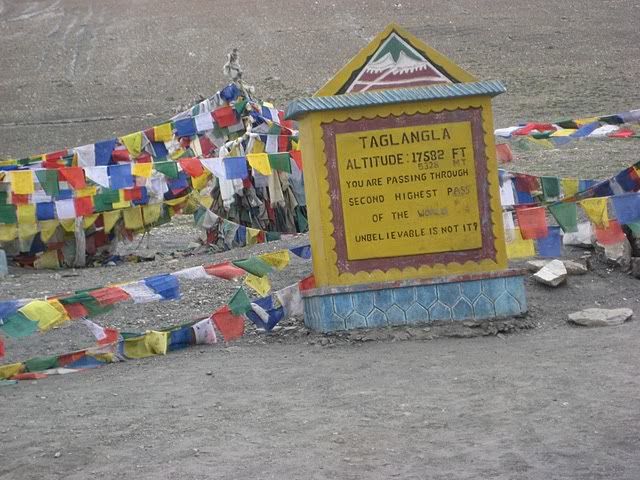 The Roads are in bad condition and the steepness coupled with lack of air takes a toll on vehicles performance. But once you reach the top you will be greeted with spectacular views,
In fact from Tanglang La you can clearly spot the road to the pass for miles on both directions. We stopped at tanglang la for few minutes for some quick snaps in fact we were not able to stand there for more than 30 seconds (lack of oxygen)..Descent from Tanglang La for first few kms is in bad condition, however after that you will be greeted with spectacular roads and with the altitude decreasing gradually, your spirits will start picking up and you will feel rejuvenated by the time you reach Upshi.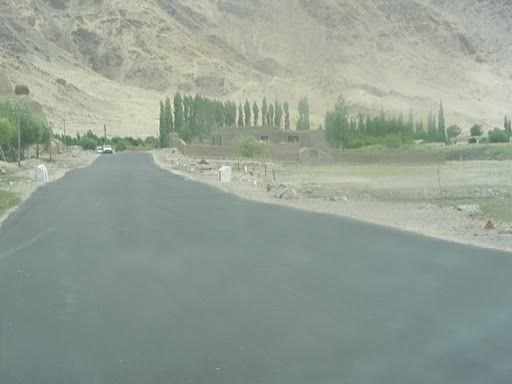 We had a brief stoppage at Upshi around 4pm for a quick cup of tea (lemon tea for me) From Upshi the final leg to leh begins (55 kms).You can also spend the night in Upshi in case you are too tried to continue with the journey.
We reached Leh around 6pm and started searching for hotels. Had to enquire in 9-10 hotels before we finally got a room (1500 rs/nite). May be most hotel prefer foreign guest in their hotels. We were very tired and felt lucky to have reached Leh finally, first thing we did was to find a SBI ATM and withdraw some cash.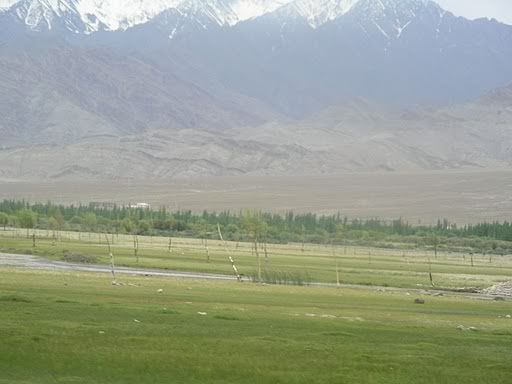 Day-5 Nothing much to do on day-5 except some local sightseeing..after some deliberation we cancelled the visit to pangong lake ( we were really dead tired & pangong was quite far away)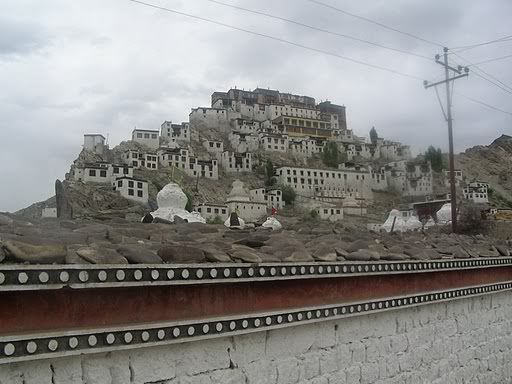 .we just covered few local attractions like Thiksey gompa, himes and shanti stupa and returned to our hotel in the evening.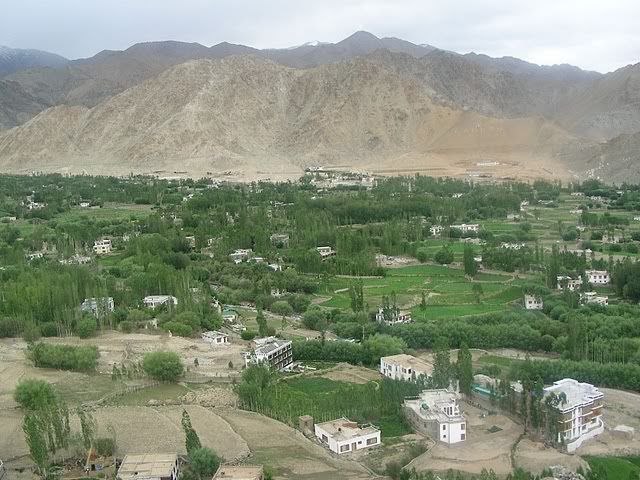 Day-6 It was now time to go back to Delhi we had seen such horrors on the manali-leh route that we decided to go back via leh-Srinagar route in spite of some political problems and protest going on in srinagar. We did a tankful in Leh (20 ltrs of fuel was still there in a can with us) and left Leh around 9 am. The famous town of Kargil was our target on day-1. We were told that road were better on this route. But as we found out it was not different than manali-leh route may be slightly better.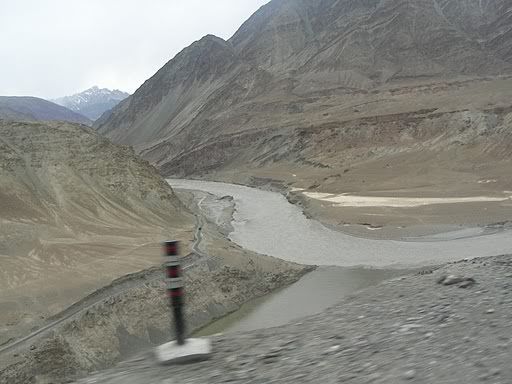 Kargil was our target on day-1 (about 300kms from leh) .On the way there is Gurudwara patthar sahib and the famous magnetic hill. We were curious to see magnetic hill and to our surprise it actually worked. We put out car in neutral and it actually started moving there's a strong magnetic force in that region.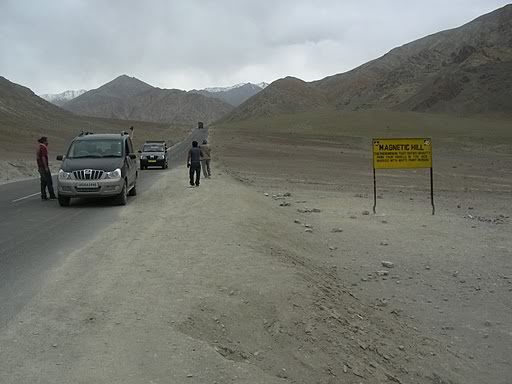 On the way we crossed fotu-la the highest point in the srinagar -leh route.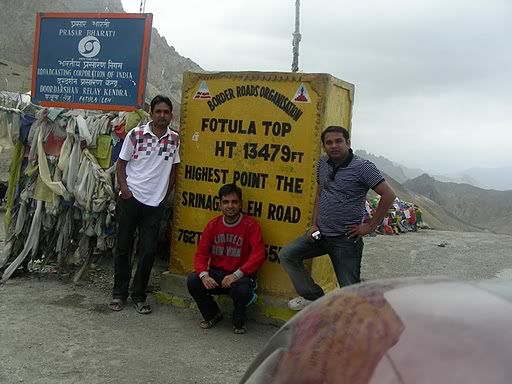 It was late in evening when we reached Kargil. There are quite a few hotels in Kargil but finding a decent place to eat is a big task. After checking few places we decided to eat at hotel itself. Thankfully food was good enough to eat or may be since we were starving (we hadn't eaten anything since breakfast) we didn't really care.
Day-7 We didn't fix any target on the day we just discussed that lets cross Jammu and then we'll decide whether to stop at pathankot or patnitop. We left kargil early in the morning around 5.30 am. And crossed drass, took a few pictures of the famous Tiger hill.
After drass comes the famous zozila pass. The route was really muddy it was raining since last 2 days but thankfully just stopped on the present day. Zozilla was closed for the upcoming traffic. We had a really tough time trying to cross it as the road downhill was so slippery . Gaurav had a tough time trying to control a swerving car. We kept on praying till the time pass was crossed. It turned out to be the most horrible pass on the way and literally sucked the air out of our lungs. We were really relieved when we finally crossed Zozila. We reached sonmarg just before noon and had some food in a Punjabi dhaba there.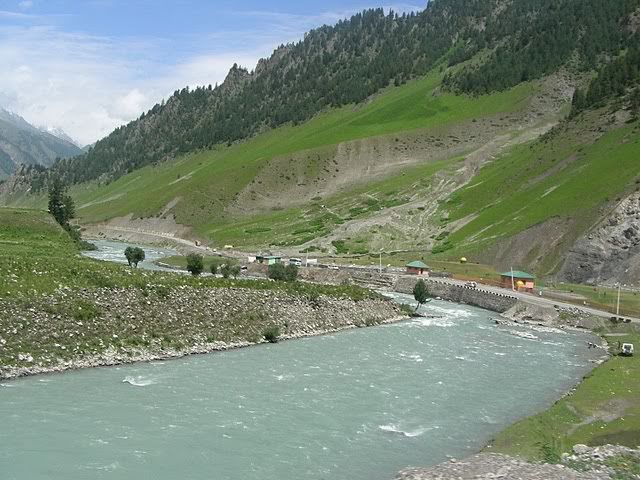 We then emptied our stock of spare fuel in the car and moved toward Srinagar. Roads were getting better now and landscapes were turning greener a welcome change from the dry and barren views we encountered since last few days.
Srinagar is about 85 kms from Sonmarg, when we reached Srinagar the streets were really empty because of curfew. The famous dal lake looked beautiful yet it just appeared to stand lonely in a corner waiting for tourists.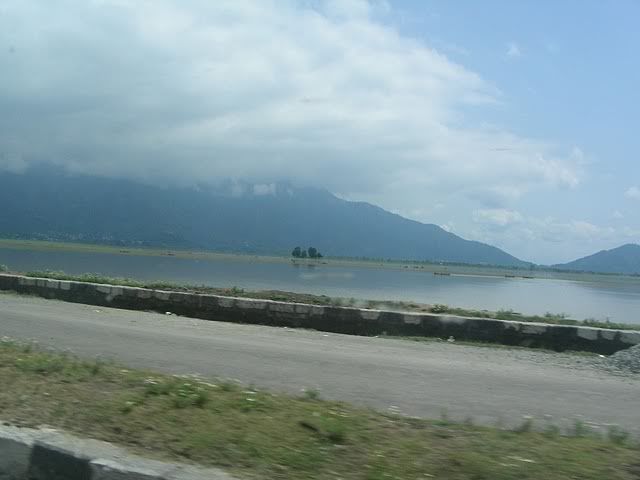 We had to wait at couple of crossing where protests were going and crowd was shouting slogans of 'azaadi azaadi' . Thankfully the protest was a peaceful one and we managed to cross without any sign of stone pelting or violence And for second time in the day we were left terrified and shaken. Srinagar is a beautiful place and seeing army, isolated streets and protests did spoil our mood. We crossed jawahar tunnel and turned towards Jammu and then came another challenge that we needed in the form of a traffic jam. We got stuck for about 4-5 hrs in the traffic jam near Jammu. It was getting late and we thought we should be lucky to reach patnitop. We finally managed to reach Patnitop around 10 pm. We were lucky to find a room in a J&K tourist rest house at patnitop however the bad thing was their restaurant was closed at 10pm and the attendant rudely told us that it's closed and they can't provide food..We just had to do with some leftover coke biscuits and snacks.
Day-8 Time had come make the journey back home. Patnitop is about 700 kms from Delhi. We left after having breakfast. We already had more adventures than we expected now we were tired and slightly homesick too..We left in the morning around 10 am and reached Delhi around 5am next day it took us slightly longer owing to some traffic jams on the way. But the last leg was done without any major hiccup however when we parked the car in front of my house in the morning we realised we had a flat tyre :-)
=============Some Facts=======================
Route Covered :-Delhi-Manali-Leh-Kargil-Srinagar-Pathankot-Delhi.
Vehicle :- Maruti Alto 2009 model
Total Kms :- 2404
No. of Days :- 9 (2 nite halts at Leh)
Fuel Consumption :- 135 ltrs approx.
Passes covered :- 6 nos Highest being Tanglang-la @ 17500 feet
Coldest temperature encountered @ baralachala and Sarchu – almost freezing.